---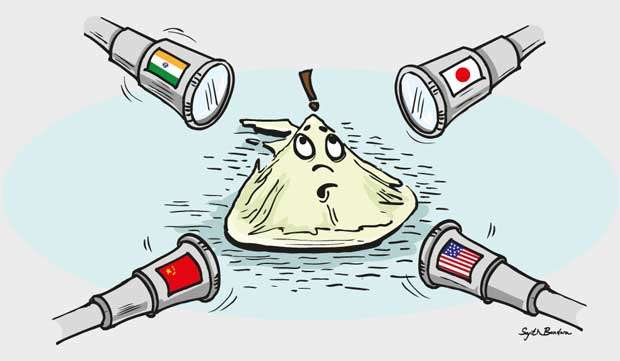 Sri Lanka was made a one of the taking points by India's External Affairs Minister Susma Swaraj at the 3rd edition of the Indian Ocean Conference held in Hanoi, Vietnam.
Sri Lanka is always a hot topic when discussions take place regarding the security aspects in the Indian Ocean. India has its concerns over China's influence in Sri Lanka and it wouldn't have come as a surprise when Swaraj met Sri Lankan Premier Ranil Wickremesinghe on the sidelines of the conference. It is reported that Swaraj had conveyed that India was willing to help Sri Lanka develop its ports and aviation facilities.
Despite India being the closest neighbour, Sri Lanka has readily accepted China's extended hand when offers were made to develop ports in the island nation. What has been of great concern to Indian and Japan is the 99-year lease of the Hambantota Port to China.
The Dailymirror Columnist Ranga Jayasuriya has summed up all this attention on Sri Lanka beautifully in his piece this week by saying that this island's administrators can take one of two options. Sri Lanka can look at all these probing Asian eyes on her as something annoying or make use of these nations so as to get the best benefits from the situation.
Sri Lanka seems to have understood very clearly China's ways of extending its control over strategic locations on the Indian Ocean. China is ready to throw big money in the guise of a hand that is helping in development and the debt burdened island's administrators see the opportunity as an offer they can't refuse.
Japan was running out of patience and sent its Defence Minister on a goodwill mission to Sri Lanka very recently. Japan's representative was very clear about conveying the message from Tokyo that it didn't wish to see China having a military presence in Hambantota. For the record Sri Lanka has given this assurance to Japan.
At the conference in Vietnam, Wickremesinghe had affirmed that the security situation in the Indian Ocean should be looked at both a comprehensive and competing environment. He had added that the Indian Ocean region is set to define the destiny of the planet in the 21st Century. Wickremesinghe had pointed out that the world order had become more fragile, polarised and unpredictable.
This is the very reason why Sri Lanka has to play its cards right in maintaining its position of having three key ports in the Indian Ocean, which is now a 'Maritime Super Highway'.
China is aggressively playing its role in establishing control over key locations on the Indian Ocean through its 'One belt one road strategy'. India and Japan have already offered alternatives to what China is offering to those who are part of maritime traffic.
China has its own tussles with other Asian nations regarding the South China sea. Wresting control over key points in the Indian Ocean will help China immensely in stamping its authority in the South China Sea. This is why Sri Lanka needs to be careful in its dealings with China where the Indian Ocean is concerned.
As ties between Sri Lanka and China grow, Colombo entered into an agreement with Japan-when the latter's defence minister made a visit here- to boost defense cooperation in the maritime sphere.
Maintaining ties with Japan and China has never been so tricky for Sri Lanka.
Given the highly sensitive situation in the Indian Ocean, it is important to assess the words of Swaraj at the conference in Vietnam. She had said that nurturing a climate of peace and stability in this region (Indian Ocean) is New Delhi's foreign policy and added that India would continue to work on arranging projects to improve maritime logistics in Maldives, Mauritius, Seychelles and Sri Lanka.
Now, little Sri Lanka needs to be alert big time!