---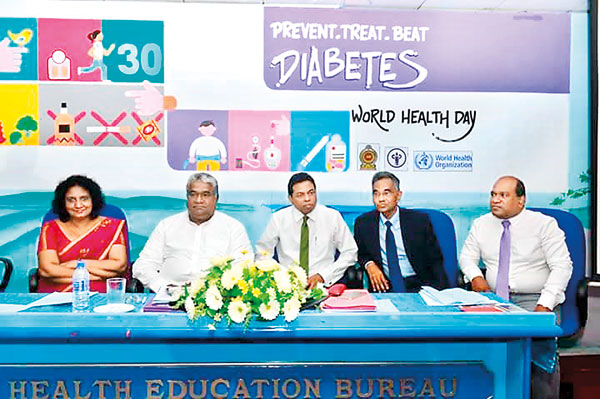 The number of diabetes patients has quadrupled since 1980 making diabetes one of the four main non-communicable diseases to affect people the world over, said Dr. Jacob Kumaresan, the WHO country Representative for Sri Lanka, speaking at a media conference held to observe World Health Day of which this year's theme is 'Prevent, Treat, Beat Diabetes'. 80% of diabetic patients live in low and middle income families. Around 50% of those who had contracted the disease were unaware of their condition and this ignorance has led to the increase in diabetes retinopathy, nephropathy and neuropathy. The statistics issued by the Diabetes Association of Sri Lanka show that the prevalence of diabetes has increased from 16% in 2009 to 20% in 2014. Family history, unhealthy diet and obesity were the main causes for the increase of diabetes among adults while overweight and lack of exercise were the main causes among children.

"We need to ensure that children could identify healthy food and drinks. Healthy food should be affordable. Organic food should not be thrice more expensive. This is where legislature comes in," said Dr. Kumaresan.

Speaking at the event, Faizal Kasim, the Deputy Minister of Health, Nutrition and Indigenous medicine shared his experience in an attempt at creating awareness on the subject. "In the 1990s, I worked in a government factory and my dinner was always Chinese food. I wasn't careful with my diet and today I suffer the consequences."

"People don't like to take the required blood tests because they are reluctant to take medicines," he added. Tablets assist in maintaining the required sugar level. It is false to believe that tablets negatively affect your kidney as kidney failure is a side effect of diabetes and not of treatment. Hence it is necessary to take treatment as earliest as possible. This is why it is essential to go through regular check ups.

As solutions to the growing prevalence of diabetes, Dr. Mahipala, Consultant Medical Administrator of the Ministry of Health, Nutrition and Indigenous Medicine said, "It is essential to maintain our BMI. Today our red rice meals have been replaced by fast food. Our vegetable and fruit consumption is low. We need to exercise daily for at least 30 minutes. We also need to change our lifestyle and that of our children. This is the only way to defeat diabetes." It should be noted that though physical exercises do not result in weight loss, physical exercises provide other health benefits such as maintaining blood pressure and glucose levels.

Hence the result of physical exercises should not be judged by examining one's weight.

Elaborating on the symptoms of diabetes Dr. Prasad Katulanda, a Senior Lecturer in Medicine in the University of Colombo said, "Feeling tired too often, frequent urination, sudden weight loss, wounds that don't heal, sexual problems, and blurry vision are signs of diabetes." Yet he emphasized that 35-50% did not show any symptoms and reiterated the importance of medical check ups. Referring to the services provided by the Ministry of Health in eradicating diabetes Dr. Thilak Siriwardene, the Director of the NCD Unit of the Ministry of Health said, "There are 814 Wellness Centres island-wide where you could do check ups for non-communicable diseases. Last year 400,000 were screened and 16,000 were found to be on border line levels. They were in danger of contracting these diseases." He also added that the public could receive information on the location of the nearest centre by contacting the head office on 0112 669599.