---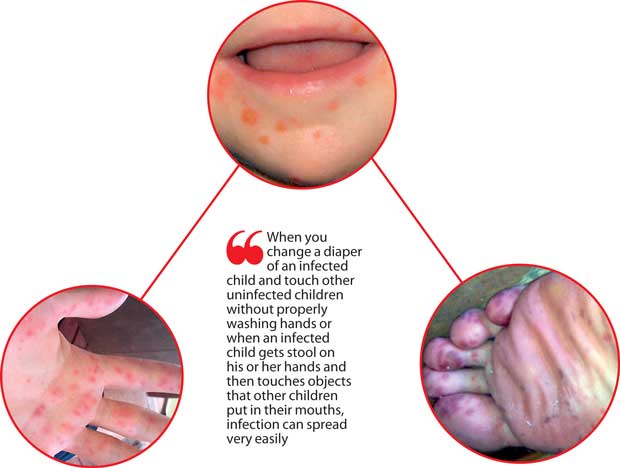 Hand-foot-and-mouth disease rampant among pre-school children these days causes distress in anxious parents. An extremely contagious condition caused most often by a cocksackie virus, which is a virus of the enterovirus family, the outbreaks of it largely occur at this time of the year here at home. In the West, the outbreaks are witnessed in summer and fall. Although the condition sends panic waves among parents and pre-school teachers, proper management of it by parents and caregivers will help settle it on its own, requiring no specific drug treatment. Dailymirror spoke to Consultant Paediatrician and Senior Lecturer in Paediatrics, Dr. (Mrs) Ishani Rodrigo to learn more about this disease.
QWhat is known as the hand-foot-and-mouth disease?
Hand-foot-and-mouth disease is an illness that causes blisters in or on the mouth, hands, feet, buttocks and legs. The sores may be painful. Although it is not a pleasant condition to get, one need not get alarmed over it as it is not a serious situation.

QWhat causes this condition?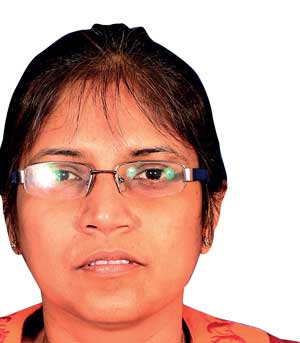 Hand-foot-and-mouth disease is caused by a virus. It is a virus in the enterovirus family, most often a cocksackie virus.

QIs the manifestation of the condition in children as same as that in adults?
Hand-foot-and-mouth disease is common in children but can also occur in adults. The features are similar.

Q Is the disease contagious?
Yes, it is extremely contagious and spreads rapidly in nurseries and day care centres causing outbreaks from time to time.The virus can spread by direct contact of blister fluid or through an infected person's saliva, stools or respiratory secretions (droplets). The virus spreads most easily through coughing and sneezing. It can also spread from person-to-person through direct contact or contact with unwashed hands or surfaces contaminated with faeces. When you change a diaper of an infected child and touch other uninfected children without properly washing hands or when an infected child gets stool on his or her hands and then touches objects that other children put in their mouths, infection can spread very easily.

QWhat are the precautionary methods that can be taken at home/pre-school to avoid the spreading of the disease?
Children are most likely to spread the disease during the first week of the illness. But the virus can stay in the stool and saliva for days to weeks after the rash dries up and may spread to others. To help prevent the disease from spreading, parents can take several precautions. It is advised not to send an infected child to pre-school or day care so that it prevents others from contacting the disease. Moreover, parents should avoid exposing an infected child to public places where people gather in crowds and also gatherings such as alms givings, funeral houses etc.

Frequent washing of hands is of utmost importance, especially after you touch a blister or change the diaper of an infected child. All other family members should also be encouraged to wash their hands often. Parents must also prevent the infected child from sharing toys and bodily contact with uninfected children. Disinfecting commonly used areas at home can also help in spreading
the infection.

QIn terms of children contacting the infection, which age group is more susceptible to it?
Although the infection can affect people of all ages, it usually occurs in children under five years (pre-school children). Children usually build up immunity to the disease after being exposed to the viruses that causes it. This is why the condition rarely
affects older children and adults. However, it is still possible for older children and adults to get the infection, especially if they have weakened immune systems.

QWhat are the symptoms?
At first your child may feel tired, get a sore throat or have a fever of around 101°F (38°C) to 103°F (39°C). Then in a day or two, sores or blisters may appear in or on the mouth and on the hands, feet, and sometimes the buttocks.

In some cases, a skin rash may appear before the blisters do. Blisters may break open and crust over.
Blisters on the tongue and inside the mouth are painful. Children may not even be able to swallow their own saliva and start drooling. Refusal of feeds is often seen especially in young infants with mouth blisters. Blisters on feet make walking painful and young children may refuse to walk. Affected children can have all of these symptoms or only one or two.In some cases there are no symptoms, or they are very mild. Parents may get the disease from their children and not even realize it.

Q Can symptoms of hand-foot-and- mouth diseases mimic any other condition?
Yes they can. Parents may mistake this for chickenpox (varicella). Chickenpox outbreaks also occur around the same time of the year. In chickenpox blisters start appearing first in and around the head and neck area and spread down the body. Blisters appear on limbs later. One also does not see the characteristic distribution of blisters seen in hand-foot-and mouth disease (knees, elbows, buttocks, palms and soles and the mouth) in chickenpox.
Another condition, which may mimic this infection is herpes (cold sores) where the only area affected is around the mouth.

QHow is it diagnosed?
A doctor can tell if your child has hand-foot-and-mouth disease by the symptoms you describe and by looking at the sores and blisters. Tests usually are not needed.

QHow is the infection treated?
Hand-foot-and-mouth disease usually does not require any special treatment. Home care can help relieve an infected child's symptoms.Cold foods such as ice pops and ice cream and semi-solid foods such as yoghurt and jelly can help in case of blisters on the tongue, in the mouth or throat. However, spicy food and citrus drinks should be avoided as they can make mouth sores more painful. To relive the child of pain and fever, paracetamol can be given. Gels and ointments with local anaesthetic may help relieve the child of the pain of mouth blisters.

Parents should also be told that bathing an infected child does no harm. Bathing on the other hand, makes an infected child more comfortable.

QFor how long does the infection last?
Usually it lasts for seven to ten days.