---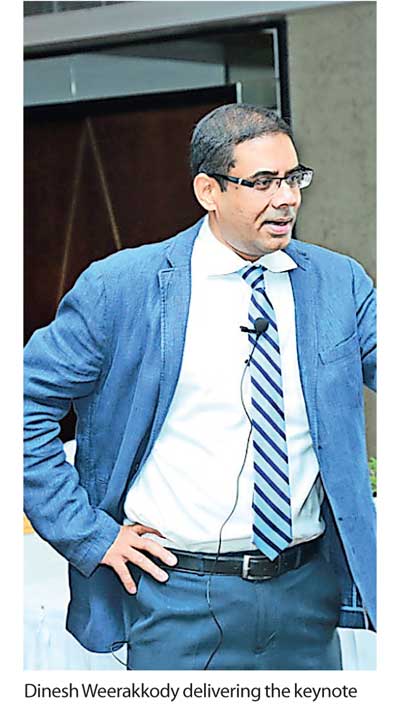 The University of Kelaniya Human Resources Department recently held the National Summit on People Management at Waters Edge under the theme of 'Peopling for national wealth – Arousing a new praxis of people management for creative development'.

National Human Resource Development Council (NHRDC) Chairman and National Policy and Economic Affairs Ministry Advisor Dinesh Weerakkody, who made the keynote, discussed the problems, challenges and weaknesses of the current national human resource development (HRD) strategy of the government.

Weerakkody said the recently concluded Human Capital Summit, organised by the government, private sector and development partners, identified five broad issues that need to be addressed.
The first challenge he said was to attract more women employees into the workforce. To achieve this target, there is a need to provide an accommodating ecosystem to attract and retain women in the workplace. The current participation is only 38 percent.

Secondly, urgent labour law reforms are needed he said to drive employment creation, greater productivity, innovation, HRD and foreign direct investment (FDI).
Thirdly he said Sri Lanka lacks adequate vocational and technical skills in the labour force. A high proportion of firms in Sri Lanka identify a shortage of vocational and technical skills as a major constraint compared to the other middle-income and developing countries. The drive for industrial growth is especially hindered by the shortage of technically skilled labour. Therefore, technical vocational education and training (TVET) must be made relevant in consultation with the private sector.

Fourthly, improving access to higher education and training is a must. We spend less than 0.4 percent of our gross domestic product (GDP) on higher education, he said. We need to drive innovation in education, particularly online and by using modern technology including robots that will make training cost effective and in a more flexible, personalized, than the present manner in which the traditional degrees or postgraduate courses are delivered.
According to Weerakkody, the talent supply is another challenge. Young Lankans shun taking skilled and non-skilled jobs with a monthly pay of around Rs.25,000-40,000 in factories and hotels but they tend to prefer to work as trishaw drivers instead. Currently Sri Lanka has around 1.2 million trishaw drivers. Many institutions are struggling to fill vacancies. The government needs to work with the industry to address this serious issue.

Also, the working-age people with disabilities in Sri Lanka, less than half, are employed – this figure should be much higher. With the right support, many more could join their ranks.
Weerakkody further observed that 50 percent of the one million jobs that the government hopes to create could come from the tourism and information communication technology (ICT) sectors. Therefore, we need to enhance access to ICT degrees by linking with non-state higher education providers through the Sri Lanka Association of Software and Service Companies (SLAACOM) under the direction of the Information and Communication Technology Agency (ICTA) and create access to both local and foreign fee leaving students and providing a loan system.

The country's projection is 150,000 new jobs in ICT in five years. The present maximum is 18,500 (state and non-state). The tourism sector would also create around 350,000 direct and indirect new jobs by 2020 and the yearly intake is only around 14,000 (state and non-state).

Weerakkody observed that the only way these issues can be addressed is through a formal forum comprising of the private sector, government, trade union representatives and academia to set a vision, lead strategy implementation and improve the educational outcomes and skills attainment.