---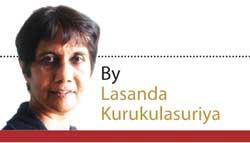 In several interviews after his recent appointment as Secretary to the Foreign Ministry, Adm. (Rtd.) Jayanath Colombage has sought to explain the newly-elected government's thinking on matters of foreign policy. In these media interactions, it is evident that he conveys the views of President Gotabaya Rajapaksa. The President has on many occasions referred to a concept of 'neutrality' in foreign relations. As Colombage describes it, there is no indication that neutrality is the same thing as Non-alignment, that Sri Lanka, a founding member of the Non-Aligned Movement, has long espoused.

Referring to a 20-point 'foreign policy directive' the ministry is in the process of drafting, he told a popular TV channel that "number one is neutrality." Where security is concerned he said "we have an 'India first' policy." He emphasised that Sri Lanka cannot afford to be a strategic security threat to India."

Seeing that India is not the only big power vying for dominance in the region, a question that came up repeatedly in these interviews was how Sri Lanka would remain 'neutral' in the face of intense geopolitical rivalry, that involves the US, China and Japan. Turning the question around Colombage asked, can we be non-neutral, can we go with one country, including militarily? That would be suicidal he said. Remaining neutral is 'very difficult' but can be done, he asserted.

US sanctions

It's not be possible to assess if this is a realistic approach to the geopolitical challenge faced by Sri Lanka, without taking into consideration a drift that has seen Indian policy increasingly come under the influence of the US. India has been designated a major defence partner of the US, and works towards inter-operability of its military with those of the US through key defence agreements. At the same time the US increasingly looks to its regional allies and partners to shoulder responsibility in achieving what it calls 'shared goals' in the region it has labelled the 'Indo-Pacific.' In recent times, the super power has gone beyond its usual sabre-rattling against China to make moves on both military and economic fronts, that some analysts interpret as nothing short of preparation for war.
On the economic front, the US Commerce Department has announced sanctions against 24 Chinese state-owned companies, including subsidiaries of the China Communications Construction Company Ltd (CCCC), "for their role in South China Sea activities," according to the transcript of a US State Department briefing. CCCC's role in China's Belt and Road Initiative, in which Sri Lanka is a participant, is also mentioned. It's not clear whether the China Harbour Engineering Company (CHEC) which is building the Colombo Port City, is among the targeted subsidiaries. The 'activities' refer to China's constructions on islands in the disputed South China Sea, over which China claims sovereignty. This is "the first punitive action of its kind over the disputed waters," an overseas TV reported, adding that it is "one that is almost certain to escalate tensions between the countries."

In the defence sphere the US has sought a more formal NATO-type alliance with the Quad – a group comprising US, India, Japan and Australia. The US's goal is to get these countries to work together "as a bulwark against a potential challenge from China," a senior State Dept. official reportedly said on Monday, July 31. The official had mentioned the upcoming Autumn meeting of the four in Delhi, citing the possibility of Australia's participation in the annual Malabar naval exercise as 'an example of progress towards a more formal defence bloc.'
Seeing that India is not the only big power vying for dominance in the region, a question that came up repeatedly in these interviews was how Sri Lanka would remain 'neutral' in the face of intense geopolitical rivalry, that involves the US, China and Japan

Phone call to President

It is against this background that US Secretary of Defence Mark Esper made a call to President Gotabaya Rajapaksa on August 30. A US Department of Defence (US-DoD) readout on the phone call, after congratulating the President for his handling of the COVID-19 pandemic and the parliamentary election victory, went on to say:"The two leaders discussed their shared commitment to a free and open Indo-Pacific that ensures the sovereignty of all nations. Reviewing common bilateral defence priorities, they noted opportunities to enhance military professionalization, counter-terrorism, and maritime security cooperation. Both leaders expressed their commitment to expanding bilateral defence relations and to advancing shared interests."

Although the US language refers to 'shared commitment (to a free and open Indo-Pacific), 'common bilateral defence priorities' and 'shared interests,' Sri Lanka has not used similar terminology. There is no clarity as to what these terms mean. Sri Lanka has been reticent on the concept of 'free and open Indo-Pacific.' President Gotabaya in his tweet thanking US Secretary Esper for the good wishes, merely said "Discussion on cooperation with Indian Ocean and neighbour relations, defence, military2military linkages and Counter-terrorism, whilst strengthening bilateral relations was very assuring."

Complex backdrop

The US Def. Sec.'s phone call did not come out of the blue. It followed a string of diplomatic interactions in the Asia Pacific region, which he concluded by tweeting that "The United States will compete, deter, and win in the #IndoPacific. …" Win what, we need to ask. Earlier the Wall Street Journal published an article by Esper titled 'The Pentagon is ready for China.' The military overtones are unmistakable.

In Guam, where the US has a military base, Esper met Japan's Defence Minister Taro Kono. According to a US-DoD statement they "exchanged views on their shared vision for a free and open Indo-Pacific region. The Secretary expressed serious concern regarding Beijing's decision to impose a national security law in Hong Kong, as well as coercive and destabilizing actions vis-à-vis Taiwan."

In virtual bilateral talks with Singapore, Esper expressed appreciation to Singapore's Defence Minister, for renewal of an MoU on use of facilities, the US-DoD said.

Meanwhile on Twitter, he referred to his call to the Defence Minister of Papua New Guinea – where he anticipates the conclusion of a Defense Cooperation Agreement. He also tweeted about his visit to Palau - whose defence minister he met, his call to the Governor of CNMI (Commonwealth of the Northern Mariana Islands), and meeting with the Governor of Guam, lauding the security role of these tiny Pacific islands.

Esper's phone call to Gotabaya Rajapaksa was the last in this string of diplomatic manoeuvres, end August.Given the thrust of the exercise of touching base in locations where the US has, or hopes to have facilities to use against China, it would be fair to assume that in Sri Lanka, the US is stepping up pressure to conclude the MCC compact and SOFA (Status of Forces Agreement). Both face intense public opposition due to threats to sovereignty, but the new government has not categorically rejected them.

Reports say US Secretary of State Mike Pompeo is expected to meet with his counterparts from the Quad countries, in Delhi, Sept-Oct. this year. While it is true that India prides itself in its strategic autonomy, its defence ties with the US are being steadily strengthened. The recent India-China border clash in Ladakh could further tilt the scales. Will India end up a US proxy in the Indian Ocean region? The answers to these questions are not straightforward. What's clear is that there's a backdrop of complex variables, against which Sri Lanka asserts that it will remain 'neutral,' and yet follow an 'India first' policy. Given Sri Lanka's economic ties and friendship with China, alongside a stated policy of 'friendship with all,' we need to ask – is it possible?