---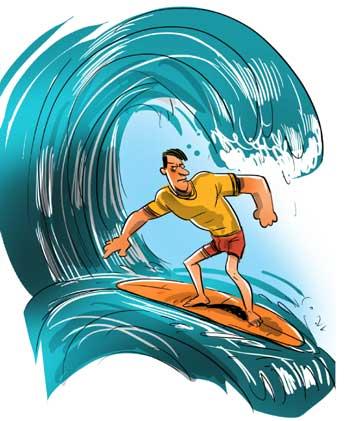 The wave comes. It crashes on the seashore only to be followed by another.

They seem to be never-ending.

Has the pandemic come to stay?

The easiest thing to do is to panic. To worry non-stop to a point one starts getting symptoms of anxiety. A prolonged period of anxiety may lead to anxiety disorder. The difficult choice is to float. That is to ride the wave without sinking into the sea of despair. To get along with days' work mindfully without joining those who discuss the pandemic woes non-stop from morning till night each day.

Swimming against the current or swimming upstream has never been easy. That had been the path of the warrior and not the worrier. This is exactly what we human beings are expected to do right now. Let the outside world stream the most pessimistic narrative. We create our own thoughts and remain an island of calm and positivity.
It's not denial of reality that we start re-reading our old favourite, uplifting books or watching that rib-cracking cartoon series repeatedly. We can still google for the TV programmes that brought us so much of joy in our childhood like Robin Hood of Sherwood or Little House on the Prairie. We can play card games with the family or even invent games. Even one may have never done gardening one can start it at this point. If there's no space then have the plants in pots. Watering plants and weeding are certainly therapeutic past times. They really make one feel positive.

Those who used to paint as children but never touched a brush in adult life can pick one again. Draw the most ridiculous sketch and bring to surface whatever that is buried in one's psyche. Once that emotion is exposed in the canvass it would not make you worry the way it had been earlier. Encourage teenagers to draw. Get the whole family to do painting in one quiet afternoon. Let each member go to their respective rooms and do the painting or drawing. Meet after two hours or three hours. It would be fun, therapeutic and may even uncover hidden talents in the family.

It's also important to do everything to prevent the topic of pandemic dominating everyday conversations. Some have got into the habit of pressing panic buttons the moment one hears about a new pandemic variant. Once the news is out they start ruining the peace of mind of the entire community – starting from the family members, neighbours, friends, office colleagues, grocer and the cab driver. Explain to such people plainly that such obsession of pandemic news would not do any good to anyone and it only goes to weaken the mental wellness of the person and the ones he/she gets in touch with. If the person still continues with old habit despite repeated requests and sagest advice slowly distance one from such individuals as such people can easily drag others too to their level of pessimism and trigger high-levels of anxiety among the otherwise sane person.

Those who have a spiritual bent can go deeper in their practices and take refuge in the harmony of thoughts. This indeed is one of the powerful paths of finding solace in times of trouble. It's not escapism. It's facing one's thoughts head on and warding off discursive and disrupting thoughts.

If all these fail it's also important to seek the support of a counsellor if one feels that the grip of fear over pandemic is too intense for one to handle it on one's own. Being human means being vulnerable and feeling defenceless is a natural emotion. All of us have been vulnerable more than hundreds of times in this life. It's only prudent that one seeks guidance from those who are better equipped when the need arises. Waves will come and crash on the shore. Instead of being panic-stricken and professing doomsday let's ride the wave wisely. This too
will pass.