---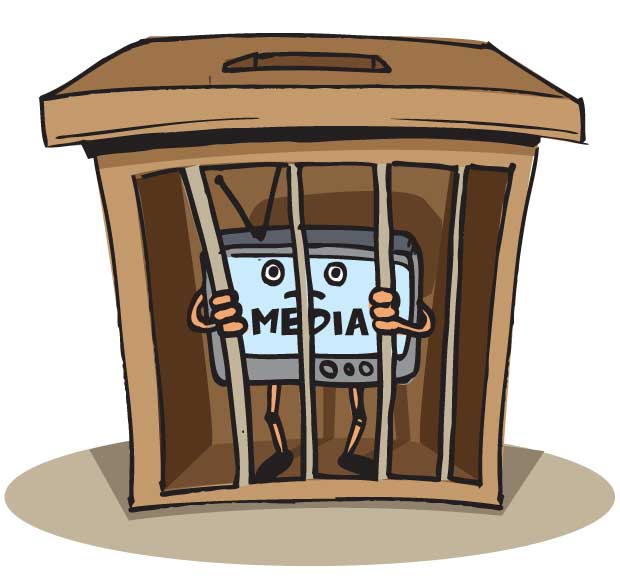 All telecasting, broadcasting and print media shall be neutral and impartial in their reporting of election-related matters and shall not discriminate against any contesting political party, independent group or candidate, in allocating airtime and allocating space in the newspapers.
This is the key factor in the guidelines or criteria signed by Prime Minister Ranil Wickremesinghe during a New Year's day ceremony held at Temple Trees yesterday.
On December 4 last year the guidelines were gazetted by the Elections Commission.
The Prime Minister will now submit the guidelines to Parliament and it will become a law for the polls campaign now being held for February 10 elections to 341 municipals, urban councils and padeshiya sabhas.
The Elections Commission issued the guidelines following the 19th Amendment to the Constitution, to ensure the rightful exercise of franchise and free and fair elections, to be followed by all electronic and print media institutions and personnel involved.
The decision to impose these guidelines is being widely welcomed. With the election of the Sirisena-Wickremesinghe government in 2015 there was much hope for media freedom. However, the two leaders have complained they are the main targets of certain media groups, especially in the social media and websites. But these guidelines have little control over websites and social media.
Later in consultation with journalists and media group owners, the government has said it wished to work out a code of ethics for the media to be free, fair, balanced and accurate in their news reports or investigative features.
As for the journalists, it is widely believed that those coming into the profession need to be given a few years of professional training. Some years ago when journalist groups wanted to join the Organisation of Professionals Associations (OPA), their appeal was rejected on the basis that there was no professional training in the media as in medicine, law, engineering, accountancy and other professions.
Besides the professional training, the journalists also need to be aware that more than being a profession it is a vocation where they need to become the voice of the voiceless people, especially the marginalized and the poverty-trapped masses.
The February 10 elections, one of the biggest to be held in Sri Lanka, will be the first major test of strength since 2015 for the main parties, the UNP, the SLFP-UFPA, the Sri Lanka Podujana Peremuna of former president Mahinda Rajapaksa and the JVP.
It will also be an important test for the Elections Commission and the police in conducting free and fair elections without allowing violence and for the media to be free and fair and balanced in covering the polls campaign.
If these tests workout well, the February 10 polls could be a turning point for elections where a sovereign people expressed their will and exercised their right to elect or reject candidates hopefully based on principles of honesty and integrity, competence and commitment to hard work.