---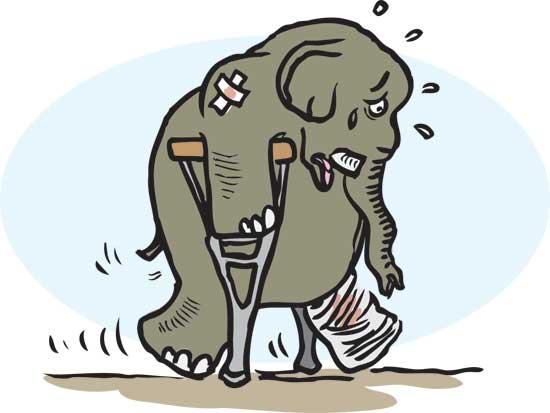 The rate at which elephants are killed in this island has raised eyebrows in many. Though this is a Buddhist dominant country and those practising this philosophy promoting non-violence, the cruel ways in which jumbos are killed indicate that something is terribly wrong with the relationship between man and animal.

We Sri Lankans have a special relationship with the elephant; a bond between man and animal that the outside world might not fathom easily. Animal lovers and rights activists have viewed the man-elephant relationship over here in Sri Lanka with both doubt and awe.

It calls for much explanation and reasoning to convince a foreigner that elephants have a place in our pageants and orphanages. The sight of an elephant is considered auspicious. We have heard of stories where elephants have guarded drunken mahouts fallen on the road till the master comes to his senses. But when one hears stories of elephants being poisoned inside sanctuaries, are shot at and even electrocuted in villages, we have to shelf our pride and hang our heads in shame.

Just days ago as many as seven elephants were poisoned inside a reserve in Habarana. The authorities are yet to disclose the purpose behind the killings. There are those who speculate that villagers would have poisoned them in retaliation to elephants destroying their crops. It was recorded that some farmers had demanded compensation for the cultivated lands destroyed by elephants, but these demands apparently fell on deaf ears of
the authorities.

Opinion coming from the European part of the world harps on the fact that humans should stop encroaching into elephant habitat. But a closer look at the island's geography reveals that elephants encroach into human territory for many reasons. One key reason is that rising water levels deny these animals of their main mode of diet; hence their movement towards human habitat. Elephants are also known to stray into farming areas in search of stored paddy. An animal expert's eyes may observe a situation where an elephant corridor is encroached by farmers engaging in unauthorised cultivations. This is what has happened in the elephant corridor which is frequented by elephants travelling from Kalawewa to Minneriya via Sigiriya.
Sri Lanka still boasts of caring for the world's largest herd of orphaned elephants. But when statistics reveal that as many as 293 elephants died during the first nine months of this year and these animals are at times considered as pests in cultivation, we need to take stock of the situation.

We have to take note that foreigners who visit the island to observe the attractions it offers are sensitive to animal cruelty. Perspective plays a major role here. This is because an elephant parading the street in a pageant will showcase our rich history associated with these animals. It will also at the same time open a window for a foreigner to see whether a mahout will dig into the flesh of the beast with his bullhooks! We can't change the thinking of these visitors who spread the word that foreigners should shun pageants and orphanages where captive elephants are forced to perform. For the record there are 105 captive elephants in the island; which is a small number when compared to the wild jumbos numbering between 5000-6000.
But the Sri Lankan authorities have to take note of the negative stories associated with this small group of domesticated elephants. One classic example was the story of 'Tikiri' who was said to have been forced to parade the streets in a pageant despite being ill; pictures showed that the animal had a disease which reduced its girth and made it look starved.
We might shock a foreigner who for the first time sees an elephant parading the street with its mahout strolling alongside. Such a scene might show that small Sri Lankans are capable people belonging to an amazing culture. That image can be destroyed by stories where elephants
are poisoned.