---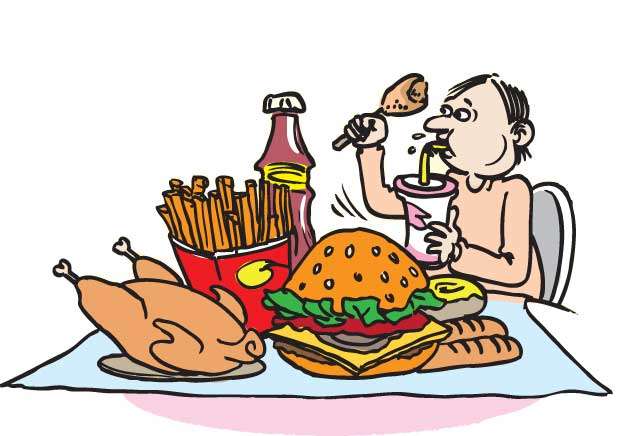 I saw few die of hunger; of eating a hundred thousand– Benjamin Franklin
The dietitians are surely having a field day. Sri Lankans in their tens of thousands are rushing to them to shed weight -- a trend that was only seen in Europe and the United States until a few years back.
We grew up with the belief that food, besides nutrition, brings us happiness. However, until two decades ago, we knew the limits. When we were children, our food was largely restricted to the three square meals, mostly comprising rice. At 10.00 a.m. and 3.00 p.m. was tea -- a biscuit on and off was the only thing to go with that. If by chance we had a big piece of muffin or a kimbula bun, then we would throw away part of our next main meal when parents weren't looking. We did not eat when the stomach was full and knew how to reduce the food intake after a snack. There weren't McDonalds or KFCs to tempt us. An occasional chocolate roll from Perera and Sons, an icy choc from Elephant House or a visit to Green Cabin meant a real treat! At the school canteen of course, we tried to grab an ice palam.
However, in the 1980s, there was a gradual rise in the bakery culture and white bread started replacing fibre-rich rice as the main meal. Many homes had bread either for breakfast or dinner. A culture of diabetes was thus introduced.
Things started changing more in the 1990s. Gradually, a café culture was introduced and the Colombo and Kandy youngsters used to meet in these coffee shops instead of homes and offices. Children returning from school saw food items on display and started bugging their parents to take them to cafés, and many obliged.
In came an explosion of fast food joints and malls with the turn of the new century. Gradually, a culture of mini meals -- in between the big meals -- in the form of pizzas, burgers, waffles and sandwiches along with coffee was developed. Students, office-goers and loafers started visiting these joints every time they felt bored, sad or wanted to get a caffeine kick inspiration and ended up gobbling rich and fatty food with coffee. More and more busy office-goers opted for 'takeaway' meals instead of their wholesome home cooked-food. Bored young executives pooled and ordered mini-meals to offices around 3.00 p.m. daily from nearby food joints. A nation of compulsive overeating was born.
On the other hand, those who used to walk two bus halts earlier hopped into trishaws, cabs and later private cars became a necessity rather than a luxury. Today, one can see the walking types only at gyms or at Independence Square, burning extra calories.
This overeating and sedentary life had a lethal effect on the nation's health and today, nearly 15% of the population, with a chunk coming from the younger generation, is diabetic and every other person has high cholesterol. The government and private hospitals are inundated with patients who have conditions related to overeating or wrong eating habits or both.
Health science, which was a subject during our school days, has now been reduced to a minor section under Social Studies. Now that we have become an ailing nation, one may say it's time that the government re-introduced the subject with mental health too as a component. At least then, children will learn the nutritional value of fibre-rich food like rice and cereal which they shun these days and will also figure out why their favourite fatty fast food is bad.
While the government is spending billions to treat hundreds of thousands of people who have conditions related to food habits, it's also important that it starts an ambitious national health action plan to motivate people to eat the right kind of food in right proportions.