---
The famous American poet Henry Wadsworth Longfellow wrote in an equally famous poem titled 'Perseverance'; "Drive the nail aright, hit it on the head, strike with all your might, while the iron is red,". In a twisted version of this inspiring poem we saw on Wednesday and yesterday, medical doctors and transport workers striking with all their might while the iron is red. But being hit on the head were millions of innocent common people who on Wednesday suffered helplessly without healthcare and yesterday without transport.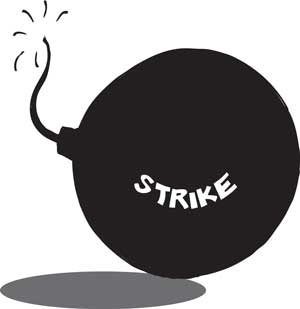 The Government Medical Officers' Association (GMOA), apparently proud that it is being described as one of the most powerful trade unions in Asia, suddenly staged a countrywide token strike from 8 a.m. on Wednesday to 8 a.m. on Thursday with the media showing thousands of poor people who travelled to public hospitals from long distances, going away without relief and in more agony. GMOA officials claimed the strike was against certain budget proposals which they claimed would further privatise health services and other public enterprises. But most analysts said the strike was essentially against a budget proposal to impose a tax on the second salary earned by doctors in private practice. Some specialists are known to be getting millions of rupees a month while most of them earn about Rs. 100,000 a day. How much they pay in taxes or how their private practice earnings are audited is not known. During the past two years the GMOA has been widely accused of indulging in party politics while one of its prominent personalities is also alleged to have been involved in dubious practices including the recent kidney racket.

On Friday members of some private bus transport associations and three wheeler drivers' associations struck work, crippling transport services and causing severe inconvenience to millions of common people. In some areas the strikers resorted to violence throwing stones at Sri Lanka Transport Board buses and tomatoes at three wheeler drivers who defied the strike order. Their main grievance was the Rs. 25,000 fine to be imposed for seven specified traffic offences, including drunk-driving, driving without a licence and overtaking on the left side. Earlier the budget has proposed a fine of Rs. 2,500/- for any traffic offence including parking at unauthorised places. But after talks with the Finance and Transport Ministers the main private bus transport association and other groups agreed on a compromise whereby a fine of Rs. 25,000 would be imposed for the seven specified offences. Government leaders have made clear their aim is not to raise more money but to curb the number of road accidents where the number of deaths rose to more than 2320 last year and those injured to about 100,000. The figure is expected to reach higher graveyard proportions this year.

Gemunu Wijeratne head of the largest Lanka Private BusOwners' Association, said yesterday the association did not join the strike but the members could not operate the buses because of the danger of stone throwing or other violence. He also said the government had not made the people fully aware of the compromise reached on this issue with striking unions yesterday trying to mislead the people by saying the fine of Rs. 25,000 fine was for any traffic offence.

From next year the national government has declared that the focus would be on poverty alleviation and eco-friendly all inclusive development. For this to work out wildcat strikes need to be curbed or prevented in essential areas such as the health and transport sectors. Discipline and sincere hard work are essential for sustainable development. Rights are linked to responsibilities. Organised strikes began with the Marxist ideology but ironically in the largest Marxist state such as the Soviet Union and China strikes are banned.

This is the paradox of life and with the changing international geo-political scenario the government needs to enforce discipline and integrity though we stress that it must start with the politicians.