---

ecently, many folks were bragging about our strategic location astride the key maritime routes in the Indian Ocean while at the same time complaining that any partnership with foreign entities on those matters was tantamount to a sellout. In a sense, they are pursuing a national pastime that is dating back to the early years of independence.
Every country in the world has some sort of strategic value and those who have little of it, have augmented it by entering into alliances, alignments and strategic cooperation with other states, thus not only maximizing their physical security, but also giving a real shot at economic prosperity.
However, Sri Lanka's discourse on its strategic value has often been sentimental and foolhardily. That may be due to an inward looking scholarship and a dogmatic worldview, which were rather mistakenly termed as 'progressive' during its hey days. One of the most grandiloquent advocates of this world view was India's first prime minister, Jawaharlal Nehru, who demeaned alliances as reducing a country's security -- only to go pleading for the dispatch of squadrons of American bombers when China routed the Indian army in the 1962 border war.
Our dogmatic worldview prevented us from exploiting our strategic location, and any other intrinsic strategic values the country had as a new nation to advance our self-interest, i.e. primarily, economic prosperity. Like Victorian women, we were poor but pure. No one else was to touch our precious assets.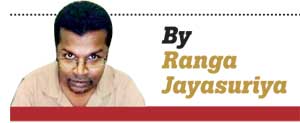 Old habits die hard and certainly not easily in Sri Lanka. The recurrent debate on the lease of the Hambantota Port to a Chinese company, the proposed Chinese-funded export processing zone, the proposed lease of the Mattala Airport to an Indian company and the proposed joint development of the Trincomalee Port with India follow the same trend of that historical discourse.
First they covet our strategic location, then regurgitates the same sentimental and dogmatic baloney that has been uttered during the past seven decades. Perpetuating that idiosyncrasy and flaunting it has the received wisdom does not help the country or its people.
Interestingly, before they were listed for restructuring, those strategic ventures were termed as colossal white elephants. For instance, the accumulated loss from the Hambantota Port during the past three years is a whooping Rs.47 billion. If the loss is divided squarely among Sri Lanka's 5.2 million households ( based on the 2012 census), each will have to chip in Rs.9,000 to pay off the losses. Billions of rupees invested in infrastructure in Hambantota had not made a return.
SriLankan airline has recorded a loss of Rs.6.5 billion during the financial year 2016/2017. Mattala airport is now a paddy storage warehouse. Trincomalee, the strategically important port sits at the mouth of a vast underdeveloped Eastern Province, where the absence of economic opportunities force many hundreds of thousands of local youth and especially vulnerable women and war widows to go to the Middle East to work under sub-human conditions.
The per capita income in all other provinces is a fraction of that of the Western Province. For instance, the median household income in the Eastern Province is only a half of the Western Province. With the infusion of foreign capital, living standards in those provinces should easily be uplifted faster than the national average.
The main argument peddled by the detractors of those foreign-funded development projects is a perceived threat to sovereignty. Thus we are told that the lease of the Hambantota Port would turn Sri Lanka into a Chinese colony and the Chinese Navy would have free reign. Before the lease of Hambantota port, a Chinese company, Landbridge purchased Australia's Port of Darwin for $370 million on a 99-year lease. No one then cried wolf that Australia was becoming a Chinese colony.
In the current international context, sovereignty is neither absolute, nor can it easily be undermined. The complex transnational inter-dependency of the international system means that countries pool certain attributes of their sovereignty. Brexit voters wanted to take back their sovereignty and now the British political class is pondering how to avoid the post-Brexit recession.
Similarly, this is not the 19th century. Institutions, laws, norms and global regimes that regulate the state interaction in the internal system offer sufficient safeguards for even the weakest states. Economic interdependence has not enslaved countries, instead embedded economic and security interests of other nations have increased their security. Take Singapore or tiny Qatar for example.
" In the current international context, sovereignty is neither absolute, nor can it easily be undermined. The complex transnational inter-dependency of the international system means that countries pool certain attributes of their sovereignty"

However, letting one country to run the entire show would in the long term create a disproportionate dependence on a single major state, in our case, on China. That is exactly why Sri Lanka should diversify its development partners. The problem however is that there are few takers. Unlike the state-owned Chinese companies, which seem to have a very liberal attitude on the returns on its investment, large scale Indian, South East Asian, Japanese investors have serious reservations about Sri Lanka's investment climate. Nor do we have a high end investment platform, a showcase city like Kuala Lumpur is for Malaysia that serves as a magnet for investment.
Sri Lanka should use the Chinese investment to create infrastructure and industrial and technology clusters that could attract other nations. China's proposed investment in the port and a 15,000 hectare export processing zone has potential to turn the deep south backwater into a mini Shenzhen. Of course, Chinese investments have geopolitical designs and are part of the One- Belt-One Road initiative (OBOR), that aims to bring in Chinese economic and geopolitical influence further afield in Asia, Africa and some parts of Europe.
Sri Lanka lost out potential benefits of an earlier geopolitical competition in the bipolar world since it chose to be in the middle ground. However, in the current one, at least because the Rajapaksas entangled us in the Chinese aid, we have an early bird advantage.
Save China's all-weather friend Pakistan, the Colombo Port City and the Hambantota Port are as of now, the main achievements of the OBOR in South Asia, a region of 1.7 billion people.
The ensuing geopolitical competition would happen anyway irrespective of our participation, as the growth of China's relative power propels its expansion and other countries, India, Japan and the US try to hedge against it.
We have two choices. We can shut the door and pretend like nothing is happening in our external neighbourhood and emerge from the slumber in five decades to find the world has changed beyond its recognition. Or we have to take dispassionate realist decisions to harness systemic forces of this geopolitical completion to our advantage and to modernize our economy, just like the East Asian economies did during the bipolar competition. Also, one thing for sure is that our empowering democratic traditions as Asia's oldest democracy, which even Mr. Rajapaksa could not fully dismantle, would serve as a safeguard against certain pernicious influence of Chinese involvement.
A good economic and foreign policy should aim to build on these available opportunities so that we can attract the cooperation of other major states. India and Japan would follow suit if the government set the right investment climate through reformed labour, land and investment laws. Even now, the renewed Indian interest in the Mattala Airport and the Trinco harbour had much to do with balancing intents: Earlier the Indians snubbed a much publicized offer of Trinco harbour, calling it economically unviable. Hypothetically speaking, if the Chinese pack and go, most other nations who are reluctantly here due to geopolitical, rather than economic considerations, will soon lose their interest in Sri Lanka.The reason is that Sri Lanka does not offer a competitive economic advantage at the moment. This may however change if the government manages to sign those proposed Free Trade Agreements with India (ECTA), China and some parts of South East Asia.
The current discourse of demeaning foreign investment is in part a cultural problem, but it is also opportunistic. It is also a recipe to send another generation of Sri Lankans to toil in the Middle East under less than ideal conditions. In that sense, this discourse is wicked.

Follow @ RangaJayasuriya on Twitter