---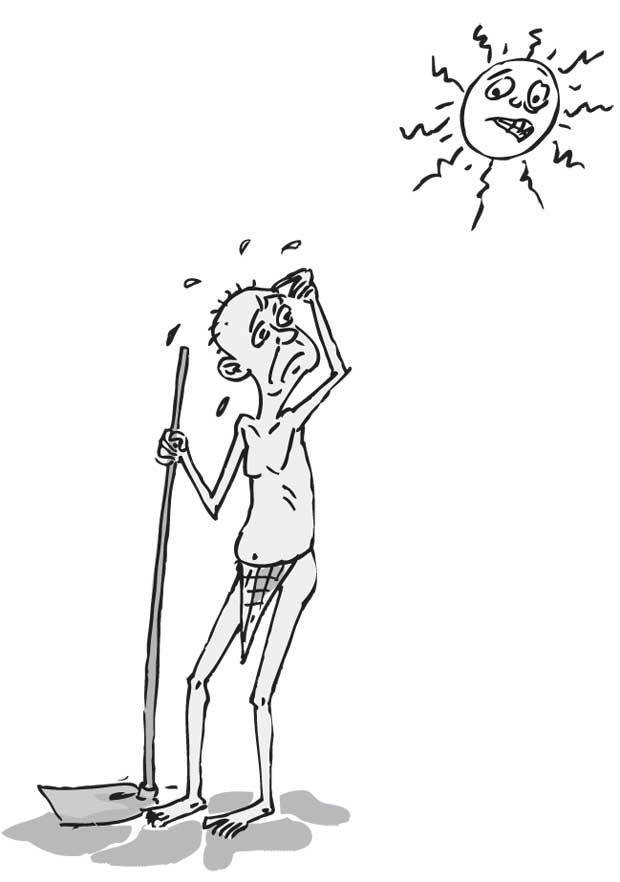 With Sri Lanka facing one of its worst ever droughts, largely due to climate change consequences, the national government has thankfully planned ahead for this and is implementing urgent and effective ways to overcome the crisis.

In the latest step yesterday, President Maithripala Sirisena, who is leading the countrywide battle against the drought, urged private sector institutions to join the power saving campaign by switching off promotional and decorative electric lights. The President has also set up a high-powered task force to deal effectively with issues that may arise from the drought where Sri Lanka is receiving only one third of the rainfall it got at this time of the year, though the newly-inaugurated United States President Donald Trump is still insisting that Climate change is largely a hoax made in China.

While religious groups are praying for rain and hopefully expecting miracles, the task force and other officials are implementing plans which vary from communities being allowed to take only drinking water from drying reservoirs, to removing taxes for the import of rice to stabilise the prices of our staple food, the bath patha. The government has also intensified plans to find creative alternatives to hydro-power to maintain the national electric grid. The three-day Youth Climate Summit began in Sri Lanka yesterday and we hope the hundred eco-friendly university students attending it will come up with some innovative solutions.
According to Meteorological Department Chief Lalith Chandrapala, new technology system enabled the weather watchers to predict the oncoming drought months ahead, thus giving the government enough time to prepare disaster management and damage control measures. "We have a rainfall deficit and it is likely to stay that way until the next monsoon in June and July," the Weather Chief said. According to him, in some districts, rainfall has been 30 to 40 per cent of normal levels and about 800,000 people have been directly affected. Some of these districts are part of Sri Lanka's once overflowing rice bowl.
According to DMC officials, the lack of rainfall severely affected paddy rice production in the last growing season. Only around 300,000 hectares out of a possible 800,000 were cultivated, largely because of lack of irrigation water. But DMC officials and the Weather Chief say reservoirs that will provide water for the next growing season, which starts in March, need to be at least half filled by that time to support a normal harvest. We hope urgent plans would be implemented to restore thousands of these reservoirs which are marvels of ancient engineering and a manifestation of Sri Lanka's ancient environmental wisdom.

According to officials, the lack of water is likely both to hurt agriculture and cut into supplies of vital hydro-power. Already, as a result of drought, the country is getting 80 per cent of its electricity from coal and oil and only 11 per cent from hydro-power. Normally, at this time of the year, the country would get at least 40 per cent of its electricity from hydro-power, according to the electricity board. According to Power and Energy Minister Ranjith Siyambalapitiya, the government is also prepared to enter into short-term power-supply agreements with private companies to meet any further drop in hydro-power production capacity.
The government has also launched a national power and water conservation programme and we hope eco-friendly citizens will rise beyond party politics or affiliations and act for the common good of the country.

As an act of unity with those who are suffering without freshwater for drinking and other essential purposes, we need to consciously cut down on the amount of freshwater we use. For instance, when washing the hands or utensils, taps should be opened only half-way or less. Our shower bath times could be cut down by about five minutes. To water the plants, we could use water that is collected after washing food items or utensils. As we have said earlier, some families could also think of contacting the authorities and installing rainwater harvesting equipment in their homes. Thankfully, India is donating rainwater harvesting equipment to 1,000 houses in the Northern Province, which is one of the areas worst affected by the drought.
If each of us could save ten litres of water a day, the daily saving would be about 200 million litres and those little drops of precious water could make a mighty ocean.