---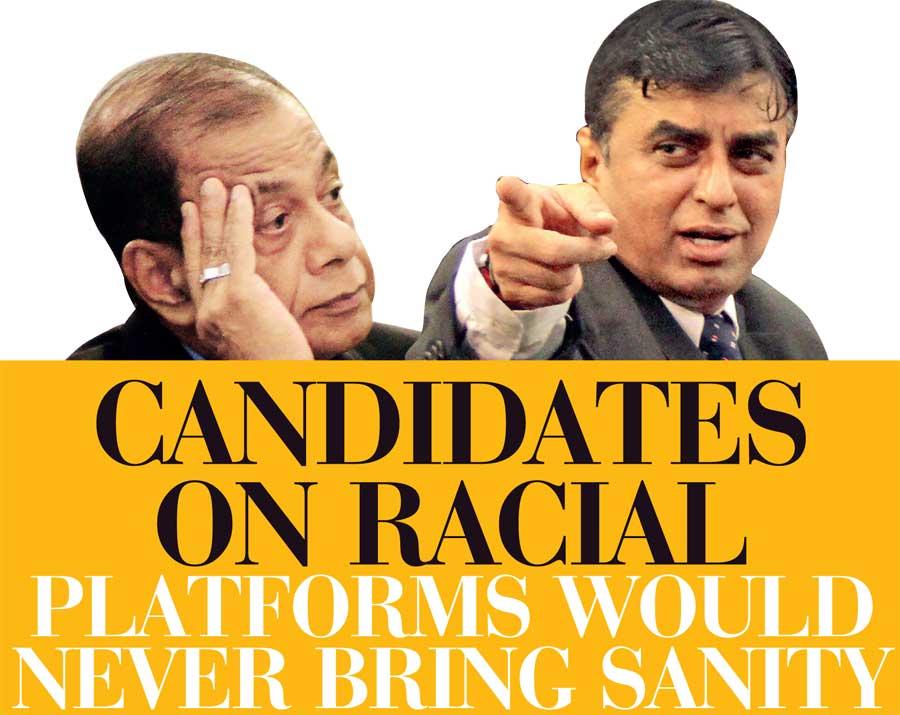 ast Tuesday, the Cabinet of Ministers did not meet for their weekly sessions. Reason being the Parliamentary Select Committee (PSC) constituted to investigate Easter Sunday attacks.
The President wants the PSC to stop its proceedings forthwith on grounds that such investigations by a PSC would hinder "national security".
Parliament is a legislative body elected by the people and has every right to investigate a national tragedy on behalf of the people, who elected them.
The people have the Right to know the reasons for the tragedy they were pushed into.
But how the whole process is carried through with publicity and not convincingly serious, makes the PSC look like a political tool of the UNP Government now in conflict with the President.

Nevertheless, Hemasiri Fernando's testimony proves the post of Secretary, MoD had always been used in a way it should not have been.
"But Sir, when you speak about the Secretary Ministry of Defence, there is a big difference between me and Mr Gotabhaya Rajapaksa. Mr Gotabhaya Rajapaksa was the unofficial Minister. Me, I was a helpless Secretary, who could not even speak to the Minister once in a week……" Fernando told the PSC.
Gotabhaya had played the role of the Minister when he should have been only the Secretary to the MoD, while Fernando had been happy carrying files when he had to be the Secretary of the MoD. Fernando also told the PSC how Ministry Secretaries, especially those politically appointed, acted as 'Ministers' overstepping their boundaries and mandate.
"Since you mentioned about me as the Secretary of Ministry of Postal Services, I should say, I was there as Mr Gotabhaya Rajapaksa was here. Because the Minister did not come to the Ministry." Fernando told the PSC.

Fernando's near six-month stay as Secretary of MoD according to him, did not have serious and productive discussions at the National Security Council (NSC) that had not been meeting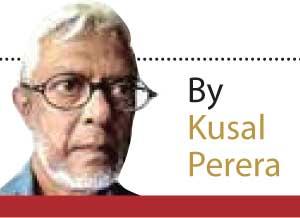 regularly.
"I don't know if I should say this. But what was discussed as important and serious security issues in the past during NSC meetings, was not discussed that way in these NSC meetings."
Fernando told the PSC-
"Madush was the main topic discussed" he said. When Minister Rajitha Senaratne pointedly told Fernando, "What you basically say is, these officials highlight issues that the President is fond of", Fernando remained noncommittal with a sarcastic smile.
Two or three members of the PSC were heard asking Fernando "No comments?"

Also, Pujith Jayasundera, the IGP on compulsory leave filing an FR Petition in the Supreme Court, with many serious official documents produced in support of his petition, should provide more than enough material to gauge the frighteningly chaotic situation in the law enforcement establishment and in the "Intelligence" apparatus.
Whatever the SC ruling could be on infringement(s) on Fundamental Rights of the petitioner, the exposure the FR petition provides for political reading proves the "State" needs serious and far-reaching reforms. The 19 Amendment had instead taken care of this UNP government to hold it in power for a full term.
The fact that this UNP government has not come up with any serious remedies to any issue, denies them the right to lay blame on President Sirisena for obstructing them. The UNP leadership backed out on the whole UNHRC Resolution it co-sponsored with the US in September 2015.

It went silent on "war crimes probes" Reduced investigations on involuntary disappearances to the mere recording of statements by the OMP to wash their hands off with "compensation" offered. "Reconciliation" was made a joke with hundreds and thousands of affected men and women in North and Vanni going on agitations for months and years demanding their land occupied by State security forces and reasonable answers for the disappeared.
Although the Justice Minister had always been from the UNP, the issue of releasing Tamil detainees without any charges filed but held for many long years had been laid aside with the present Minister Athukorala refusing to accept them as "political detainees".
The economy has no clear direction to answer rural poverty with wealth and income sharing disparity fast increasing in favour of the "filthy rich".

Corruption promised to be completely swept away, is far more politically organised and widespread with leading UNP ministers accused of mega corruption.
Education from Grade I to University Graduation is Colombo based in a heavily competitive market. Health is far worse as a very exploitative sector and a medical mafia dictating terms. Public transport and road traffic are one huge chaos. There is no debate or discussion necessary to prove this UNP government is a total failure.
Within that failure Easter Sunday attacks go far beyond the question "who is responsible for not having acted on time to prevent the tragedy?" and instead expose how racially biased, inefficient and politicised the "State" is. These issues not given due importance by the Government, twisted and ignored by the media and forgotten by those who have often in the past taken to the streets to "save democracy" and demanding "justice for all" prove them all.

01. The HRC of SL wrote a letter on "Communal Violence in the NW Province, Chilaw district and Minuwangoda Town" to the Acting IGP on 23 May (2019) – The letter notes "The mobs appear to have had a free hand to engage in the destruction of the Mosques in Hettipola, Wattakali, Thummodara, Maikulam, Bandara Koswatte, Kotampitiya, Minuwangoda and Nikaweratiya and also homes, vehicles and other properties of villagers in the aforementioned villages as well as in Kottaramulla." It also says, "Many villagers reported they had phoned 119, 118, the DIG's office and the Hettipola, Koswatte, Kuliyapitiya and Nikaweratiya police stations a few hours prior to the incidents seeking protection, despite which no preventive measures were taken."

Under the signature of Chairperson HRC Dr. Deepika Udagama, the letter says, "As we know, causing incitement to racial and religious violence is prohibited by the ICCPR Act No.56 of 2007 (Section 3) and bail to suspects can be granted only by the High Court, that also in exceptional circumstances (Section 3 (4)" Despite that law, in Bingiriya, arrested suspects had been released "on police bail for mischief". Four persons arrested in relation to attacks in Kottaramulla had been released by Koswatte police, and the reason given was, "The OIC Reported that he had done so due to orders from the Actg. IGP."
02. While racist mobs had the privilege of being released on Police Bail and on requests made by the Actg. IGP as quoted above, an innocent Muslim woman, M.R. Mazhima who came to the Hasalaka town in a dress that had a "ship's navigating wheel" printed, was arrested and booked under the ICCPR Act No.56 of 2007, on charges of insulting the "Dharma Chakra" that symbolised Buddhist teaching.
"PSC look like a political tool of the UNP Govt now in conflict with the President
No need to prove UNP Govt. is a total failure
Economy has no clear direction"

Arrested on 18 May, she was remanded till 27 May and was further remanded till June 03. Remanded under the ICCPR Act, she can be granted bail only by the High Court, that also in exceptional circumstances (Section 3 (4).
03. Arrest and detention of medical doctor Mohammed Shafi is another blatant violation of the law.
He was arrested "on charges of earning assets in a suspicious manner," said Police Spokesman Ruwan Gunasekara on 25 May. That was only on information received. In a dramatic turn of events, following day, a public call was made to lodge complaints against Dr. Shafi on "forced sterilisations".
No investigations have commenced on complaints collected through this public call and with much lobbying by Sinhala extremist activists.

What is most disturbing is that the Sinhala newspaper that triggered this whole Kurunegala forced-sterilisation episode, is not held responsible. No media, or any civil society organisation took up the issue. An academic at the Rajarata Medical Faculty, Channa Jayasumana who implicated Dr Shafi as the surgeon who may have conducted forced sterilisation on Sinhala mothers through his FB posts and later removed them, is not being challenged
All these racial lapses go along with what former MoD Secretary told the PSC. They prove, top officials play along with politicians for their own petty interests and the whole State machinery, State institutions and most Sinhala professionals are biased against minorities.
It is a sad fact, in most instances, the law is not equally and efficiently applied when the suspect is not Sinhala Buddhist.
The presidential pardon granted to Gnanasara Thera crowns it all, with no protests by civil society activists who were braving the weather to "save democracy" during the Sri Lankan "October Revolution" last year.

Nor were there any protests by the ruling UNP government as well.
In this racially fired political context the next election, whether parliament or presidential, will be a battle for the larger share of the Sinhala Buddhist votes ignoring Tamil and Muslim votes, violently polarising the country. There is no presidential candidate in the horizon with serious reforms to this racially polarised chaos.
In fact, the political narrative is being reduced to a "benevolent Sinhala Buddhist dictator" with extremist monks dictating terms. No Sinhala Buddhist benevolence would lead to a stable future. What Sri Lanka needs right now is a serious "Reform Agenda" for sanity in society before "candidates" are discussed.