---
In Sri Lanka it seems like people do get many lifelines. Just the other day cricket writer Andrew Fidel Fernando won the 2019 Gratien Award for a travelogue; for the record it was not for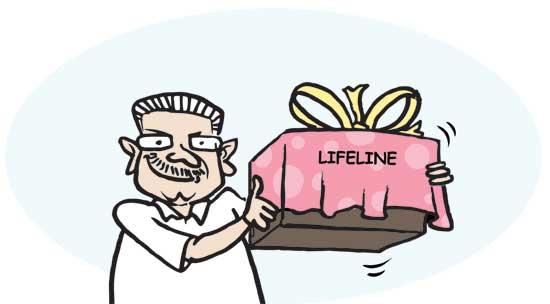 his cricket writing. We all know that this country is starved of cricket activity due to the present pandemic. When the rest of the world is battling against the COVID-19 threats Sri Lanka remains as one of the countries with the lowest death rates connected to the COVID-19.

Knowing all that a recent news that gave us some extra oxygen was hearing that plans to disrupt the upcoming elections by a 'bomber' had misfired.
Conducting elections are a must for technical reasons. There are legal reasons why this caretaker government can't continue forever. The time has come again for the people to select their representatives to Parliament. Some believe that the country still has that outside chance to bounce back and revive its economy if it gets to elect a SLPP led Cabinet under Gotabaya Rajapaksa. However there are others who think otherwise and would wish to have a government led by a lawmaker who'd be accepted by even the minority communities.
The problem with the present lawmakers in this caretaker government is that they organise events and take decisions in such a manner that they rub salt into the wounds carried by war victims.

The survival of a community is greater when people mingle without fear and prejudice. Walk on the streets of Kotahena, Maradana and Wellawatte and one will notice how strong cultural harmony is. One community doesn't have to be taught about a religious festival of a different faith. Awareness about one another is more in such communities where people of all races blend so effortlessly.
When we know about each other it's difficult for lawmakers to divide us. But that will only happen if we are genuine in knowing about the other who eats different food, dresses differently and prays to a different God.

We as a nation have our ways of facing adversity. Either we pray to the Gods or go behind lawmakers with clasped hands seeking help.
There are the battle-hardened individuals who'll fight their way out of a tight spot using skill and experience. The tele series 'Deweni Inima' (Second Innings) telecast on Derana reminds us that one has to create that second lifeline quite skillfully.
President Gotabaya Rajapaksa prefers professionals and academics over lawmakers to aid him governance. Gotabaya believes that Sri Lanka would have a better chance to comeback within such a system. But a former president like Mahinda Rajapaksa would fear such drastic changes to a political set-up.

We recent change. Former tuition master and present author Upul Shantha Sannasgala in his book Gemba (ISBN 978-955-681-205-3) gives us enough to chew on about how Sri Lankans resist change. In the chapter titled 'Take not a musket to kill a butterfly' he states how Russia, China, Cuba, Vietnam and Germany embraced change at a cost. But the author adds that change is very difficult to come by in a country like ours. Sannasgala writes that Sri Lankans often encounter a brickwall when they want to change their lives, husbands, wives and religions. He adds that the island mentality can be best summed up by the phrase 'I'll kill you if you change'.

Gotabaya is promising us that lifeline through change and many belive he'll succeed because he is associated with battlefield successes.
Ranil Wickremesinghe also promised change, but much of his ideologies remained fantasies. When it comes to offering lifelines one needs something real and something to chew on. Gotabaya is giving the people just that. He probably encountered the thought that revolutionists have to deal with death. Probably he went through the thought of death many times at the time those great generals perished during the war.