---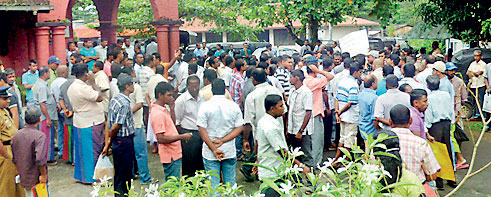 By Lasantha Niroshan
Residents of the area yesterday staged a protest demanding immediate reinstatement of the police sergeant who was interdicted in connection with the alleged assault on a woman at the Ratnapura main bus stand. More than 1000 people including Mahasangha, civil society organisations, Ratnapura Trishaw Owners' Association and Minipura Environmental Organisation, gathered at the main bus stand, proceeded to the clock tower junction and staged protest causing.
The Head of Ratnapura Dharmashala Pirivena Ven. Morawatte Sumana Thera who joined the protest compelled the authorities to reinstate the police sergeant. The Thera accused the individuals who had released the video scenes to the internet, of attempting to bring disrepute to the police that had launched an effective plan to clear Ratnapura town of vices. President of the Trishaw Owners' Association Priyantha Jayabandu stressed that police should have the right to prevent social vices.