---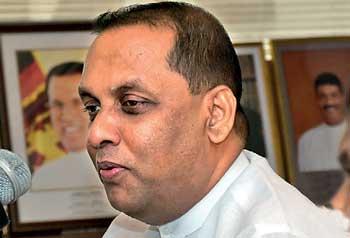 By Chaturanga Samarawickrama
An Independent Commission had been appointed to investigate alleged frauds occurred over the contract when issuing the latest driving licence introduced by the Department of Motor Traffic (DMT), Transport Service Management Minister Mahinda Amaraweera said. The Minister was speaking at a meeting held by group officials of the DMT in Colombo. The officials said that the loss incurred had been passed on to the people. Minister Amaraweera said the contract had been given to a private company relating to the building of a computer system, database, implementation of the system during the contract period and the acquisition of the system by the Department on a BOT basis.

"But the private company had failed to complete the project within the contract period. It is reported that the government had incurred a loss of more than Rs. 4bn by not completing the project on the due date," he said. "The audit reports show Rs.7467.65 million had been paid to the supplier company from 2009 to 2017. Rs.7467.65 million had been paid to the same supplier even after the contract period from March 2016 to December 31, 2017," Minister Amaraweera said.

"However, a total of Rs.5,610,749,042 million had been paid for the process of building the computer system, database system, and to the process of acquisition of the system by the department," he said. The Minister also questioned as to who was responsible for this contract and said that a financial fraud had occurred.
The officials accepted that the project was not completed on its due date and the country had lost Rs.1,750 million. "When introducing the new driving licence, an electronic chip was included. But the Department was unable to introduce any device to the traffic Police which enables to read the data in the chip," he said.

"Even though the driving licence could be issued at a cost of Rs. 300 but the private company had charged Rs.1,300 from an individual."Due to these and the loss of large revenue to the government, the Ministry has decided to take action against the private company and to blacklist it while stopping its operations in the country," Minister Amaraweera said. "The Ministry has also decided to take legal action over the responsible officials found to be involved in this process," he said.

"An Independent Commission was appointed to investigate over the incident and there would be no mercy for the persons who involved in this racket," the Minister added.
A total of Rs.5,610,749,042 million had been paid for the process of building the computer system, database system