---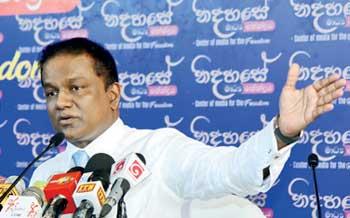 By Sandun A Jayasekera
In Sri Lanka, Sustainable Development Goals (SDG) came into action in 2015 and the first Parliament in the world to have a Select Committee on SDG was Sri Lanka, former Deputy Speaker Thilanga Sumathipala said in India last week.

The Parliament Select Committee, the first country to have a committee to manage and monitor the affairs of SDG has put up papers and looked at the 17 goals to determine what we have done and what is the impact of the SDG in our country and what are the benefit to Sri Lanka, he added.

Addressing the 14th Global Youth Peace Fest-GYPF2019 and for the commemoration of 150th birth anniversary of Mahatma Gandhi, at Chandigarh, India, Mr. Sumathipala went on to say that each country has pledged Sustainable Development Goals in different ways.

We all focused towards a global agenda, in year 2015 and we had something call MDG (Millennium Development Goals) the world thought that was only for developing countries like most of the Asian Countries, the world leaders got together and made a world agenda, an agenda for you, for us and for everyone, known as Sustainable Development Goal, with 17 Goals and 169 targets to follow, a Global Agenda. You are here as youth, it is very important and significant for all of us. What is SDG, it for you, sustainability is for the youth for the generations to come, and how we can manage this wonderful world," Mr. Sumathipala emphasized.

"When we started our plan 4 years ago, We had a Mission Corporation the SDG against the local stats were updated in grassroots level some in International level some in Provisional level. When talking about women empowerment in national level, I will take Sri Lanka as an example, unemployment is 8% and in Colombo district is less than 5%. For example, if we quote Chandigarh if you go to a remote area, and look from grass roots level maybe 27% of poverty" he said.
"We have the alignment, if you don't know the alignment between the national budget and the expenditure, even if you try the results will not come.

Whilst the topic today is peace, we break because of the uncertainty because they are not happy they are not contained one of the reasons resources not been shared equally, equity has not been given to share based on the way the bottom line expected. We have to do more to the underprivileged. This measurement is very important this day what we are discussing the youth has a huge role to play," he added.
When talking about women empowerment in national level, I will take Sri Lanka as an example, unemployment is 8% and in Colombo district is less than 5%. For example, if we quote Chandigarh if you go to a remote area, and look from grassroots level maybe 27% of poverty