---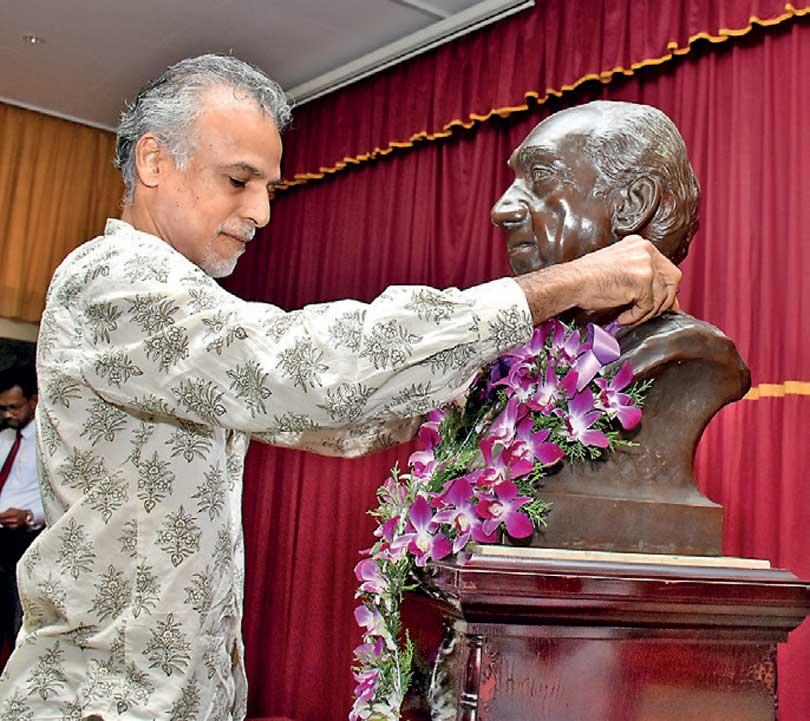 Late President J R Jayewardene's grandson Amrit Jayewardene garlands the statue of his grand father to mark the latter's 113th birth anniversary. Pic by Kushan Pathiraja
By Yohan Perera

Late President J. R. Jayewardene will be happy on the day when the executive presidency is abolished, Speaker Karu Jayasuriya said yesterday.

He said this during a ceremony held to mark the 113th birth anniversary of Late President Jayewardene.

"Late President Jayewardene was of the opinion that the executive presidency could never be abolished as the person who is appointed to that position will never do it when he begins to enjoy its powers. However Mr Jayewardene would be happy if the executive presidency is abolished some day", the speaker said. The speaker said late President was instrumental in introducing the free trade zone concept to Asia. China and Malaysia implemented it after studying the concept which was in operation in Sri Lanka. "Free trade concept was very successful in Sri Lanka during the first few years. He said it was the same with the open economy introduced by Mr Jayewardene especially after the shortage of food and rice check points which existed in the country in the early 1970s.

"Mr Jayewardene's abilities when it comes to foreign relations was also commendable. He displayed this during the San Francisco summit where he saved Japan from a division. Japan would have been divided like Korea if not for President Jayewardene" he also said.

Former DIG Raja Weerakoon who was the personal body guard of late President in his keynote address revived the memories of the late Leader. He recalled how President Jayewardene refused to accept a tray filled with Yen notes offered to him by Japanese businessmen. "What would a present day politician do in circumstances such as this"? he questioned.
Also, Mr Weerakoon recalled how the late President made Indian Prime Minister Rajiv Gandhi astonished when he referred to airdropping of food in Jaffna. "I know your grandfather and I know your father too. So I can forgive you. However, I cannot forget it," he told Prime Minister Gandhi. These words were simple, but had a deep meaning", Mr Weerakoon said.
Late President Jayewardene was of the opinion that the executive presidency could never be abolished as the person who is appointed to that position will never do it when he begins to enjoy its powers