---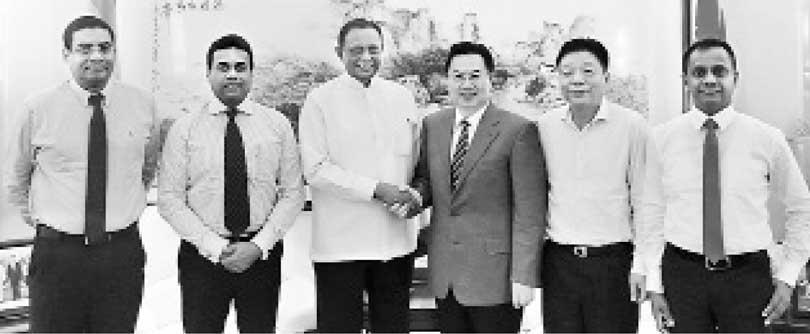 Better to have more Chinese restaurants
Stressed the need to allow Chinese nationals to bring Chinese tobacco
Sri Lanka attracts 300,000 Chinese tourists annually
It is peanuts compared ten million attracted by Thailand

Chinese Ambassador Cheng Xueyuan stressed the importance of having Chinese speaking tour guides and restaurants serving chinese food as a step to promote the arrivals of more and more tourists from his country to Sri Lanka. He said in a statement, before being nominated as the Chinese Ambassador to Sri Lanka and arriving at the country to assume my office, he could hardly imagine that there are so many world wonders on this tropical island of over 60,000 square kilometers.

"The graceful lake and mountains of Kandy, the quaint and ancient city of Galle, the gorgeous and colourful Colombo, and the breathtaking thrills of Lion Rock are all amazing and stunning. Many Chinese tourists have been attracted to these beautiful sceneries," he said.

With the strong support and promotion of the Sri Lankan government as well as the Chinese Embassy in Sri Lanka, the number of Chinese tourists to Sri Lanka has reached nearly 300,000 annually and ranks the top among foreign tourists to Sri Lanka. However, this number is only a peanut while comparing with the number of Chinese tourists attracted by Thailand, which is also a neighbour of China. In 2018, Chinese tourists to Thailand have exceeded to 10 million.

The authorities should pay attention to the following aspects if the tourism sector is to flourish with Chinese visitors. Firstly is language barrier. Many Chinese tourists are not accustomed to English language, much less the Sinhalese or Tamil language. Chinese-speaking tour guides' accompany and interpretation is a must for them. But there are very few Chinese-speaking local guides here, and Chinese guides are prohibited from entering Sri Lanka and accompanying with tourists. Besides, Chinese people always have "Chinese stomach" when travelling. They show strong preference to Chinese food. However, it is difficult for a Chinese chef to obtain a working visa to work in or set up a Chinese restaurant. Therefore, the number of Chinese restaurants in Sri Lanka is limited and sometimes cannot meet needs of Chinese tourists. In addition, a large percentage of Chinese tourists are accustomed to Chinese tobacco and alcohol, which is a reality that the tourism industries in Sri Lanka has to consider seriously, although it is not healthy at all and should not be encouraged. The tourists cannot buy Chinese tobacco and alcohol during their stay, and even not allowed to bring a few Chinese cigarettes with them for their personal use when entering this island. These restrictions make Chinese tourists unaccustomed, which don't exist or at least have some level of exemption or tolerance in many other countries.

In fact, conveniences, experiences and happiness are precisely what Chinese tourists most care about, and one of the key factors in their decision-making of travel destinations. I noticed that the Tourism Authority of Thailand emphasized in an interview that the promotion of the Chinese market in 2019 will focus on increasing convenience and happiness, hoping all Chinese friends in Thailand would enjoy high-quality experience. China is the world's largest source of tourists with large scale of outbound tourists and ranks No.1 in overseas consumption in the world for many years.
Many Chinese tourists are not accustomed to English language, much less the Sinhalese or Tamil language. Chinese-speaking tour guides' accompany and interpretation is a must
for them

The size of China's tourism market is too huge to imagine and compare by many other countries. The growth of related industries such as aviation, hotels, transportation and catering promoted by the tourism industry is also considerable. At present, the Sino-Sri Lanka relations has stepped into a fast development period. The implementation of Belt and Road Initiative between the two countries is in full swing, the exchanges in various fields are increasingly frequent, and the prospect for Sino-Sri Lanka tourism cooperation is also promising.
I'm fully confident that if Sri Lanka could continuously improve the tourism environment, focus on improving the comfort of foreign tourists as much as Thailand, adjust relevant regulations in accordance with Sri Lankan laws, ease the existing obstacles for foreign tourists effectively, more and more Chinese tourists will be attracted to Sri Lanka, which will stimulate tourism, consumption and stronger vitality to local economic growth.