---
When proceeding from Negombo to Chilaw on the main road, turning to seaside from the Kattuwa Junction and continuing a few meters on Ettukala Road, one would not miss the sight of a beautiful Church of great architectural value.
This Church, dedicated to Saint Sylvester, is now ready to celebrate its 125th Jubilee.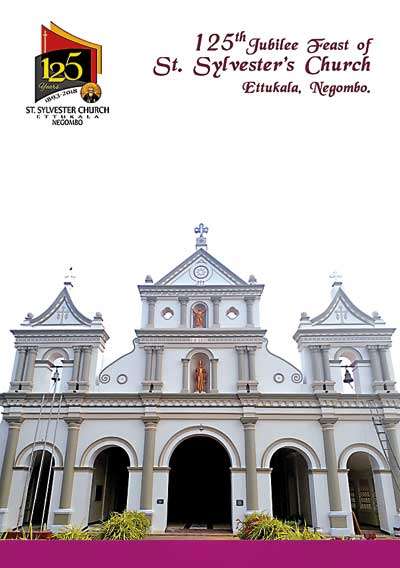 Saint Sylvester is much known in Sri Lanka and the Church at Ettukala is a church dedicated to the Saint.

He was born in 1177 AD in Italy to a rich and an elite family. His father was an attorney. The young Sylvester was admitted to the University in Bologna with the aim of making him also an Attorney.
However, at the University he chose Theology instead of Law and completed his higher studies in this field. His father disliked him for choosing Theology instead of Law.
On most occasions when he was absorbed in prayer he had visions inviting him to join religious congregations.

In one of these visions, Saint Benedict appeared to him and invited him to accept the Holy Law and Priestly vestments.
Sylvester selected a lonely area where wild animals roamed about, known as Montefano to set up a hermitage. There had been many followers, who preferred to live the simple life.
There were many youths who emulated Sylvester and joined his mission.
It is believed that many ferocious animals were at his feet and obeying his commands. Those who came to visit him feared a large number of animals around Sylvester, but none of them attacked the people.

In one instance it is believed that a youth who opted to be a follower of Sylvester came to the hermitage but he was forcibly dragged away by his parents while one of the parents slapped Sylvester. Later on, the parent who slapped Sylvester had suffered from Leprosy in the hand.
Many miracles had been attributed to this Saint. Many blind persons had their visions restored. Deaf and dumb had been cured.

Later, with the commencement of the Sylvester Benedictine Order, there were a large number of followers flocked to join this order, which was inaugurated with the blessings of the Holy Father, Pope Innocent 1V. In Sri Lanka, the Ampitiya Montefano, Mother House of the Sylvester Benedictine Order stands tall as the Premier Seminary, where a large number of Priests undergo training and do their higher studies.
History records that Sylvester lived for ninety years and died on November 26, 1267.


At the time of his death, those who were at his bedside had seen a vision of Angels carrying away his Soul into heaven.
In 1598 he was Canonized by Pope Clement VIII.

Annually, the feast of Saint Sylvester was celebrated on November 26 each year.
As the 125th Jubilee of this Church falls this year the feast of Saint Sylvester would be celebrated on December 9.
Relics of this great Saint and those of Saint Benedict, are placed inside a statue of Saint Sylvester at this church for veneration by the devotees.