---
"What kind of humans are we?" is the most crucial question facing our country today. People from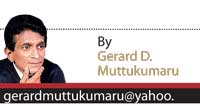 across the world, especially Sri Lankan expatriates, come here to party. I had an acquaintance who told me that Singaporeans, because of the rigidity and discipline in their country, come to Sri Lanka and its resorts to party. But that is not life. This nation has serious problems to resolve.
What kind of people are we? I address this question to all government, business, religious and education leaders…. and yes to every parent.
"Do unto others what you would have them do unto you." This is known universally, as the Golden Rule which must be at the core of all human behaviour and action. I am talking about what kind of people or human beings we are. What kind of human beings are our parents, schools, universities, professional bodies and religious leaders producing? What is the moral law that governs the behaviour of every one of us in our classrooms, boardrooms and workplaces? Are we teaching the principle that must guide every one of us - "Do unto others what you want done unto you"?
The only test that matters in leadership is leadership by example. What example are the leaders in our companies, public institutions, parliament, schools, universities, homes and religious institutions setting?
The Human Resources Manager in one of our most admired companies sent me a message on Friday: "I will talk to you on Monday." She never did. There are so many like her in ordinary positions and in positions of leadership for whom I have the only message: Do unto others what you want done unto you. Keeping your word defines who you are as a person. Always keep a promise. This is the essence of business and corporate governance.
Return every phone call. Reply to every email or text message. This is what you want done to you. Do we only respond to people we want to? Do we only love or like people who love or like us in return? Don't avoid people you disagree with or don't like. Do you want to be avoided? Don't judge a person based on innuendo and rumour. Give every person a hearing. It is the right thing to do. It is what you want done to you. What you sow you WILL reap. No one escapes.
Great German Philosopher Emmanuel Kant observed: "Two things strike me with awe; the starry heavens above and the moral law within." No one escapes the moral law. No one takes their millions or billions with them when they leave this earth. If every one of us can think of one human being we have harmed, we must reconcile with this person. We must do the right thing and do unto others what we want done to us.
A wise man once said: "If you want to see where a nation is going, take a look at its people." Just look at the streets of a city like Colombo. It is the law of the jungle. I know it is heaven compared to the streets of Chennai or Calcutta. Look at the behaviour of almost every driver. Sri Lanka is a Buddhist country. So is Thailand. But look at the courtesy and respect that Bangkok drivers show each other. On our streets, we must begin today, doing what we want done to us.
In the hospitality industry and in government offices, I have seen so many employees talk to each other with no or little respect. In Sri Lanka, do we treat foreigners with more respect than we treat our own people? Do we really respect each other?
Let us examine and resolve today to do unto others what we want done to us. More than being a rational animal, man is a rationalising animal, rationalising all his or her behaviour, a famous psychiatrist once told us. Leadership in our public institutions, our homes and our businesses must be by example. We can do better. We must do better as a person and as a nation. Only then will Sri Lanka as a nation regain it's proper place in the global community and in the ratings of Fitch, Standard and Poors and Moodys.