---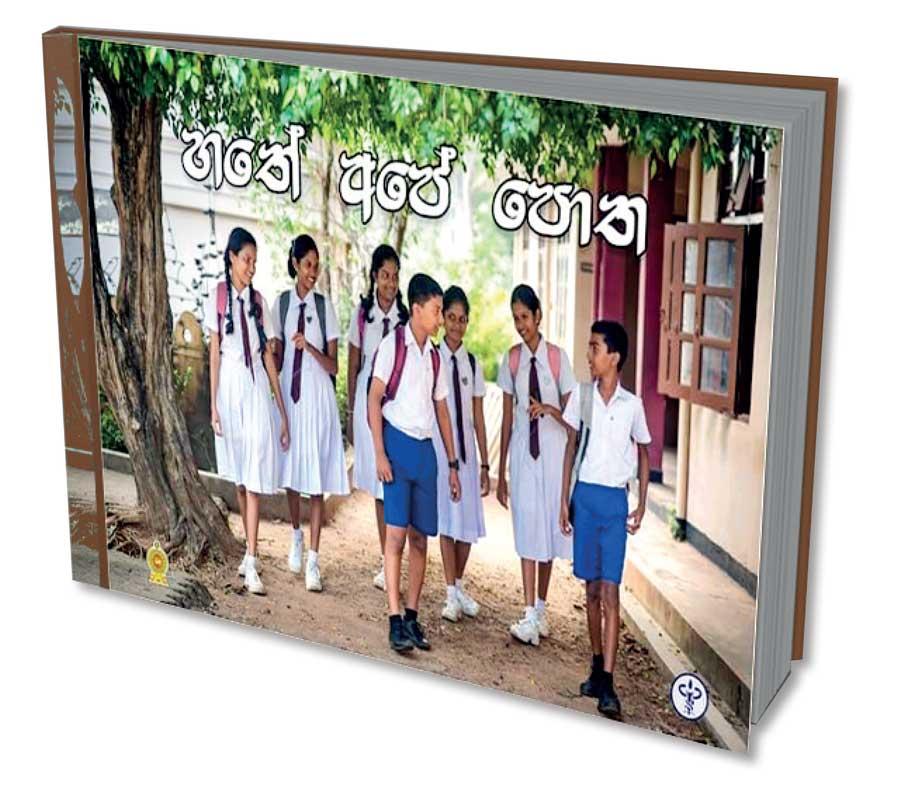 The attraction towards the opposite sex is one of many behavioural changes experienced during puberty. But a lack of education on the various hormonal changes that happen during adolescence could put any teenager in a dilemma. In 2018, as many as 1196 cases of statutory rape of girls below 16 years of age were reported from Sri Lanka. According to the Police Performance Report 2018, these incidents had happened with the consent of the victim while another 248 reported incidents had taken place without the victim's consent. Apart from that, many other cases of 'grave sexual abuse' too were reported during the same year. Academics believe that the first place to educate children on sexuality education is in school, but whether Sri Lanka's conservative mindset would allow it is a question. As a result, Sri Lankans continue to suppress their intimate emotions, thereby making themselves more vulnerable to aggression and violence, thereby spiking statistics as mentioned above. Recently, a video of a learned monk explaining the contents of a book on sexuality education went viral on social media sparking debate among a wider community with regards to its pros and cons.

Corruption versus education
In a video that went viral on social media, Ven. Prof. Medhagoda Abhayatissa criticised the former Government for introducing a book based on sexuality education. The book titled 'Hathe Ape Potha' was to be distributed among Grade 7 students. Excerpts from the video follow:

"Hathe Ape Potha" was given to Grade 7 children by the then Education Minister Akila Viraj Kariyawasam and several other contributors from the Family Health Bureau, Ministries of Health and Education. We urge the incumbent Education Minister to ban distributing this book and initiate an inquiry into those who were responsible for drafting this book via a special commission. We need to know who encouraged them to draft a book of this nature which is detrimental to our cultural norms.

"Some boys masturbate. It's quite a normal habit, but you shouldn't disturb your studies by getting addicted to it," reads one quote. What are these adults trying to teach children? In other countries that promote sexuality education, mothers put contraceptive pills and other equipment into their daughters' school bags. This is the status of countries that have sexuality education. After I got this book I had to lock it up in a cupboard because if other sāmānēra monks (Junior monks) saw it, it will corrupt their minds as well."\

Book was published with good intention : Kariyawasam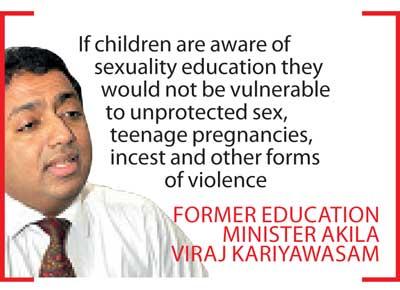 "We were planning to distribute this book closer to the Presidential Election, but because we thought that it would be a matter that would be exaggerated on the political stage we decided to delay its distribution," opined former Education Minister Akila Viraj Kariyawasam. "The contents have been thoroughly researched on and the contributors were selected from diverse backgrounds and departments. They represented institutions such as the Ministries of Health, Education, Family Health Bureau, National STD/AIDS Control Programme and many more.

"If children are aware of sexuality education they would not be vulnerable to unprotected sex, teenage pregnancies, incest and other forms of violence," he added. "Without a proper guidance they will be misled into certain habits which would be detrimental to them. They need to know what's going on in their bodies as well as that of the opposite sex. If emotions are suppressed they will show aggressive behaviours, leading to sexual violence. Therefore, we can't find a solution to these issues with an island mentality. After all the book was published with good intention," said Kariyawasam.

Haven't decided on what to do with the books yet : Wickramanayake
"The former minister was informed about certain contents of the book and therefore gave us a directive to halt the distribution of the book," said W.M Jayantha Wickramanayake, Commissioner General, Education Publications Department. "The books were distributed closer to the school holidays and therefore we haven't decided on whether to redistribute them or to send them to the Education Ministry as yet," said Wickramanayake.

He also said that this wasn't the first time when a book on sexuality education was distributed among school children. "One book was 'Udawu Yauwanaya' (Adolescence) for children between ages 10-15 which was released in the mid-90s to answer adolescent questions regarding puberty. There is also a Sectoral Oversight Committee on Women and Gender at the Parliament of Sri Lanka that launched a curriculum on Comprehensive Sexuality Education (CSE)," he added.

Access to sexuality education is a child's right: Dr. Hettiarachchi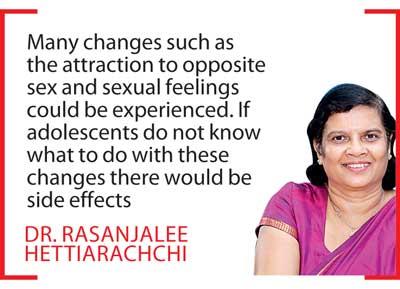 "It is a child's right to know about what's happening in their bodies," said Dr. Rasanjalee Hettiarachchi, Director, National STD/AIDS Programme. "During adolescence children experience a lot of changes and if you're not providing this knowledge it would affect a child in the long-run. Therefore parents and teachers have an important role to play. Many changes such as the attraction to opposite sex and sexual feelings could be experienced. If adolescents do not know what to do with these changes there would be side effects. This will compel them to engage in sexual acts such as having unprotected sex which will lead to the transmission of sexually transmitted diseases (STDs). Therefore it is important that children have access to age-appropriate sexuality education where they would be able to understand the changes going on in their body," explained Hettiarachchi.

She further said that apart from sex, knowledge on food and nutrition and other topics should also be disseminated to students. "This doesn't apply only to children experiencing adolescence, but all other developmental phases in life. If they are educated at a young age it would help lower the transmission of STDs, unplanned pregnancies etc," she added.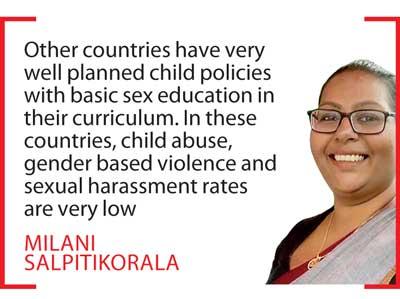 Many of my clients are unaware of getting pregnant : Salpitikorala
"I have at least 4-5 clients walk in to my office once a week trying to register the birth of their children," said Milani Salpitikorala, Attorney-at-law and founder of Child Protection Force. "Almost all of them have said to me that they didn't know that they would get pregnant by doing that. These are daily struggles the general public face. People like myself and several other organizations involved in spreading awareness and educating the public can show you the statistics and the real problems people face," Salpitikorala added.

"Saying this, when I was 14 and in a convent, an external group with people like Suba Tidball conducted a workshop where we were taught about our bodies and made aware of how to protect them," she added. "Other countries have very well planned child policies with basic sex education in their curriculum. In these countries, child abuse, gender based violence and sexual harassment rates are very low. There is a lot of respect among citizens based on gender and people don't grope women in public like they have never seen a woman before," she added.

'Eeya' or 'Yuck' is the response to matters related to sex : Dr. Gamage
"I am sad that we are even questioning the need to include sex education in the curriculum in Sri Lanka," opined Dr. Sujata Gamage, a policy analyst focusing on education from school education to tertiary education and former Director General of Tertiary and Vocational Education Commission. "The consequence of not including sex education is too well-known. I will leave the details to medical and legal professionals who are more familiar with the need to protect our children and youth from misinformation and harm from sexual predators. I like to focus on how ridiculously out of sync we are with the rest of the world in our political and social responses to the new realities of a rapidly changing world. Our children are reaching puberty earlier than in the past and are more exposed to harmful views on sex through social media and the Internet. Parents need help guiding their children and the first stop should be our schools," said Dr. Gamage.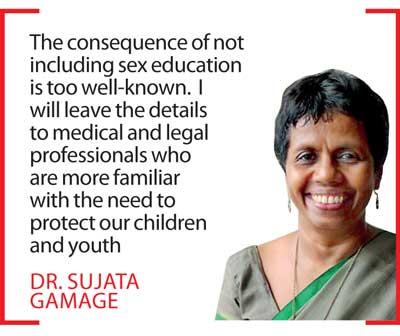 "This is not the first-time material on sex education has been made available to schools," she added. "A previous attempt died a natural death when teachers ignored the manual due to the discomfort in dealing with the material. The cowardice of politicians is a response to our social norms, where 'eeya' or 'yuck' is the response to matters related to sex," added Dr. Gamage.
"Considering that women constitutes a large majority of the teacher population, the 'eeya' attitudes of teachers should be addressed first, followed by attitudes of parents beginning with parents of seventh graders," she said. "The solution I believe is to use the 'Book for Us Seventh Graders' to educate teachers and parents of seventh-graders and receive their feedback before launching a concerted effort towards sexual education in our schools. In fact, the 'Book for Us Seventh Graders" is not without problems. Rev. Medhagoda Abhayatissa, the priest who called for the banning of the book, relied exclusively on quotes from page 10 of the Sinhala version which referred to masturbation. I too find that section on masturbation a little over the top, for example. As a mother of a teenage son in the nineteens, I delegated such topics to my husband. I can only imagine the discomfort of our female teachers in discussing the subject without proper professional guidance," she reflected.

She also opined that the book is largely a product by medical professionals. "Names of some schools are mentioned under the resources list, but I doubt whether teachers from those schools expressed their honest opinions in a context where doctors are falsely considered to be almost a 'caste' above others in professional standing. Therefore, the book should be used first to conduct awareness workshops for all seventh-grade teachers and receive their feedback regarding improvements. Next, a set of master teachers should be selected to carry out awareness for parents, providing a copy of the book to each parent for his or her own education. Let 2020 be the true beginning of a decade of more openness and awareness of sex and its social significance in society," she opined.

Consequences faced by youth
The United Nations Education and Scientific and Cultural Organisation (UNESCO) estimate that the developing world constitutes 1.8 billion young people between ages 10-24 years. In least developed countries some 60 percent of the population is under 25 years of age. Without access to sexuality education and sexual and reproductive health (SRH) services, adolescents and youth face daunting reproductive and sexual health problems.

These include:
Unintended pregnancy
Unsafe abortion
Maternal mortality and morbidity
Violence
Sexually transmitted diseases including HIV
Exploitation such as exchanging sex for food and money
Discrimination on the basis of gender or sexual orientation

Evidence shows that sexuality education programmes have positive effects on the initiation of sex, frequency of sex, number of sexual partners, condom use and other sexual behaviours that can prevent negative reproductive and sexual health problems.