---
It gives me a great sense of pleasure to pen an appreciation to celebrate the life of my beloved father. Vernon Francis Siriwardene passed away peacefully on Sunday eve, the day after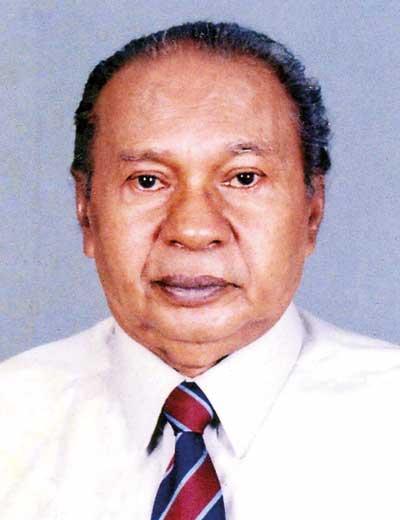 Vesak full moon Poya day, three months ago.
I could write endless pages about him because he was definitely a very interesting person, though very quiet and reserved. He enjoyed being in the background rather than at the centre of attraction. I think he lived by the Shakespearean words: "Have more than you show, speak less than you know!"
Being the youngest son of the late G.R. Siriwardene, a respected teacher at Richmond College and Kingswood College, and Mrs. Florence Siriwardene, Thaththa's life had been rather difficult as a child as he lost his father at the tender age of nine.

Thaththa was an English teacher but his forte was art and fine arts. He very willingly devoted his leisure to teach English to a countless number of students for nearly half a century. Most of his students have told me that he – the teacher was more interested in teaching than the pupil who was being taught. I remember the written exercises carefully prepared, with great effort and it proves this. I learnt much from his quotes from "Grey`s Ellegy," "Lotus Eaters" and works of Shakespeare like "Seven ages of man – As you like it" which were frequently and most appropriately mentioned even until his last days.

The talent he showed in drawing and handwork was unimaginable. Although I never inherited that talent, I always appreciated his beautiful work. He drew and painted a picture of Lord Buddha that is seen not only in our house but at all our relatives' residences both here and overseas. Vesak lanterns and other decorations adorned our house always during times of Vesak Poya. He created many decorations and as a child, I remember our relatives and friends visiting our house in the nights to witness these beautiful creations, precise and perfect. The patience I saw when he worked on these was the Amisa Pooja that he (though a born Christian) offered to Lord Buddha.
Thaththa was quick at learning. He enjoyed Hindi music and films and was quick to grasp the essentials of the language. The first encounter on his knowledge in the language was when, as a child, I came to know my name was given by him. Chameli was jasmine in Hindi, and I was born in the night, so I was Chameli Nisha! Any Hindi song of yesteryear brings a tear to my eye (I do not know if happy or sad), as I remember him and how he used to enjoy listening to them.

Thaththa's knowledge in the works of art and fine arts was something I yearned to acquire but could do very little. Be it about the Dagabas, churches, kovils, about Ajantha frescos, Sanchi or be it about Rembrandt, Da Vinci or Picasso, he was quick as a flash to impart the knowledge he acquired by being a voracious reader. However, later in life, when I followed his footsteps by taking his advice "reading maketh a full man," I was able to carry out intellectual conversations with him about works of art.
The tunes of old favourite songs were heard out of our house either through Serpina, Mandolin or Mouth Organ at all odd times, played by him. He sang so well and he loved to be surrounded by his family when doing so. Thaththa, I am thankful for the talent you passed on to me in music. You also taught me how to enjoy life and be satisfied modestly. Thaththa, I think you did it until the last. You were a person who could see beauty in simply anything. You lived a pleasurable life with Amma. We were a happy threesome and my husband Ranga Peiris perfectly fitted in more as a son than a son-in-law. Thaththa, I know how you enjoyed my two children and teaching them art, handwork, stories from various cultures and religions and sharing funny anecdotes of yesteryear with humour.

On your last day, lying semi-conscious on the hospital bed, I remember you beating time with your fingers and trying to sing maybe one of your favourite songs. I was happy to see you enjoying yourself. Although you are missed, spoken of, thought of every passing minute of the day, we all know you cannot live forever. Your long life has enriched countless number of people and you have inculcated good qualities within them. You have been a caring person.
Once you are no more, I have realised I am every inch of you and how strongly bonded we have been.
In our journey of Sansara, I will pray to be born as your daughter – each birth, being under your protection, showered by your blessings and of course, loving you!
Nisha Siriwardene Peiris