---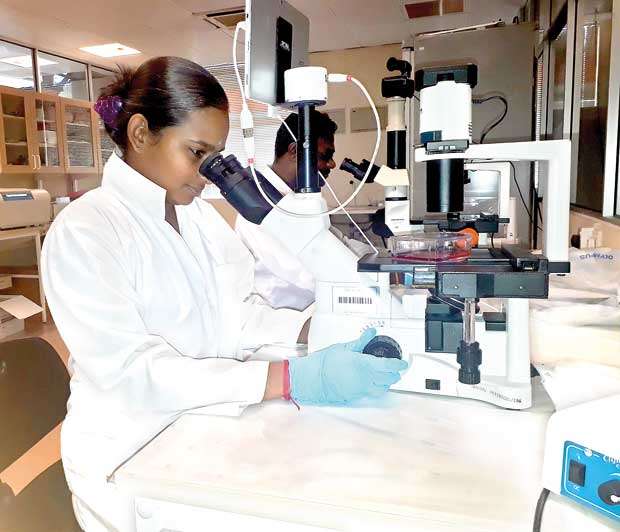 Cancer stem cells are found in tumours and possess unique characteristics

A significant improvement has been made in research work they conduct to identify novel plant derived natural compounds which can target breast cancer

stem cells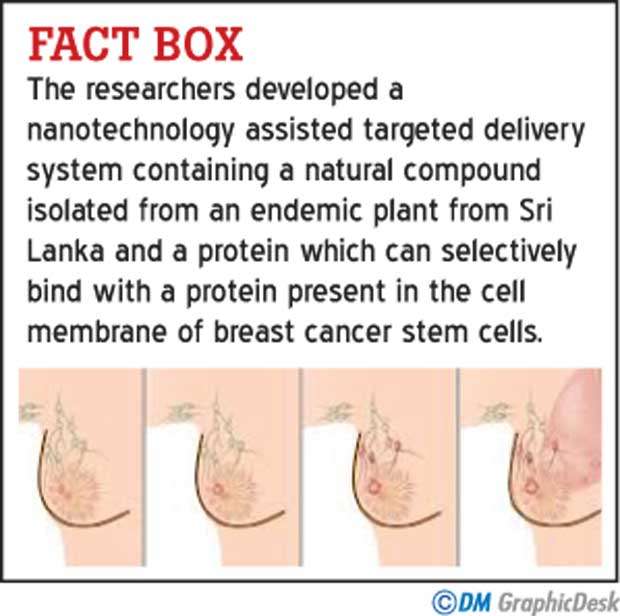 Researchers at the Institute of Biochemistry, Molecular Biology and Biotechnology (IBMBB) of University of Colombo (UoC) have devised a new technique to target and kill breast cancer stem cells.
These stem cells are considered to form the root of many cancers, that are hard to treat with available chemo and radio therapy treatment. The researchers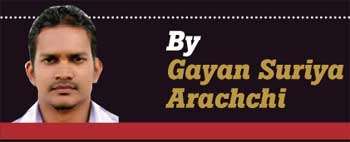 developed a nanotechnology assisted targeted delivery system containing a natural compound isolated from an endemic plant from Sri Lanka and a protein which can selectively bind with a protein present in the cell membrane of breast cancer stem cells.

This research is led by Dr. Sameera R. Samarakoon at the Institute of Biochemistry, Molecular Biology and Biotechnology (IBMBB) and Professor Kamani Tennekon, Professor Neelika Malavige, Professor Nedra Karunarathne, Dr. Meran Keshawa Ediriweera and were helped by Uma Rajagopalan and Amal Hulangamuwa to achieve the desired research goals.

As we all know cancer is a dreadful disease with limited treatment options. A number of researches are being carried out worldwide to develop a permanent cure for cancer. Unfortunately, a permanent treatment options hasn't been developed yet. Cancer stem cells are found in tumours and possess unique characteristics. They are resistant to chemo and radio therapies and can travel unnoticed by our immune system to form new tumours at any location in the body, which is known as metastasis.

Research in the field of cancer stem cells is uphill as specifically targeting cancer stem cells has been tough," Dr. Samarakoon said. "There are even limited detection methods available to detect these cancer stem cells" said Dr. Samarakoon while adding that a significant improvement has been made in research work they conduct to identify novel plant derived natural compounds which can target breast cancer stem cells. He has initiated this work with a grant he received from the National Research Council of Sri Lanka, 2014. The National Science Foundation has provided financial support for the current development work.
He added that any Sri Lankan who lives abroad can also contribute their research work financially. "Depending on the funds we have we are planning to include our new drug candidate in clinical trials,"
he added.