---
It started strong. Friday 20th September saw social media flooded with images of children and their supporters participating in the Global Climate Strike. What began as 15-year-old schoolgirl Greta Thunberg sitting outside the Swedish Parliament protesting the government's inaction on climate change culminated into a global protest of approximately 4 million people. The strike spanned all seven continents (yes even Antarctica), 161 countries (Germany pulling in the biggest numbers with 1.4 million attendees) with 5,800 organised actions events according to environmental group 350.org. Organisers state that it was the biggest climate action in the world to date.
The kids were on a roll as the following day, Saturday the 21st September saw the very first United Nations Youth Climate Summit in New York. 500 youth activists and entrepreneurs from around the world attended, in addition to the 100 "green ticket" winners. Selected from a group of almost 7000 applicants worldwide and ranging from 18 to 29 years in age - these winners were selected for their demonstrated commitment to addressing the climate crisis and advancing solutions. Some of the designs exhibited were truly advanced for their age, including data storing in plant DNA and 3D printing using plastic waste.

Secretary-General António Guterres at the closing of the UN Climate Action Summit 2019. PIC COURTESY united nations
Coinciding with the summit, 16 climate activists from across the world, from as young as eight and no older than 17, announced they had filed a complaint to the United Nations under the Convention on the Rights of the Child, which was signed 30 years ago by 44 countries. The young activists stated that their rights had been violated by the failure of top global polluters - Germany, France, Brazil, Argentina and Turkey - to take adequate and timely action against climate change and protect their future.
Monday 24 September was the big event - the UN Climate Action Summit, also held in New York. With an estimated 100 heads of state attending the summit, there was optimism that the summit was a chance for nations to pledge stronger commitments to meet or exceed their Paris Agreement targets.
According to the official press release after the event, 65 countries agreed to ramp up their efforts. The Marshall Islands planning on their achieving net zero emissions by 2050, as well as convening a group of 15 countries (themselves included) comprised of Belize, Costa Rica, Denmark, Fiji, Grenada, Luxembourg, Monaco, the Netherlands, New Zealand, Norway, Saint Lucia, Sweden, the Swiss Confederation and Vanuatu, to do the same.
Chile had pledged full decarbonisation of its energy mix, switching public transport to electric, setting demanding energy efficiency standards and implementing a reforestation plan.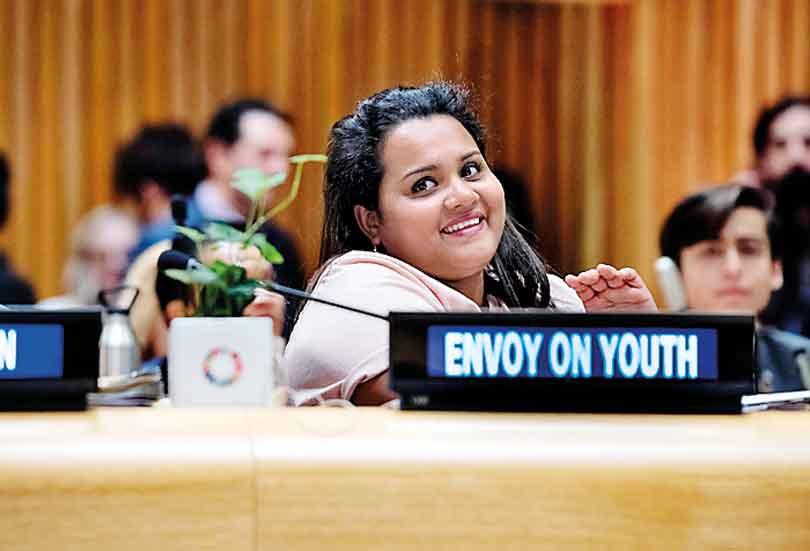 Jayathma Wickramanayake, United Nations Secretary-General's Envoy on Youth PIC COURTESY united nations
Other promising news included the Russian Federation announcing that they will ratify the Paris Agreement, bringing the total number of countries that have joined the Agreement to 187.
U.N. Secretary-General António Guterres in his final report of the summit was also pleased to announce "a group of the world's largest asset-owners - responsible for directing more than $2 trillion in investments - committed to move to carbon-neutral investment portfolios by 2050. 87 major companies with a combined market capitalization of over US$ 2.3 trillion pledged to reduce emissions and align their businesses with what scientists say is needed to limit the worst impacts of climate change — a 1.5°C future. 130 banks – one-third of the global banking sector – signed up to align their businesses with the Paris Agreement goals".
On the negative side, leaders of some of the world's largest carbon-emitting countries including Saudi Arabia, the US, Brazil and Australia didn't attend.
Three of the four countries with the biggest coal expansion plans – India, China and Turkey – were invited to speak to on the but didn't address it in their speeches.
Despite many positive commitments by participating countries, environmental groups and activists believe the summit was a lot of talks and much action, especially as the urgency seems to be so great with scientists suggesting no countries party to the Pairs Agreement are on track to meet their targets.
Greta Thunberg, in the most impassioned plea we've seen yet, echoed the scientist's sentiments.

Greta Thunberg, Climate Activist, speaks at the opening of the UN Climate Action Summit 2019 PIC COURTESY united nations
"How dare you continue to look away, and come here saying that you're doing enough when the politics and solutions needed are still nowhere in sight? You say you hear us and that you understand the urgency. You are failing us. But young people are starting to understand your betrayal. The eyes of all future generations are upon you. And if you choose to fail us, I say; we will never forgive you. We will not let you get away with this. Right here, right now is where we draw the line. The world is waking up and change is coming, whether you like it or not".
While the UN Climate Summit may not have made the progress they were hoping for but these dedicated group of young climate activists aren't going anywhere, whether the grown-ups like it or not.