---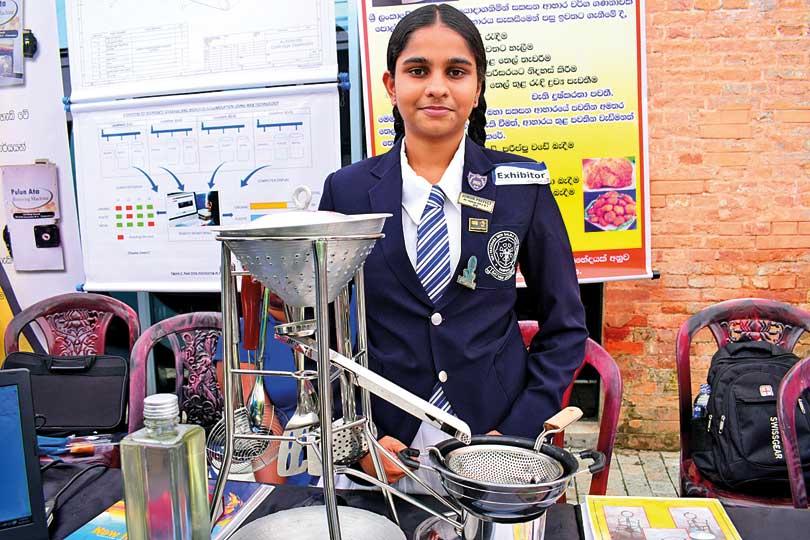 Madeera Dunuarachchi

The words of Dr. Albert Szert-Gyorgyi "Innovation is seeing the way everyone has seen, and thinking the way nobody has thought," were evident at Makerfair-2019. Have you ever thought of how to drain out excess cooking oil? or a device for eye drops? How about an artificial nose, or 3D-printed clothes and fibre optic dresses? What about an alternative to wearing layers of clothes to stay warm? Makerfair- 2019 had solutions to all these and more. It also hosted the largest ever 'Robotics Battle'. Makerfair- 2019 was held at Trace Expert City Maradana on 20th October and was organised by Makerspace, the Uva Wellassa University (UWU), the American Centre and US Embassy.
Young minds
Being a frequent visitor to the bakery near her class, Madeera Dunuarachchi (15) noticed how much oil was being wasted when frying short eats. She also noticed how leftover oil was used, to fry additional short eats. Knowing the ill-effects of consuming excess oily and fatty foods, Ms. Dunuarachchi came up with the 'Oil Saving Bank'. The simple device drains out excess oil after frying food items, using the basic method of liquid flowing from a higher to lower elevation.
Sarasija Gunarathna (18) was motivated by his late grandfather's struggle with his eye-drops. In two years he developed an 'Eye Care Unit.' Shaped like normal spectacles, the unit has a holder for the bottle of eye-drop. When tilted at 90° degrees, it releases drops into the targeted eye. "I used Arduino programming to program this technique. Any patient with eye ailments, especially the elderly, can easily put eye-drops for themselves," he said.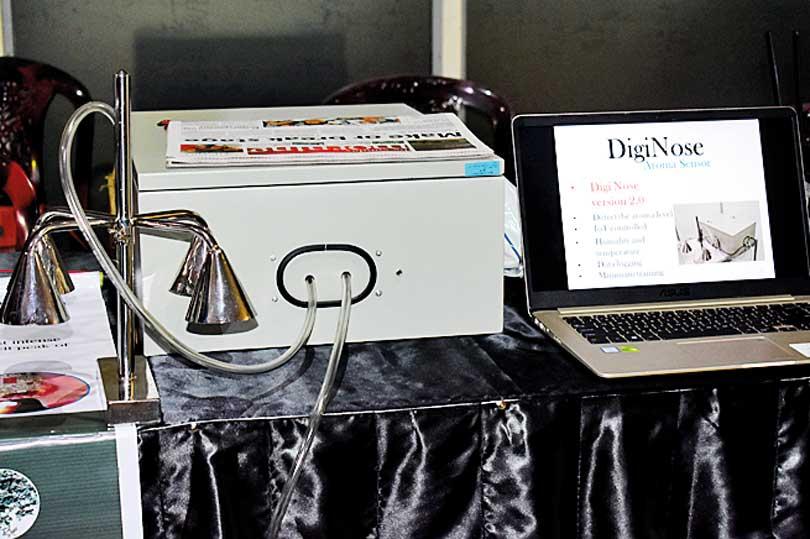 Diginose
'Diginose'
While lecturing in the Uva Wellassa University, Dr. Dakshika Wanniarachchi met tea factory managers who complained about determining the right point of fermentation of the tea leaves. This was crucial because the quality, aroma and taste of tea depended on it. "Presently, trained personnel detect the optimum fermentation point. The aroma is subject to perception, and is not always accurate. This sometimes causes over-fermentation or under-fermentation," said Dr. Wanniarachchi.
Taking the factor into consideration, she invented an aroma-detecting device called 'Diginose'. "The gadget functions like a human nose and detects aroma accurately to the optimum point of fermentation. This shows on a graph on screen. It is IoT controlled, portable and has data logging functionality," said research assistant Ms. S. Tharaga. She said that the team had sought patent rights, and were looking for investors to market it to the tea industry. "Diginose will enhance the quality of tea. It can be used in any quality control agency, not just the tea industry," said Ms. Tharaga.
'Bionic Limb'
Realising the dire need for better prosthetic limbs, Mechatronics undergrads Deshan Perera, Sachitha Harshana, Pubudu Piyumantha, Shehan Mashane and Induka Punarjeewa developed the 'Bionic Limb' in their second year at ICBT Campus. It is a low-cost, electro-mechanically controlled prosthetic limb which provides more versatility to the user.
"Sri Lanka imports prosthetic limbs, each costing Rs. 600,000. These must be replaced annually, posing a huge problem for the disabled," said Deshan Perera. He explained how the bionic limb worked. "Two gyroscope sensors are put on the functional leg, and the bionic limb copies the movement of that leg. This allows people to move around easily," he said. The first design took one-and-a-half months to complete. The second took one week, while the coding took two more weeks. Mr. Perera said they planned to replace the aluminium brackets with alloy components to make it lighter and stronger. The team is working with the Prosthetic Limb Centre to make limbs that would cost only Rs. 50,000.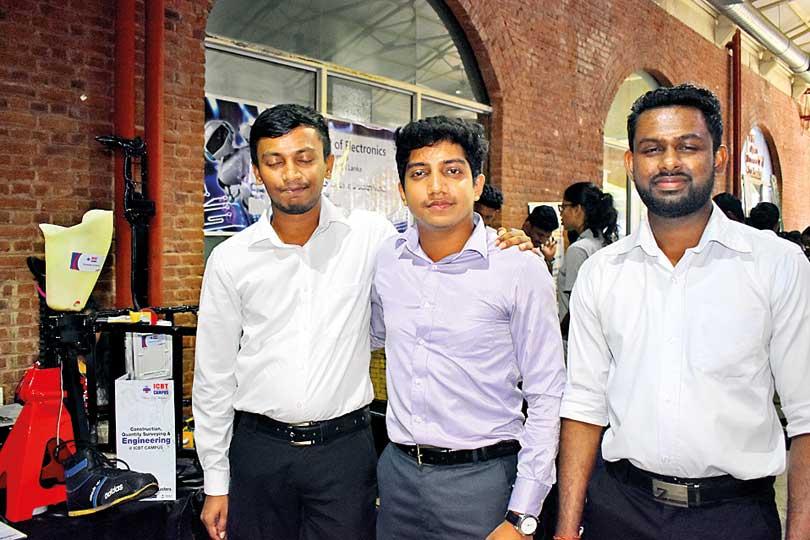 The inventors of the Bionic Limb
Corporate innovation
Based in Nawala, Zone 24X7 is a technology consultation and engineering firm that produces tech- solutions to international markets. Daily Mirror spoke to them regarding their 'Retail Robot', which compiled retail inventories. "It's difficult to do a manual inventory in stores that spans several thousand square feet in area. The 'Retail Robot' uses RFID technology and navigates the store and takes the inventory. It also locates items," said Mr. Kanishka Wijayasekara, who claimed the robot was 99% accurate.
Clothes that regulated body temperature, LED-illuminated sports jackets, heart- rate monitoring jackets, blood pressure regulating wraps, sports clothing that alerted the wearer against injuries were some of the innovative 'smart' clothing displayed at the MAS Innovation Stall. "These are usually sent to our international clients, but are also available in Sri Lanka," said Amaar Esufally. Maduka Chandrasiri, Asst. Manager of Wearable Technology said all products were made in local factories.
Fashion and technology
Isha Perera, who studied fashion design at the Open University of Sri Lanka uses 3D printers to produce clothing and accessories. "3D printers were never meant for the fashion industry. However, I wanted to innovate, so I used 3D printing to bring my designs to life," she said.
Meanwhile, fashion designers Jinani Thathsara and Dasun Chinthana were in the process of launching a fibre optic party-wear collection. "This is much popular abroad. But this is the first time it will be used in Sri Lanka," said Ms. Thathsara.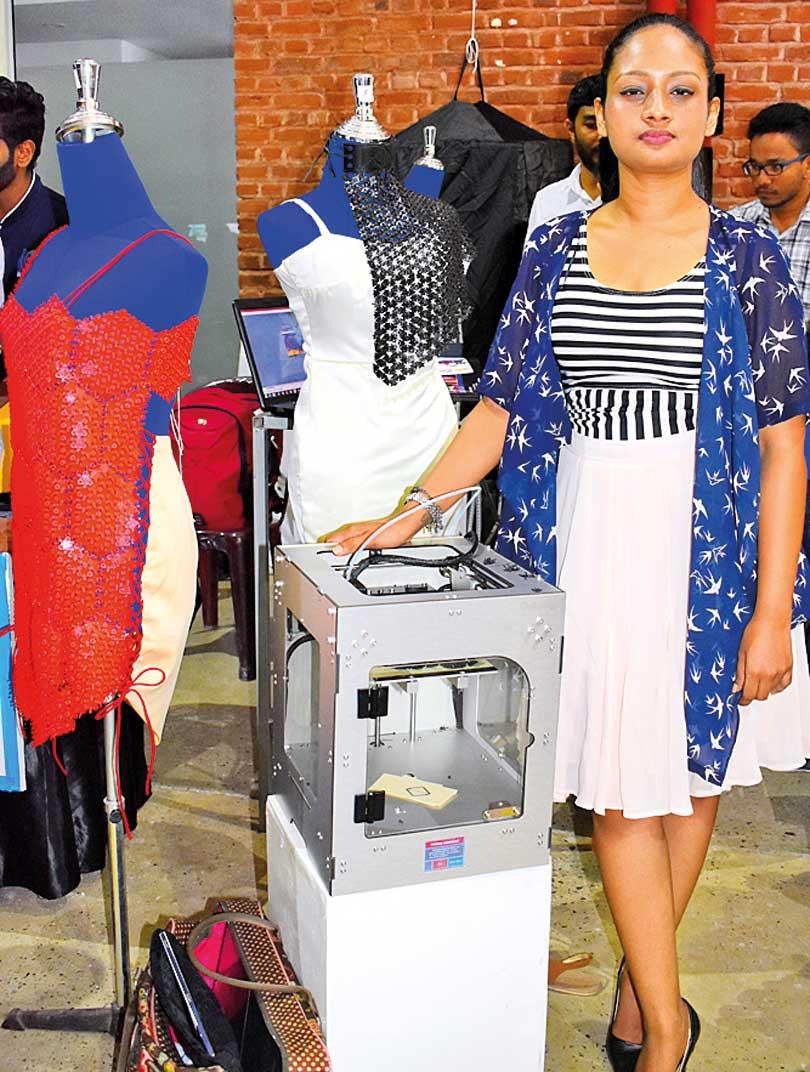 Isha with her 3D printed collection
'Robotics Battle'
The highlight of Makerfair was the much-anticipated 'Robotics Battle' organised by the UWU for the third year running. A total 101 teams comprising schools, universities, corporates and robotics enthusiasts took part, making it the largest local robot battle to date. "Many Sri Lankans are interested in robotics, but lacks a platform to showcase their talents. That's how this competition came into being," said Mechatronics Engineering undergrad Shukra Shakaf.
"This year, battle for registrations was in the 'Open' category, while previously it was divided into 'Schools' and 'Open' categories. This was to ensure high quality performance and competitiveness. It took us six months to organise this. We started calling for registration three months before," said Materials Engineering undergrad Nimeshi Delpechitra. The battle drew cheers from enthusiastic audience as five-member teams remotely controlled and manoeuvred their robots. Many had competed in previous battles. Speaking to Daily Mirror, Mechatronics Technology undergrad Tharindu Ranmini said that he was participating for the second time. "The competition is a good exposure for students in my field. It helps us develop our skills. We get very few opportunities to develop these skills in Sri Lanka," he noted.
Echoing his sentiments, Materials Engineering undergrad Thiwangi Rajapaksa, who was also in the organising committee, said, "The scope in Sri Lanka for innovation and technology has to improve. More opportunities should be provided for students in various engineering fields."
Sri Lanka's capacity for innovation and robotics was clearly apparent at Makerfair- 2019. But there remained a dire need for more such platforms to give opportunities for local innovators and robotics enthusiasts to showcase and enhance their skills and talents.