---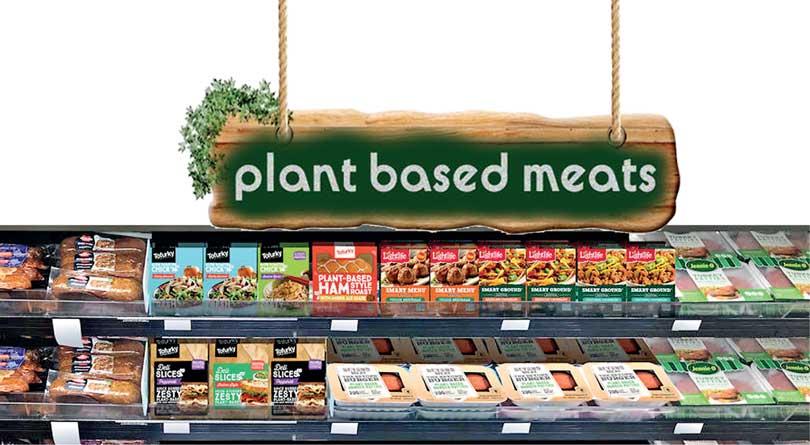 Fake meat, mock meat, meat analogues, plant-based protein, whatever you want to call it – it's a growing industry across the world as consumers become more aware of the environmental impact raising animals for food has on the environment, as well as animal welfare concerns. Combined with increasing rates of non-communicable diseases (heart disease, diabetes, hypertension), from poor diets and inactive lifestyles, the health concerns of animal meat are also a factor when it comes to consumers wishing to try meat alternatives.

According to the recent report by Allied Market Research titled "Meat Substitute Market by Product (Tofu-based, Tempeh-based, TVP-based, Seitan-based, Quorn-based, and Others), Source (Soy-based, Wheat-based, Mycoprotein, and Others), Category (Frozen, Refrigerated, and Shelf Stable): Global Opportunity Analysis and Industry Forecast, 2019–2026", the global meat substitute industry earned $4.48 billion in 2018, and is expected to rise to $8.1 billion by 2026, growing at a compound annual growth rate (CAGR) of 7.8% from 2019 to 2026.
The report explains that the additional growth in the market is expected due to surges in obesity, development of the food-service industry, the launch of new products, as well as awareness of environmental sustainability and animal welfare issues.

The most noticeable meat alternative products in the marketplace are burgers/patties, sausages, sandwich slices but as technology develops, plant-based alternatives for prawns, smoked salmon and even bacon are being produced.

Soy leads the way

The dominant alternative is the soy-based segment, accounting for the highest market share in 2018, holding nearly two-thirds of the global meat substitute market, and is expected to maintain its dominant position throughout the forecast period. This is due to its meat-like texture and surge in usage of tofu, textured vegetable protein, tempeh, and seitan (made from wheat gluten) in preparations of meat analogues. On the other hand, the wheat-based segment is projected to witness the fastest CAGR of 8.8% from 2019 to 2026.

Based on category, the frozen segment held the highest market share in 2018, contributing more than three-fourths of the global meat substitute market, and will maintain its highest contribution in terms of revenue by 2026. This is attributed to a surge in popularity and a longer shelf life. However, the shelf-stable segment is projected to manifest the fastest CAGR of 8.9% during the forecast period.

Europe to maintain lead position, followed by North America

Based on region, Europe held the major market share, accounting for nearly two-fifths of the total share of the global meat substitute market in 2018, and will maintain its lead position during the forecast period. This is attributed to a surge in health awareness and a rise in the adoption of vegetarianism.

North America contributed more than one-fourth of the total market share in 2018. However, the market in the Asia-Pacific region is expected to register 9.3% CAGR from 2019 to 2026. This is due to a surge in health and fitness consciousness, together with innovative product launches by companies operating in the region. An increase in the adoption of western lifestyle trends and rise in disposable income of consumers majorly drives the meat substitute market growth in Asia.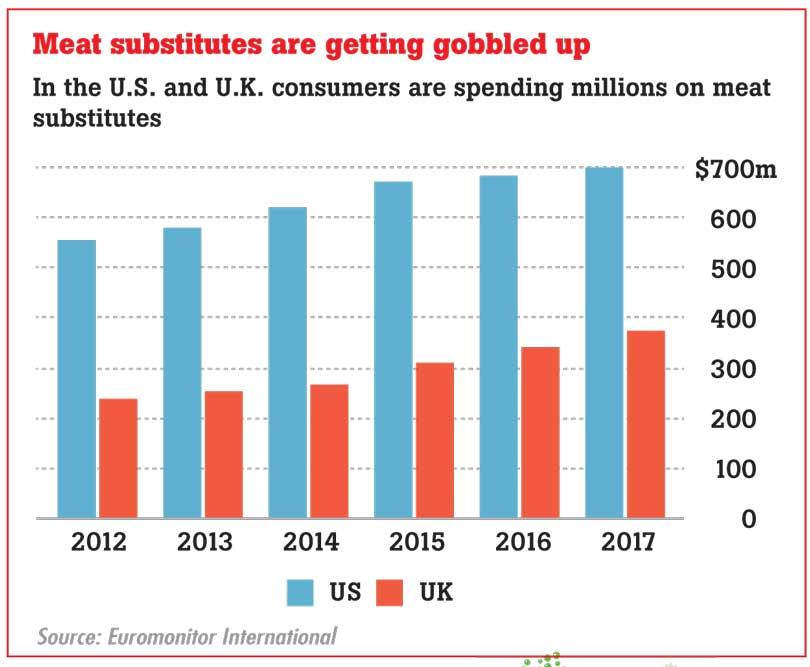 ---
Leading Market Players
Amy's Kitchen – The US, family-run company based in California's estimated revenue is 500 million a year, with all products produced in the US.
Beyond Meat – recently listed on the New York Stock Exchange, the California based start-up made $87.9 million in 2018 (Forbes). While all products are currently made in the US, a factory is being built in Europe due to increased demand.
Cauldron Foods and Quorn Foods – both companies are owned by British food manufacturer Marlow Foods and produced in the UK. Their total income was £204.6m for the year ending December 2017 (Marlow Foods Ltd).
Garden Protein International was recently bought out by agricultural giant ConAgra. Their estimated revenue is US$170 million annually(ConAgra) and products are manufactured in Canada and the US.
Meatless B.V. – A Dutch company that makes single ingredients for use in meatless products across the world. No revenue statistics can be found.
Vbites Food, Ltd. – A UK based company owned by Heather Mills. While the estimated annual revenue is unknown, the company has just purchased an additional factory in the UK to keep up with the demand.
Morning star Farms - US-based company and a division of Kellogs with Market Watch estimates they earn approximately $450 million a year.
MGP Ingredients - US-based, stock exchange listed company that makes plant-based protein and starch ingredients. Produced in the USA, their total revenue was $376.1 million across the entire business for 2017-2018 (MGP Ingredients).
Sonic Biochem Extractions Limited – An Indian company and part of MATLANI GROUP, their operating revenue range was over INR 500 crores (about US$5 billion) for the financial year ending on March 31, 2018.