---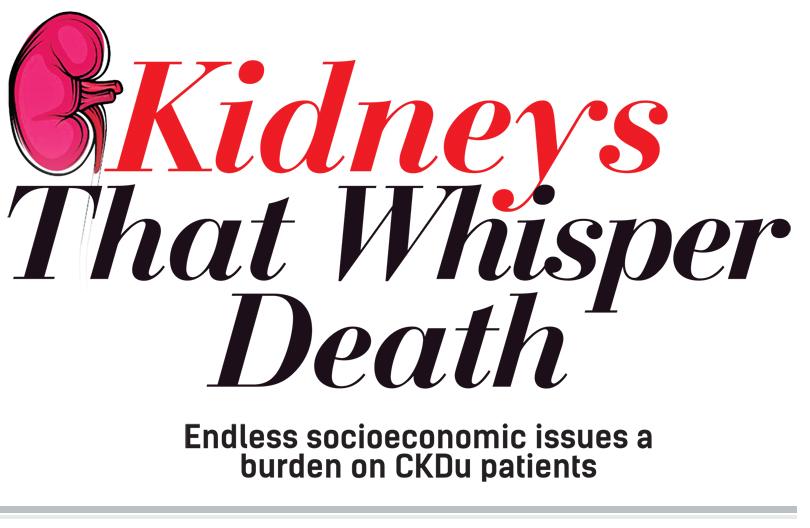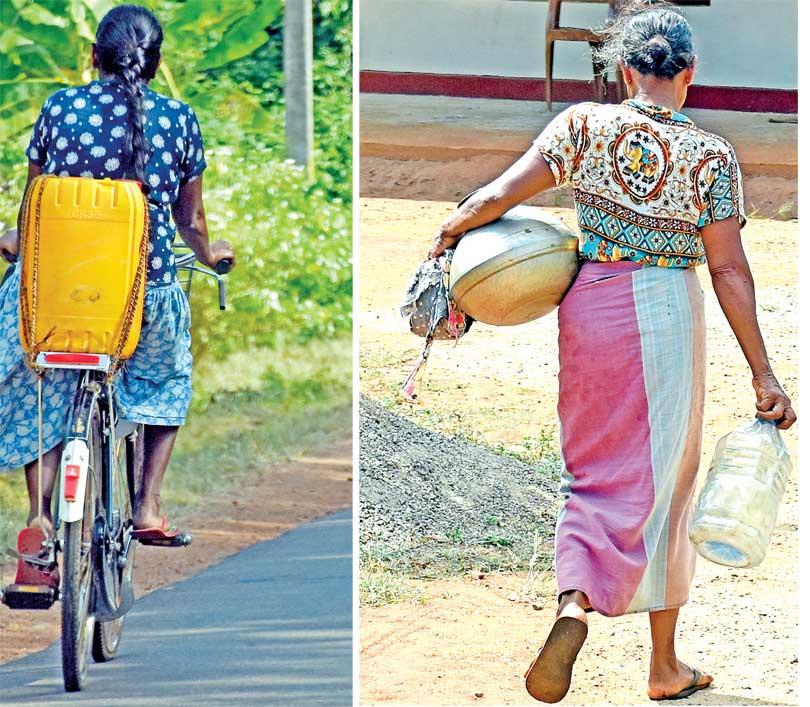 Village women begin their long journeys in search of suitable water, but the bigger challenge these folks face is battling Chronic Kidney Disease; which medical experts opine is connected to the water they consume PICS BY KUSHAN PATHIRAJA
---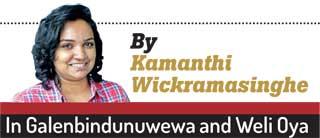 A flute version of Beethoven's 'Für Elise' was echoing from a distance, indicating the hour of the choon paan vehicle. The young and the old alike had arrived at the roadside to purchase an evening snack. Harmonising the background noise was the chatter of few women walking back home from an evening bath.
We were in Galenbindunuwewa, a small township in Anuradhapura district. Although battered by poverty, lack of drinking water and scarce resources, people here are determined to make ends meet. A bigger challenge they face is Chronic Kidney Disease of unknown aetiology (CKDu) hence a daily trip to the clinic has become a must in their lives.
Contrary to urban lifestyles, people in these areas have limited choices and have opted to take the difficult road to succeed in life.
Hence the Daily Mirror paid a visit to Galenbindunuwewa and Weli Oya to find out the hardships faced by these people who have put their lives on a daily test.

Situation in Galenbindunuwewa
Situated 43 kilometres away from Anuradhapura town, Galenbindunuwewa is home to as many as 1200 CKDu patients. Around 543 of them receive financial aid. Apart from that Ellawewa has been identified as the Grama Niladhari Division with the highest number of patients (178). So far 58 Reverse Osmosis plants have been installed. During our visit the Daily Mirror learned that almost every other house has a family member diagnosed with the illness.

Living with hope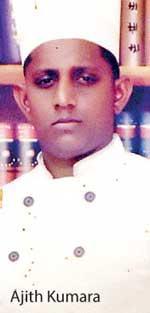 Ajith Kumara (31) from Ulpathgama is diagnosed with end stage CKDu. His family is desperately looking for a donor. By the time we reached their house Kumara's sister was busy providing details for a potential donor. The desperation is such that when visitors come to their shop or house they assume it's a donor."The cost of a kidney is around 30 lakhs and we cannot afford it," said A. M Piyarathna, Kumara's father. "Initially his right ankle started to swell and then both legs started swelling. There were no indications of a disease until he reached the last stage of the ailment.
When we got a medical check-up they said both kidneys have started malfunctioning. Doctors assume the cause for the illness is either a snake bite or water. Kumara is a teetotaller, but today he's struggling to live." said Piyarathna.
Kumara has completed 87 rounds of dialysis for this year alone. The family is in debt and its members continue to pawn whatever they have to save Kumara's life. There are as many as 3000 recipients in the cadaver list alongside a handful of donors and therefore it will take some time for Kumara to become a beneficiary. But his family hasn't given up hopes.
No strength to work anymore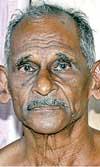 When I went to get the reports I was told that blood sugar was normal but there's an issue with the kidneys and that they have curled up
-P M Ilangasinghe
P M Ilangasinghe (74) had been a farmer all his life, but now has no strength to work. "I was diagnosed back in 2012. Initially I had a back pain followed by joint pains. When I went to the Galenbindunuwewa Hospital I was asked to get a blood test done for CKDu and blood sugar. When I went to get the reports I was told that blood sugar was normal but there's an issue with the kidneys and that they have curled up. Since then I have been going for regular checkups and taking treatments for CKDu. My condition isn't the same every day. Sometimes complications get severe. I have lost my appetite and get fever more often. I can't work anymore," said Ilangasinghe .

Situation in Weli Oya
Infamous for the Dollar and Kent Farm massacres which took place during the height of the war back in 1984 Weli Oya today has a population of about 10,000 and out of them around 412 people have been diagnosed with CKDu. Belonging to the Mahaweli L zone, the area has a floating population. During the dry season, when tanks dry out and people are deprived of water, residents usually return to where they came from. Pressured by the ethnic conflict and other socioeconomic issues, people in these areas survive amidst many challenges. To top them all is CKDu and time is ticking on their lives.
People being ignored for good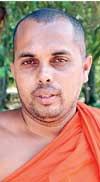 If the Govt. really wants to help they can for example divert the Ma Oya, which flows into the Kokilai Lagoon, towards the paddy lands
-Kivulegedara Mangala Thera
According to Ven. Kivulegedara Mangala Thera of Sri Devagiri Temple, Ahatugaswewa People in these areas face various issues and one of them is lacking drinking water. "Most residents have come here during the height of the war. It has a majority Tamil population and borders Trincomalee, Mullaitivu and Vanni Districts. Children are deprived of a proper education and in fact the school in the area lacks awater or sanitation facilities. Many youth are unemployed and many underage marriages also happen here. People are heavily dependent on substance abuse as well. Successive regimes have turned a blind eye to people in these areas. The Navy started installing pipelines for people, but the projects have been temporarily halted. The farmers only work during one harvesting season since they are deprived of water. You may have seen how most tanks have dried up. If the Government really wants to help they can for example divert the Ma Oya, which flows into the Kokilai Lagoon, towards the paddy lands. The money invested on many Government projects have gone a waste." said Ven. Kivulegedara Mangala Thera.
Used to get water from everywhere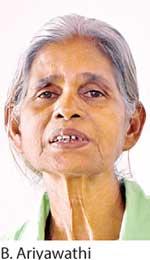 The Daily Mirror then visited a few houses in Sampathnuwara and Ahatugaswewa and spoke to patients diagnosed with CKDu. B. Ariyawathi (74) was one of them. "There were screening programmes conducted by the CKD unit and I attended one. After getting my urine checked they asked me to visit the Medawachchiya Hospital thrice. There I was diagnosed with CKDu.
We relocated to this area in 1985 and have been drinking water from wells and many other sources. We even used to get water from pits which were filtered and boiled. As soon as we came here there were bowsers that provided us with filtered water.
But it didn't continue for long. Now we get filtered water from the plant installed at the temple. My son-in-law was also diagnosed with the illness in 2010 and initially he used to get fever quite often. Now both of us suffer from a severe back pain." said Ariyawathi.
Nobody takes water from wells or tap lines anymore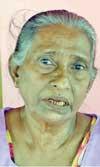 My joint pain has developed into arthritis. But I'm ever so grateful to the temple for providing us with filtered water through the R O plant
-Nanda Malani
H.A Nanda Malani (68) is another resident whose family made a shift back in 1986. "I started developing joint pains and therefore thought of getting my urine checked. From Sampathnuwara Hospital I was referred to the Mullaitivu Hospital and got medicine from there for about a year or so. Then I was referred back to the Sampathnuwara Hospital. We received Rs. 5000 as financial aid. However, complications fluctuate daily. When we are in a severe state they provide us with transport to Mullaitivu Hospital. My joint pain has developed into arthritis. But I'm ever so grateful to the temple for providing us with filtered water through the R O plant. Before that we used to get water from the wells and roadside tap lines. Now nobody takes water from them." said Malani.

Uncertain future

I was diagnosed in 2017 and subsequently my husband and elder son. I initially started getting
back pains
- Sriyani Dharmasiri
Sriyani Dharmasiri's youngest son had just turned 18 when he breathed his last. "He had already completed four dialysis rounds and on the fifth day he got a fit. While on the way to Anuradhapura, he passed away," she recalled. Today, Sriyani along with her elder son and husband are CKDu patients. "I was diagnosed in 2017 and subsequently my husband and elder son. I initially started getting back pains." she said.

The Dharmasiri family had also shifted to Sampathnuwara during the height of the war and they haven't had wells or any other facilities to obtain drinking water. "We used to get water from wells, but now we get filtered water. I'm in the third stage. But my son is newly married and is trying to settle down, but the future is quite uncertain for all of us," she said with eyes swelling with tears.

Dearth of human resources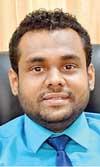 The biggest issue is that we are heavily understaffed. We did CKD screenings thrice a week and now we have reduced it to once a week
- Dr. Wanigaratne
On a given day around 60-70 patients arrive at the Sampathnuwara CKD unit for checkups. But apart from two doctors, the support staff has to be brought in from elsewhere. Dr. S. S Wanigaratne works as the Additional Medical Officer of Health for CKD Prevention and therefore he doesn't have support staff there. "There are no facilities for dialysis here and if someone needs to be referred to a nephrologist the patient would be taken to the Mullaitivu Hospital. In fact the Mullaitivu Hospital also doesn't have a nephrologist and the acting consultant from Vavuniya Hospital visits this place on one day. On that day we send the patients there. Since there's a nurses' crisis we get nurses from Puthukudirippu. The biggest issue is that we are heavily understaffed. We did CKD screenings thrice a week and now we have reduced it to once a week. Our monthly target is to do 250 screenings," said Dr. Wanigaratne.

Common reasons for CKDu
According to him the reasons for developing CKDu could be manifold. This could be everything from diabetic to hypertension, renal cell carcinomas, snake bites, obstructive uropathy and so on. "Therefore there's no one known cause. The water contains much calcium and people have a tendency to get calculi in the urinary tract. Another reason is dehydration. People work in paddy fields and they sweat a lot, but don't drink enough water.
Many chemical fertilizers with heavy metals are used for agricultural purposes. Substance abuse and malnutrition are also common. Most people have vertigo and anaemia as a result of malnutrition and there have been instances when people were diagnosed for CKDu during normal checkups for other complications," Dr. Wanigaratne.
If patients have an abnormal kidney structure or function for more than three months they are considered as having CKDu. The Estimated Glomerular Filtration Rate (eGFR) is the best test to measure the level of kidney function. But apart from that the Serum Creatinine Ratio (SCR) and the Urine Albumin Creatinine Ration (ACR) are also tested.
Tests for other risk factors such as hypertension, fasting blood sugar, lipid profile and a biochemical analysis are also being done. Hence kidney patients could be categorised according to five stages as follows :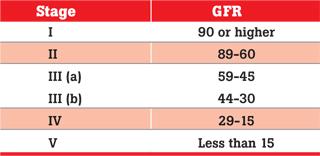 People with a GFR of less than 15 are referred to a nephrologist to get an arteriovenous (AV) fistula for dialysis. However, according to Dr. Wanigaratne some patients don't want to get a fistula done. "On the other hand around 20% of the people do not come for screenings. They don't want to check if they have CKDu while some turn up for checkups out of fear. After all its diagnosed in children as well.
Another group of people are on conservative care and they manage through medicines. But they reach a point where medicines cannot help. Without medicine the rate of progression of CKDu is such that a patient who is in the first stage will reach the end stage within a matter of months." explained Dr. Wanigaratne.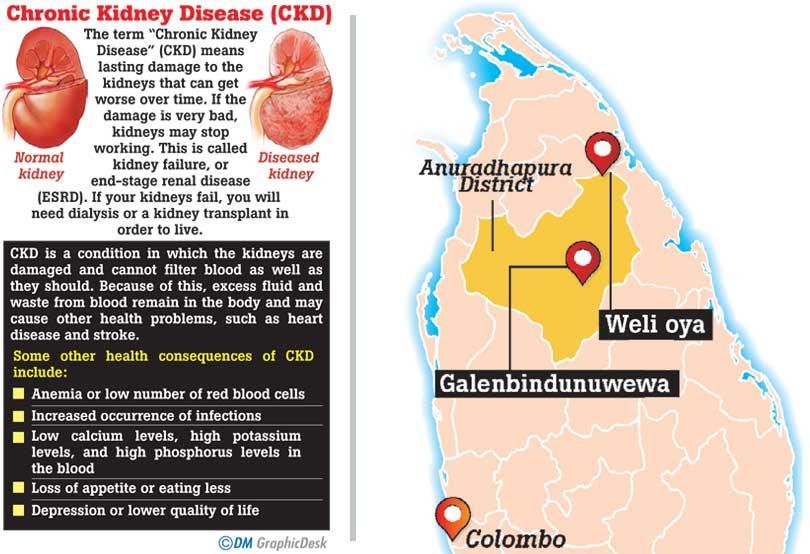 Projects done by Mahaweli Authority
During the visit Daily Mirror noticed many offices and projects that had been abandoned. Some projects have allocated millions just for laying the foundation stone. But what benefits they have served the people remain a question. However, the Mahaweli Authority has implemented many projects on behalf of the people in Weli Oya. As such, there are 12 R O plants established in Welioya. Areas include Bogaswewa 1, Namalgama, Selalihinigama, Sapumalthenna, Nilawewa (South) Sampathnuwara, Kiriibbanwewa (left), Halambawewa, Ethawatunuwewa, Kalyanipura, Mayawewa and Namalpura. Each plant has a capacity of 5000 litres and around 1500-2000 people get water from them daily" said Udayantha Piyathilaka, Deputy Resident Business Development Manager at Mahaweli Authority (L) zone. "A litre is given at Rs. 1 and the income is retained for maintenance purposes.
Apart from that 54 tube wells have been renovated in 2017 at a cost of Rs. 6.3 million." said Piyathilaka.
When asked what is being done about waterways that flow into the lagoon Piyathilaka further said that 21 tanks had been identified and diversion work is in progress in five of them. "In addition we will also provide an Agro well to each paddy land. Every year we also remove sediments formed in these wells, " said Piyathilaka.
One thing that the Daily Mirror realized was that people in these isolated, rural settlements have no hopes about what tomorrow holds for them, but all that matters to them is to live life to the fullest with no regrets whatsoever.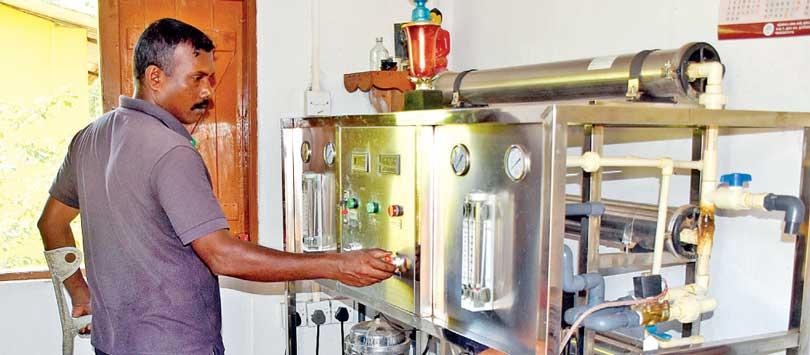 A reverse osmosis plant in Ahatugaswewa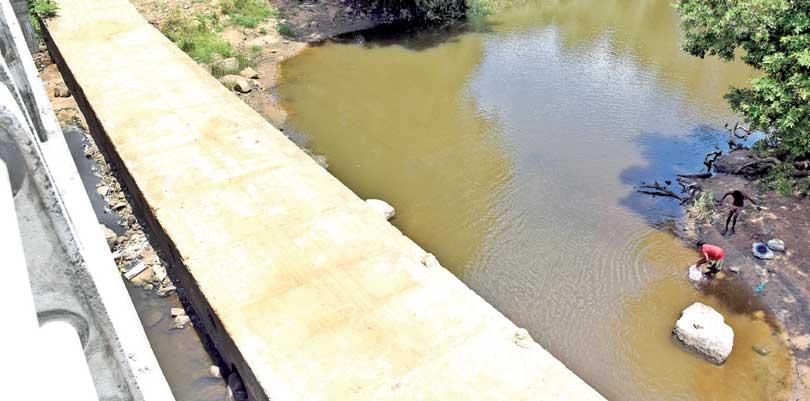 Water from Ma Oya flowing towards Kokilai Lagoon