---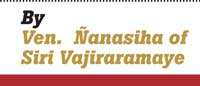 A well-known figure in Buddhist circles, J.H. Karunarathna, passed away peacefully on February 10, 2017 at his residence at 33, Abeysinharama Road, Colombo 10. At the time of death he was 94 years old. Born in 1923 to a much respected Buddhist family in Welpalla in Pitigal Koralaya, Katugampola Hatpattuva in the Kurunegala District, he had his education at the Welpalla Buddhist Boys School and Welpalla Dhamma School and showed his distinction in passing all the examinations at that level. Fortune brought him to Colombo and due to circumstances he got interested in the motor car spare parts business. He started as an assistant in a motor spare parts enterprise run by a relative of his in a small room at the Bauddha Mandiraya, Fort. Later he established his own business in Panchikawatta and Slave Island under the name Karunarathna Motor Stores in premises owned by him.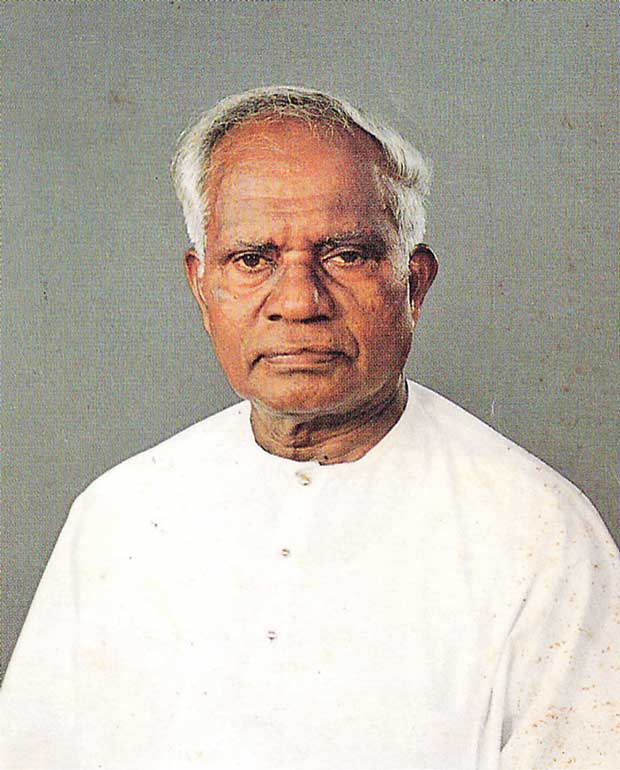 My first acquaintance with late Mr. Karunarathna was in 1960 when the Sasana Sevaka Society of Maharagama, under the patronage of Most Venerable Madihe Paññāsiha Mahanayaka Thera and Ven. Ampitiye Sri Rahula Maha Thera, elected me as one of the Joint Secretaries, the other being Mr. Karunarathna. I continued with him as Joint Secretary until 1964 and later became a Vice President, its President from 1985 -1992, and still later as President Emeritus until 2015. Mr. Karunarathna continued to be one of its Joint Secretaries and has the longest innings in the post of Secretary until he voluntarily retired from that position in 1994.

The position of Secretary is one that he cherished very much. He had a perfect hand and all admired his lucid style of writing. I cannot remember any occasion when his record of minutes of a meeting was challenged. He knew what to record and what not to record. It was not the Hansard style where every word was recorded verbatim (allowing for expunging), nor brief like the recording of a Cabinet decision. It was midway between the two and what was recorded could stand on its own feet without references. They formed a valid basis for me to write the history of the Sasana Sevaka Society when it celebrated its golden jubilee in 2007. This speaks much for Mr. Karunarathna's calibre.

He was a life member of almost all the leading Buddhist organisations in the country and held the position of Secretary of some of them, the most notable were Pettah Buddhist Society started in 1949 (40 years its secretary), Sri Lanka Temperance Society started in 1912 (25 years), Panchikawatta Maranādhāra Society (22 Years), Fort Sri Bodhiraja Society (15 years), Buddhist Theosophical Society (nearly 10 years).

A peep into his life will indicate what a disciplined person he was. In 1993, when he completed 50 years of service to the Buddha Sasana and the community he published in book-form excerpts from the personal diaries he had maintained. The title of his publication was 'J.H.Karunarathna biography, namely, My Services' – 'J.H. Karunarathna Caritāpadānaya nohoth Mage Sevaya'. In the introduction he has mentioned that from the age of 12 he got used to writing down important events relating to his life and of general significance in exercise books and from 1940 onwards he switched on to printed diaries to keep records. That was the training ground for that rare skill he possessed of recording events truthfully and precisely.

An activity that was very close to his heart was organising regular sermons at the Bauddha Mandiraya, Fort under the auspices of the Pettah Buddhist Society. With what glee he had mentioned that during 1949 and 1993 he was responsible for organising personally 385 Bana sermons. After he purchased his car, he himself drove the invited monks from their temples to Fort and back. He relished this activity because he was able thereby to come into close contact with some of the most erudite monks who were excellent expositors of the Dhamma. That was the immediate reward he expected.

Most Venerable Palene Vajirañāna Mahanayaka Thera was one of his closest spiritual mentors. He has mentioned in his biographical sketch that he associated with over 200 monks. Special reference has been made to Most Venerable Kalukondayawe Paññāsekara Maha Thera, Ven. Pandita Hammalava Saddhatissa Maha Thera, Ven. Madihe Paññāsiha Mahanayaka Thera, Ven. Narada Maha Thera and Piyadassi Maha Thera. Among lay leaders he had the fortune to associate were Professor G.P. Malalasekera, P.P. Wickramaarachchi, Dr. A.P.de Zoysa and journalist, Piyasena Nissanka.

There is much more that could be written. But the appreciation above will give a snapshot view of the true qualities of real Buddhist leadership. The Buddha Sasana has survived so far because of such noble people who have served with silence and without praise. Let me end with his words: "Rather than wasting my time I have utilised the greater part of it in service to my country, my people, and society, and especially in serving Buddhist organisations. When I think of this I am overjoyed that my life is well spent." How many of us could utter such wonderful words being true to one-self.
May J.H. Karunarathna attain the supreme bliss of Nibbana and may his Sansaric life be happy and peaceful.