---
BY Janaprith Fernando
Lord Baden Powell in his Last Message said – "But the real way to get happiness is by giving out happiness to other people. Try and leave this world a little better than you found it and when your turn comes to die, you can die happy in feeling that at any rate you have not wasted your time but have done your best"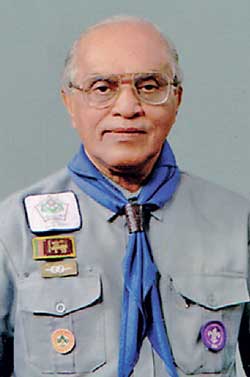 Sri Lanka's former Chief Scouts Commissioner Soma Weerakone, who was called to a higher service on February 8, 2017, during his life time did exactly this. He joined the scout movement as a Cub Scout at Anuruddha College in Nawalapitiya and moved to St Mary's College, Nawalapitiya where he continued as a scout. Thereafter he joined the Rock Mount Rover Crew and started his career in the Water Works Department in Nawalapitiya. He was later transferred and served in Kandy, Avissawella and Chilaw. In Chilaw he served the Scout Movement as a Scout Leader.

Thereafter he was transferred to Colombo. The late Mr R. Bodinagoda, a former District Commissioner of Colombo, was his guru and knowing Mr Weerakone and his capabilities approached him to join the Colombo District Scouts and appointed him as an Assistant District Commissioner (ADC). He was the Organising Commissioner of the Colombo Camporee in 1978. He continued to serve as an ADC and was appointed as the District Commissioner of Colombo in 1984. He served in this capacity till 1989 and was elected as the Chairman of the Executive Committee of Colombo.
After serving a brief period in this office he was appointed as an Assistant Chief Commissioner of the Sri Lanka Scout Association where he handled many subjects including International Affairs.
Mr Weerakone was appointed Deputy Chief Commissioner 1997 and organized the 5th National Jamboree in Kandy in 1998. In 2002 he was appointed as the Chief Commissioner of the Sri Lanka Scout Association (SLSA). Under his leadership the National Jamboree was held in Nuwara Eliya together with the SAARC camp and the SAARC Chief Commissioners meeting hosted by Sri Lanka.

I came to know Mr Weerakone in 1982 when I was only a junior scout of 14 years. I was absorbed to serve in the Camporee Souvenir Team and Mr Weerakone after the Camporee hosted a dinner to which I too was invited. I was touched by his humility and hospitality because I recall him talking to me on a number of occasions during the function to find out how I was and that made me feel very special. This is a great quality he had where he was able to relate to both the young and the old alike. I have worked with him since then and he always said and treated me like one of his sons. He would be the first to call and wish me whenever I achieved something either in scouting or in my profession. There was one Christmas card which would reach me by post every year and up to 2016 he did not fail to send this greeting card. As Scout Leaders we have had several heated arguments at meetings, sometimes I am sure he may have got hurt to realize that I was arguing with him. He never took anything out of the meeting room nor held any grudges but on the contrary would invite me to join him for a bite at the '80 Club'. He has never missed a single meeting of the Scout Council if he is in Sri Lanka and would contribute positively at discussions.

I have received so many messages of Condolences from all scouting nations and leaders of the Asia Pacific Region and they have said what a great scout leader and a friend he was to all of them and how the Scouting world would miss him. They sent their deepest sympathies and condolences to the family and the SLSA.

Mr Weerakone has won several Awards and Medals from the King of Thailand, Prince of Japan and the President of Sri Lanka.

That is the great man, great Scout and a great father Soma Weerakone was. To me he was a mentor, godfather and a respected scout leader.

Let me quote from the great song writer – Irving Berlin of USA " The Song is ended, but the Melody lingers on" Mr Soma Weerakone sir, May you attain the Supreme Bliss of Nibbana and as I believe May Your Soul 'Rest in Peace'

The writer is an Attorney-at-Law,
Deputy Chief Commissioner - Sri Lanka Scouts
Member, Asia Pacific Regional Scout Committee &
Chairman Global Support Core Group
of the World Organisation of the Scout Movement