---

The Mahinda Rajapakse Centre conducted a lecture on 'Global Expansion of ISIS: Impact on Sri Lanka' which was attended by  politicians, diplomats and other dignitaries (Pix by Kithsiri de Mel)
Those IS members who travelled to Iraq and Syria from Sri Lanka started to recruit people from Sri Lanka
IS is now spreading from the battlefield in Iraq to Asia
South Asia boasts of a huge Muslim population and even if 1% of that population is radicalized
When Iraq plunged into chaos it was the Al-Qaeda that immediately benefitted from the crisis
Sri Lankans had many lessons to learn from the Easter Sunday terror attacks. One lesson was that state  security isn't something that should be taken for granted. The other was that the country had become vulnerable to such incidents as a result of weakening links between communities. A once united nation is slowly dividing on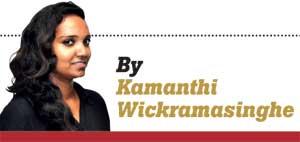 different grounds, leaving room for terrorists and extremists to foster their agendas. On the other hand, the Islamic State of Iraq and Syria (ISIS) organisation claiming responsibility for the attacks is proof that it's ideologies are gaining ground in the South Asian region.
In this backdrop, the Mahinda Rajapakse Centre, an initiative with a mission to initiate a research hub on international relations, invited three eminent speakers to speak on 'Global Expansion of ISIS: Impact on Sri Lanka.' The event was attended by Prime Minister Ranil Wickremesinghe, Speaker Karu Jayasuriya, former President and Leader of the Opposition Mahinda Rajapaksa, politicians, diplomats and other dignitaries.
Failure in leadership main reason for the attacks :

Prof. Gunaratne
Author of 'Inside Al-Qaeda: Global Network of Terror', Prof. Rohan Gunaratne opened the floor by relating the birth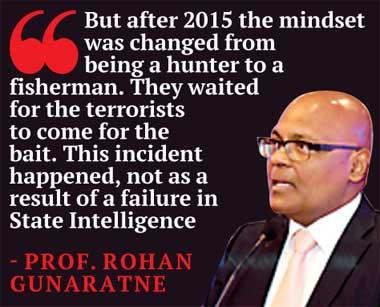 of Islamic State (IS) links in Sri Lanka. According to Prof. Gunaratne, there have been three IS networks in the country. "The first was the network from Central Province. Here, 42 Sri Lankans travelled to Iraq in January 2015. The very first leader of IS to travel from Sri Lanka was a man called Mohamed Nissam. When Nissam travelled to Iraq, he was recruited by his own brother who worked for a humanitarian organisation in the UK and also in Tanzania. He was the first Sri Lankan living overseas, who was radicalised in UK and then travelled to Iraq. He later travelled to Sri Lanka and radicalised his own family and his wife's family. They are all from Kandy. This person was later killed in Iraq and IS claimed his death. This was how the world got to know that there were IS followers from Sri Lanka. Since then, those IS members who travelled to Iraq and Syria from Sri Lanka started to recruit people from Sri Lanka," said Gunaratne.

The word 'Jihad' is used to describe three different kinds of struggle ; the believer's internal struggle to live out the Muslim faith as well as possible, the struggle to build a good Muslim society and the Holy war – the struggles to defend Islam, with force if necessary. "There were two groups that were recruited ; one was called the Eastern network which was led by the mastermind behind the Easter Sunday attacks," Prof. Gunaratne continued. "He graduated from two Arabic schools in Sri Lanka and later formed an organisation with the deputy leader of the IS network. The latter was arrested in Dambulla. The Eastern group was Kathankudy- centric and they were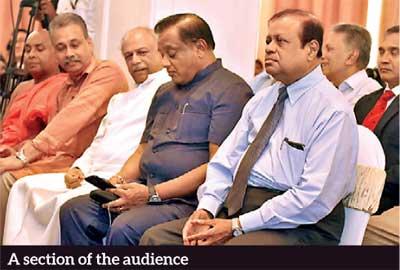 constantly recruiting people from the Eastern region. In the Western Province, another IS-centric organisation emerged. But a dispute occurred among its members. It's leader said that this wasn't the right time for Jihad when they were planning to attack the hotels and the churches. But there were two others who broke away and claimed that jihad could be waged at any given time. This was when all of them joined hands with the main accused."
He revealed that prior to the attacks, the Intelligence officers informed the personal security officers working with Mahinda Rajapaksa, former President Chandrika Kumaratunga and Mrs. Premadasa.  "But they didn't inform the churches. The indomitable spirit between the Intelligence officers and security, that existed in the past did not exist during that time. That spirit has been taken away. During the pre-2015 period, those who worked in office were hunters. They waited for people like the main culprit of the attacks to incapacitate
them. But after 2015 the mindset was changed from being a hunter to a fisherman and they waited for the terrorists to come for the bait. I want to make it clear that this incident happened, not as a result of a failure in State Intelligence but as a result of the failure in leadership.

"None of the bombers received training on producing the Improvised Explosive Devices (IEDs) they possessed," he continued. "One of the attackers worked at a pharmacy and produced an IED out of a formula he took off the internet. I also managed to study the Intelligence reports of these criminals and they were near perfect.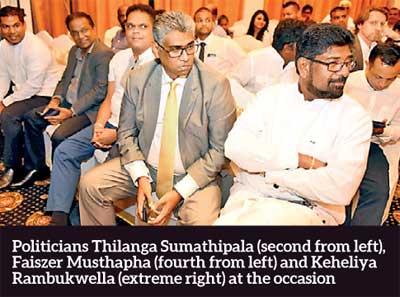 Radicalisation happens among families first. So the first line of defence in the counter-terrorism move should be to work with the families.
If they detect anything suspicious, a change of attitudes or behaviours they have to inform a counselling Centre, not the Police. The Centre should have Muslim religious leaders, psychologists and social workers who will treat those people. But these capabilities have not yet been created in Sri Lanka, even nearly two months after the attacks."

He then proposed a long-term strategic response as he claimed that the radicalisation pipeline is still in tact and that it could be broken down only by creating a National Security Act. According to him, such an Act should have six elements :
Criminalize posting extremist content ;
Criminalize hate speech and incitement to violence ;
Regulate the religious space because it is being exploited by terrorists and extremists
Prevent extremist preachers coming to the country. The Ministry of Religious Affairs should issue a license for them to practice and every two years it should be renewed. They shouldn't insult another community ;
Conceptualising multi-ethnic schools ;
Building a rehabilitation programme which will include religious and spiritual rehabilitation, family and social rehabilitation, recreational and psychological rehabilitation.
In his concluding remarks, he said that the IS is now spreading from the battlefield in Iraq to Asia. "Asia holds 63% of all Muslims in the world. South Asia boasts of a huge Muslim population and even if 1% of that population is radicalized we will have to face a huge problem."

Premier Ranil Wickremesinghe (second from left) is seen with Opposition Leader Mahinda Rajapaksa (Third from left)
'Wealth and education can prevent radicalisation' is an absolute myth :

Dr. Johny
Dr. Stanly Johny, author of 'The ISIS Caliphate : From Syria to the Doorsteps of India' and the International Affairs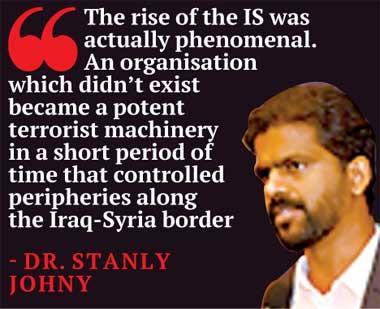 of the Tamil Nadu based newspaper The Hindu shed light on how the ISIS came into being. "It came in as a surprise when Sri Lankan churches and hotels were bombed on Easter Sunday. And it was more shocking to see how the IS claimed the attacks. Six years ago there was no IS or ISIS and its leaders were unknown to most of us here. It was in July 2014 that it's leader came in to the limelight and declared a caliphate in Iraq and Syria. The rise of the IS was actually phenomenal. An organisation which didn't exist became a potent terrorist machinery in a short period of time that controlled peripheries along the Iraq-Syria border. It even began to dominate areas as big as the Great Britain and places where millions of people are living."

"If you look at all these organizations, they were inspired by the Al-Qaeda," he continued. "The conflicts that occurred in Iraq and Syria have made ISIS what it is today. Terrorists love anarchy and chaos and they thrive on such situations. When Iraq plunged into chaos it was the Al-Qaeda that immediately benefitted from the crisis. Iraq saw a sectarian civil war between 2003 and 2006. Then the crisis broke off in Syria in 2011 which initially began as an anti-government protest and then morphed into a regional civil war."
"But the caliphate also has a periphery and these include the regions that lie outside the core. It is from the periphery that the IS found its recruits. From Kerala, two dozen people went missing in 2016"

It was shocking to see many young people falling victim to this organisation. Many of the Easter Sunday suicide bombers were young people. "So why is the ISIS attracting young people from across the world?," he questioned. "To find an answer we have to look at the ideology of the Islamic State. There are political Islamic groups, nationalist Islamic groups and extremist Islamic groups like Boko Haram whose modus operandi  is violence. All of these groups including ISIS are Salafi-Jihadist organizations which means their fundamental ideology is Salafism. Salafism is a puritanical interpretation of Islam and would say that they have to follow the ancestors, their practices and religious scriptures. One cannot have human interpretations of these scriptures. So one's faith has to be pure. This itself isn't a violent ideology, but the problem is that when you become an organisation and when you insist that this particular stream of Islam should be implemented on the people, irrespective of the faith. If they implement it through violence, then it becomes a jihadist organization."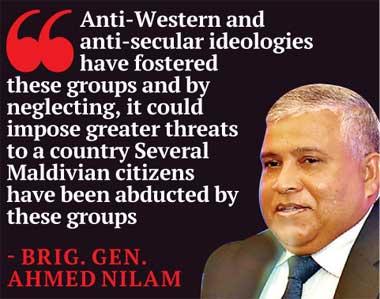 Sri Lanka wasn't a part of any war with the Middle East and it doesn't have any active history of Islamic terrorism. Yet they targeted the island nation on an important date in its religious calendar. According to Dr. Johny there is no straightforward answer, but one important fact is its operational strategy. "The organization that was founded in Iraq and Syria is the core. But the caliphate also has a periphery and these include the regions that lie outside the core. It is from the periphery that the IS found its recruits. From Kerala, two dozen people went missing in 2016. In terms of education and the Human Development Index, Kerala is one of the  number one states in India. The conventional wisdom is that wealth and education prevent people from being radicalized. But this was proved a myth in the case of IS because all these people who went missing were later found to have travelled to Afghanistan to join the IS. Most of them are from upper middle class families, some were doctors and some engineers. So the problem is that there is an ideological zeal with the IS. It says you don't have to be a Sri Lankan or an American, what is important is to be a follower of the IS leader. If you look at IS, South Asia is an important region mainly because of the Muslim population and the ISIS sees them as potential targets. The second fact is that there are conflicts between countries in South Asia. The core is now decimated as they lost major cities in Iraq and Syria, but they have succeeded in what even the Al-Qaeda couldn't do ; they have globalized its ideology. In the peripheries, ISIS ideologies will continue to work and you have to fight that by muscle and other means as well."
Situation in Maldives
Adding in his comments, former Director General of Directorate of Intelligence and Commander of the Special Assessment Unit, Maldives National Defence Force, Brig. Gen. Ahmed Nilam expresses his views  on the spread of ISIS in the Maldives. He stressed on how anti-Western and anti-secular ideologies have fostered these groups and by neglecting, it could impose greater threats to a country. Several Maldivian citizens have been abducted by these groups and the the wave of jihadism is spreading in this island nation as well. Brig. Nilam stressed on how non-governmental organizations (NGOs), religious elements and other campaigns are supporting Salafist programmes.