---
The 17th death Anniversary of Mr H. P Gooneratne fell on the 9th of December 9,2020 and it is with deep gratitude that we remember him, the Founder Chairman of HelpAge Sri Lanka.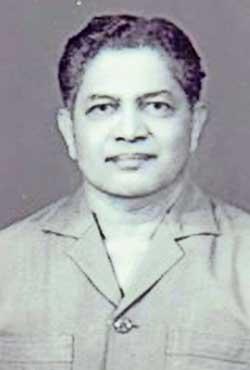 Gooneratne was a dedicated social worker who was devoted to the cause of serving those in need. One of his most laudable achievements was establishing the charitable organization HelpAge Sri Lanka (HASL) in 1986. He along with John F. Pearson, who was a council member of HelpAge international, and a group of Gooneratne's friends formed the first Board of HASL.

From the inception Gooneratne had a clear vision to serve the needy Elders of our country and he did this with utter commitment and joy. Over the years he worked tirelessly to ensure that HASL reached out to every possible corner of our country to help those Elders lead a dignified, secure, active and healthy life.

Gooneratne was a gentle being, full of compassion who touched the lives of those near and far. He was also greatly loved by the HelpAge staff not only in Sri Lanka, but overseas as well. In 1990 he was elected as the Vice President of HelpAge international, UK and he continued to work passionately to highlight the need of uplifting the lives of the disadvantaged Elders in Sri Lanka on international forums too.

HelpAge Sri Lanka has reached great heights over the past three decades, thanks to the foresight of our Founder Chairman H.P. Gooneratne. He was determined to establish an Eye Hospital in Sri Lanka to help needy elders to restore their vision. This was the main goal Gooneratne achieved in his lifetime and we are proud to say that the HelpAge Eye Hospital in Colombo 6 has gone from strength to strength serving many elders from the remotest parts of our country.

Gooneratne's also had many innovative ideas which he achieved during his lifetime. The establishment of an Elders Day Care Centre in Ratmalana in 1988 is another example. This has been a great source of enjoyment for the underprivileged Elders in that area. They come every morning to the Day Centre and spend time until evening with others of their age. During their stay at the day Centre they are engaged in group work such as knitting, making clay pots, playing games etc. Breakfast, lunch and tea are provided to them free. As a mark of respect to our much loved Founder Chairman, we have renamed it H.P. Gooneratne HelpAge Elders' Day Care Centre.

Gooneratne was a devout Buddhist who spent a great deal of his time involved in religious activities. He was also a devoted husband and father to his wife and children. He has truly inspired many of us and those of us who were lucky to have known him, carry with us very special memories of him.

May his journey in samsara be short and may he attain the supreme bliss of Nirvana!
Ananda Kannangara
Manager Communications-
HelpAge Sri Lanka