---
The intricate tapestry of humanity woven into the will of the late Mauri Antoinette Clare Sendapperuma could be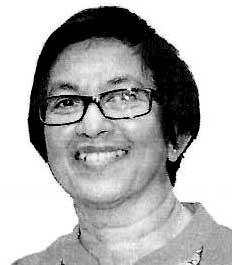 Mauri Antoinette Clare Sendapperuma
compared to the words of the TALMUD "Whoever saves one life, saves a world entire." Born on 31st March 1954 in Colombo, Mauri was educated at Good Shepherd Convent, Colombo, an accountant by profession, she spent her time joyfully in the service of the Lord and eventually migrated to Australia to take up volunteer work at the Royal Melbourne Hospital. She was kind and generous and she ensured that it extended beyond her earthly life by giving back to her country after her death.

The Heart to Heart Trust Fund, under Presidential Patronage, was co-founded by leading Consultant Cardiothoracic Surgeon Dr. Rajitha Y. de Silva and his mentor, the eminent Senior Consultant Cardiologist, Dr. Ruvan Ekanayake, guided by a Board of Trustees, consisting of a rare selfless group of individuals who have wholeheartedly volunteered to support and execute the good cause with the objective that 'Nobody should die or suffer from heart disease due to financial difficulties in this country.' The Board of Trustees consists of both medical and non-medical personnel, inculcating professional fields of law, medicine, diplomacy, corporate business and social sciences.

Medical field representation on the Board comprises of:

1. Dr. Ruvan Ekanayake, Senior Consultant Cardiologist
2. Dr. Rajitha Y. de Silva, Consultant Cardiothoracic Surgeon
3. Dr. Aruna Kapuruge, Consultant Cardiothoracic Surgeon
4. Dr. Mahendra Munasinghe, Consultant Cardiothoracic Surgeon
5. Dr. Kanisha Indraratne, Consultant and Cardiac Anaesthetist
6. Dr. Kumudini Ranatunga - Senior Consultant Cardiothoracic Anaesthetist and Intensivist NHSL
7. Prof. S.D. Jayaratne, the Chairman, Sri Jayewardenepura General Hospital (Ex-Officio)
The non-medical personnel representing other disciplines and professions are:
8. Ambassador Jayantha Dhanapala, former UN Under Secretary General
9. Palitha Fernando PC, former Attorney General
10. Arunashantha De Silva PC, former Legal Draftsman
11. Mahendra Amarasuriya, Senior Banker Philanthropist and former
International President Lions Club International 2007/08
12. Dr. Kumari Jayawardena, Author/Social Worker
13. Sudath Tennakoon, Chairman, Central Bearings
14. Lt. Gen. (retd) Jagath Dias, former Chief of Staff, Sri Lanka Army
15. Sunimal Fernando, Senior Sociologist
16. Deshamanya Ajita De Zoysa, Chairman of Kalutara Bodhi Trust & Musaeus College
17. Kumar Sangakkara, Captain Sri Lanka Cricket 2009-2011 and President of the Maryleborne Cricket Club (MCC) who also guides the Trust Fund while representing diverse fields of specialisation.

Mauri recognised the work of the Trust Fund, particularly among those in need of critical treatment who are unable to obtain timely intervention due to financial difficulties. She was totally cognisant of the vital need of a helping hand to people here, who more often than not, are desperately in need unlike in Australia, where complex cardiac procedures are provided free to all irrespective of income and social status. 'Heart to Heart' has been able to save more than 300 lives over their initial six and a half year period. Cardiac surgeries, and procedures have been carried out including CABG (Bypass surgery), procedures to insert stents and pacemakers at the Sri Jayawardenepura Hospital and in other hospitals over the last few years.

Believing that prevention is better than cure, 'Heart to Heart' has endeavoured to educate people whenever and wherever possible to embrace a healthy lifestyle to reduce the incidents of heart disease. Disseminating knowledge on the importance of prevention is a primary focus of the Foundation, particularly among children.
The yeoman service rendered by the Trust Fund thus far gives much hope for the future, not just for the individuals who benefit from Mauri's kindness but their dependents who will bless her name each time they think of her and receive their loved ones back in a state of restored health. Although we, at the 'Heart to Heart Trust Fund' did not know Mauri, her name will be blessed as unexpected good blooms out of difficult circumstances in our lives. In Mauri's fertile imagination, decades later the idea of giving back to her country burgeoned into inspiration for a tremendous donation to ensure that good emerged from the hard ground of unthinkable heartache so humanity could once again be blessed with the joy of living.

Lord Buddha said "Before giving, the mind of the giver is happy, while giving, the mind of the giver is made peaceful and having given, the mind of the giver is uplifted." According to Luke, Jesus said "do good, lend and expect nothing in return and your reward will be great."
Those who give expecting nothing in return become richer in compassion and humanity and, according to Maya Angelou "I have found that among its other benefits, giving liberates the soul of the giver."
May she rest in peace!