---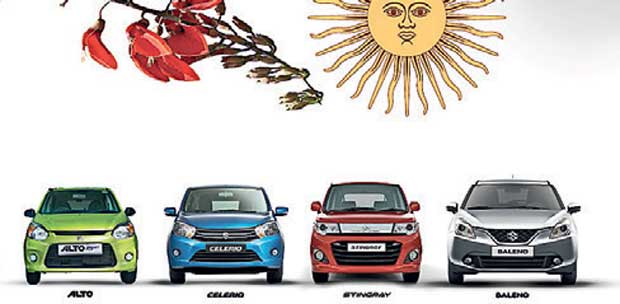 Sri Lanka's bestselling vehicle brand Suzuki has come up with exclusive offers for this festive season.
Offering the best of the best services for their customers, Suzuki is introducing a range of six complementary gifts for their customers to choose from with every purchase of Suzuki vehicle this Awurudu season starting with free registration and insurance, up to Rs. 100,000 worth of accessories, Rs. 75,000 worth of fuel vouchers, fixed deposit of Rs. 75,000, a voucher worth of Rs. 75,000 for furniture or electronic items and iPad mini 4.0 or an iPhone are the choices offered for seasonal Suzuki customers.
For over 22 years Suzuki has retained the name of the number one bestselling vehicle brand because of the much loved Suzuki Alto, which is made suitable for any road conditions and especially fit for tropical terrains while being an easy drive amongst the urban traffic congestion. Nevertheless, Alto K10 with auto gear shift technology, the good looking Wagon R, Hybrid-like fuel efficient Suzuki Celerio, Stingray with an attractive design, Japanese and Indian manufactured Suzuki Swift, the magnificent Dzire, the front runner of luxury vehicle's Ciaz, and the sporty Swift Sports, Ertiga the family choice, the ultra-elegant Baleno and Vitara SUV are Suzuki's range of high performers available for customers with the options of preorder and purchase.
Suzuki vehicles are of high reputation and its' high fuel efficiency has been proven by expert testing. Suzuki's reasonably priced vehicle range along with its economical upkeep and the being the only vehicle with the highest resale value are some of the advantages Suzuki users boast about.
AMW's island wide after sales service centers and availability of genuine spare parts along with professional assistance on repairs and modification are some of the exclusive services easily accessible to Suzuki customers. Further, Suzuki showrooms are spread across the country allowing anyone to inspect and test drive and all these factors have made Suzuki the number one choice for vehicles in Sri Lanka.