---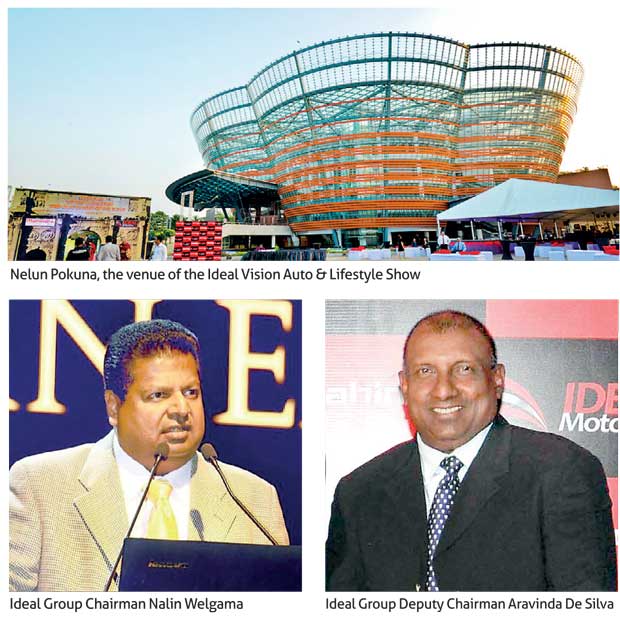 For the first time in Sri Lanka, premier automotive major, Ideal Motors, a fully-owned subsidiary of Ideal Group, with core interests in the import of automobiles, automotive parts, finance, renewable energy, tyres, state-of-the-art auto workshops and auto technical training centres, are set to stage 'Ideal Vision Auto & Lifestyle Show 2017', at the Nelum Pokuna, on July 15 and
16, 2017.
Ideal Group is an innovative company which specializes in introducing 'game-changing technology' to the Sri Lankan automotive market and is in the forefront of this industry today.
"Throughout the year there are several motor shows. For the first time in Sri Lanka, we will be showcasing the strength of a single brand and company, Ideal! No other automotive major has taken such a step. We are doing this at a time where there is a drastic change in the mobility space and Ideal will be at the forefront of that change for the better, especially with the launch of the E20 electric car by Mahindra," said Ideal Motors Chairman Nalin Welgama.
The number of electric vehicles has crossed two million units on the planet with a further 200 million electric two-wheelers and 350,000 electric buses. The government of India is committed to solely manufacturing electric vehicles in India by 2030. Between nine and 20 million EVs could be deployed by 2020 and between 40 and 70 million by 2025, according to estimates based on recent statements by car manufacturers.
The two-day event will see the entire range of vehicles marketed by Ideal Group showcased under one roof, while Ideal Group's supporting partners and other related organisations will also participate in Ideal Vision. In addition, food and clothing stalls, a kiddies' play area, a health kiosk as well as other entertainment will be available.
The event is a must visit event for people from all walks of life, families, entrepreneurs both big and small, corporates and motor enthusiasts.
Ideal Motors will also take the opportunity of showcasing several vehicles on this occasion including the E20 electric car, Mahindra Mojo two-wheeler, Big Bolero single-cabin pickup, all-new Scorpio double cab four wheel drive, Alpha Plus three-wheeler, Mahindra One Cube Optimo tipper as well as the Cosmo school bus, all vehicles being from Mahindra
& Mahindra.
Ideal Vision will commence on July 15 with the 'Ideal Abhiyogaya Mahindra Bolero Rally', which is organised together with the Ceylon Motor Sports Club. The rally will leave Nelun Pokuna and traverse the streets of Colombo for approximately three hours, giving spectators a foretaste of what awaits them on visiting Ideal Vision.
According to Ideal Group Deputy Chairman Aravinda De Silva, "Ideal Vision is not a mere business or motor event. It will serve to fund the second stage of the Ideal Group's CSR programme, 'Ideal Diviyata Saviyak', which is a water purification scheme in rural Anuradhapura. Part of the proceeds generated will be devoted to our CSR endeavour and it is something that all of us at Ideal are very passionate about."
In addition to its ongoing CSR project, as a result of the devastation caused by the floods, Ideal Group is also identifying several schools that have been affected and will assist them where necessary.