---

From left: Geely Holdings Co. Ltd, Director Sales Sandy, Geely Holdings Co.Ltd, Vice General Manager Xiong, Micro Holdings (Pvt.) Ltd, Chairman Dr. Lawrence Perera and Micro Holdings (Pvt.) Ltd, Chief Operating Officer Senani Perera, Micro Cars (Pvt.) Ltd, General Manager Dhammika Goonewardena
By Zahara Zuhair
The much awaited auto transmission of 'Micro Panda' and 'Micro Panda Cross' cars were unveiled in Sri Lanka last week by Micro Cars Ltd, the local automobile manufacturer and Geely, the Chinese multinational automotive manufacturing company.
After Panda's (manual) launch in Sri Lanka in 2010, both the models became increasingly popular due to their safety features.
It was noted that the newly launched automatic cars, while retaining its (manual's) safety and convenient features also include a rotating shift knob and peddle shifters. Such advance convenient features of this nature in the compact car segment is now available for the first time in Sri Lanka, the company said.
Micro Holdings (Pvt.) Ltd Chairman Dr. Lawrence Perera said after having discussions for a long time, they decided to introduce this product to the local market, especially to cater to the lady drivers. He said that the cars were tested heavily in Sri Lanka for over period of one year prior to the launch.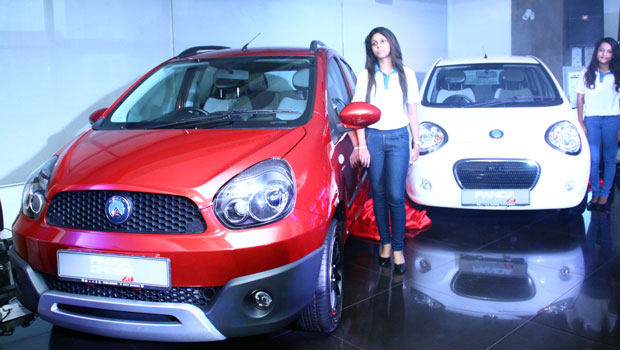 He said that within the year they are looking forward to introduce another product with Geely. He said that they save much needed foreign currency to the country by producing the cars in Sri Lanka itself and their next target is to export these cars.
Micro has already ventured in to overseas market by exporting vehicles into Pakistan, Bangladesh and Nepal in 2011.
They opened Sri Lanka's first automated motor vehicle production line in Polgahawela in 2014. Today, it remains the only national car manufacturer, assembling a full range of vehicles from compact cars and vans to luxury SUV's etc.
The home grown company, Micro was established in 1995 by Dr. Lawrence Perera, where they launched 'Privilege', completely designed and made in Sri Lanka.
Geely, is a Fortune 500 automobile manufacturer, who is also the owners of Volvo cars. Geely manufactures a range of products such as company passenger cars, mid range sedans, motor cycles, engines and transmissions globally.
Micro tied up with Geely entering into compact car segment. Today, they offer a range of passenger cars to the Sri Lankan consumers. Popular models such as Panda, Panda Cross and modern designed Emigrant 7 are leading brands in the Sri Lankan automobile market. It was noted that Geely market volume had achieved 14,456 units in Sri Lanka up to 23 February 2017.
Further, it was noted that the Panda automatic is offered at Rs. 2,499,000 and the Panda Cross automatic with its mini SUV exterior at an introductory price of Rs. 2,745,000.