---
Failure to encourage creative spirits, culture of risk averseness, old school banking system and the lack of a supportive eco-system hold back the emerging young entrepreneurs in Sri Lanka and virtually killing their innovative ideas even before they are born, a top young CEO charged.
According to Chief Gro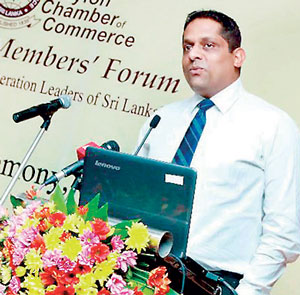 wth Officer at MAS Holdings, Nathan Sivagananathan, Sri Lanka's education system does not encourage much creativity and cultivates a culture of fear of failure, so they never pluck-up their courage to start a business instead prefer working for a multinational for a fixed salary.
"Sri Lankans are risk-averse. If they were given an opportunity to chose between working in a multinational and starting a business, most take the multi-national route," he told delivering the key note address at the launch of the Young Members Forum (YMF) of the Ceylon Chamber of Commerce (CCC).
Sivagananathan who started working at the age of 11 distributing newspapers in the United Kingdom said the Sri Lankan education system does not give an opportunity to start businesses, do odd jobs while studying and even to distribute newspapers on the roads as he did.
He further took a jab at the country's still old school banking system because as the first thing they ask for collateral from a prospective young entrepreneur who has nothing in possession but a great commercial idea to sell.
At present cost of starting a business has never being so low but the absence of an eco-system which comprises of venture capitalists, angel investors, universities, technology companies and media which gives free publicity to nurture those start-ups is still at an infancy stage in Sri Lanka.
"Today must be the first time in our history where we have freedom to invest, freedom to start a business and also probably the cost of starting a business has never been so low," he noted.
Sivagananathan however expressed his dismay over the lukewarm attitude of the country's SMEs to reach global scale and build international brands to become top players in their respective markets.
Hence he said opportunities abound and urged young entrepreneurs to start businesses because today consumerism is taking place at a rapid pace in Sri Lanka and are ready to pay a premium for quality products.
It was only recently Nielsen Sri Lanka revealed that Sri Lankan consumers were increasingly becoming more brand conscious, shifting towards premiumisation while their choice between international and local brand consumption is also getting narrowed.
"There is a shift towards premiumisation. Even the rural sector consumers are shifting from just commodities to aspirational products and brands," Nielsen Sri Lanka Managing Director Shaheen Cader said.
However Sivagananathan stressed the significance of building businesses to serve majority instead of minority.
"Per capital GDP of US $ 7,000 could be achieved only if you start new businesses.
We should try and build businesses not for the 1 percent of this country, but for the 60-70 percent," he remarked.
Sivagananathan however believes that Sri Lanka has also started to see increasing amount of start-ups similar to India and said, "I think Sri Lanka is at the point where innovation and entrepreneurship is really kicking-off".
Sivagananathan started working at his uncle's bakery at the age of 15 and started to make and sell pizzas and sandwiches in the night.
Furthering his entrepreneurial spirit he went on to sell cars and also rent them out for his university colleagues.