---
World Cancer Day falls on February 4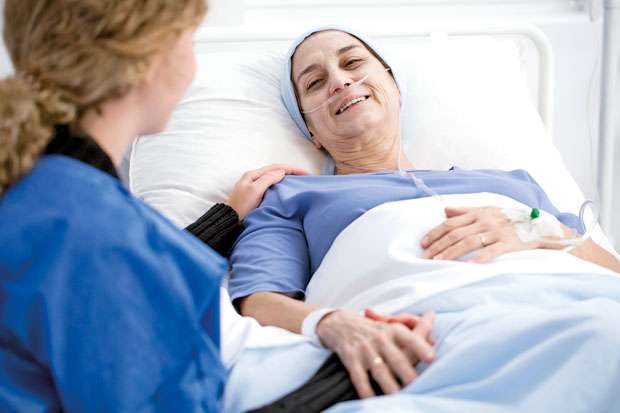 Around 98% of cervical cancers are due to an infection caused by the Human Papillomavirus (HPV)
A woman having her first child at the age of 30 has better protection against breast cancers than a woman who conceives at a much later age
Early detection is always the key in diagnosing cancers

The quality of health is under threat of being plagued by various medical maladies that exist in the world today. Among them, cancers prevail in the list as the leading causes of death in the world. World cancer day is an opportunity to raise awareness on this grave health hurdle all over the world. Focusing on this day promotes the importance of early detection of cancer and the subsequent treatment as well. Dr. Jayantha Balawardana, Senior Consultant Oncologist, Radio Therapist and Senior Lecturer at Kothalawala Defence University, provides an enlightening insight on the abnormal growths that occur in the body known to man as cancer.

The trend in cancer that is prevalent in the country is alarming and is on the rise. Referring to the latest data with regard to the year 2014, Dr. Balawardana mentioned that over 40,000 cases had been reported. However he stated that this was not a realistic figure. "This is only the amount of patients reported to the cancer hospitals in the country. There are groups of patients that seek private treatment, patients that seek treatment overseas and also other patients that do not receive treatment at all. These patients have not been included in this data. I personally feel that this figure might have increased to 50,000 if new cases are taken into account," said
Dr. Balawardana.

The most common types of cancers that exist in the country vary with gender. "In males the most predominant form of cancer is oral cavity cancer which is then followed by lung cancer as the second most common form of the disease. Oesophageal cancer is the third most prevalent type of cancerous growth among males. Breast cancer is the most common form of cancer in females followed by thyroid cancer with cervical cancer being the third most common form of the disease. 10 years ago, cervical cancer was the second most common cancer among females, but since then it has been preceded by thyroid cancer," he stated.

Causative factors


According to Dr. Balawardana, reasons for the increasing trend in carcinogenic conditions are actually multi factorial.

There has been a relative increase in the number of cancer patients with more patients being diagnosed at present. More people are aware of the dangers of cancer and direct themselves for medical attention. "With more facilities available for the detection of cancer such as screening programmes and mammograms when compared to the past, more patients are detected early and directed for treatment. Therefore the existence of more cancer patients are recorded. In the past, neither the awareness of cancers nor such facilities were strongly developed. There were instances in the past where patients had died without a cause of death. It could have been cancer, but there were no diagnostic facilities prevalent at the time to identify their ailment," elaborated Dr. Balawardana.

Longevity of life is another reason. Modern medicine has led to the discoveries of cures for various diseases that were once incurable. Vaccines for tuberculosis offer examples. This has in turn contributed to longer lives. Dr. Balawardana mentioned that elderly people are exposed to a fairly bigger risk of falling victim to cancers and added that cancers are more common among them.

"Definitive causes include factors such as environmental pollution and dietary habits. With busy lifestyles that people lead today, they tend to neglect healthy meals and their diets are centred around the more convenient junk food. They do not consume balanced meals and consume more of processed food; which contain more animal fat and lack greens and fibre.
Obtaining mammograms are recommended at the age of 40 years usually; however it is never too early even after 35 years of age. Tests for cervical cancer such as pap tests especially in sexually active women, oral examinations in those who smoke or chew on betel are important
Obesity is another causative factor. Currently obesity is a growing health problem in the country. Around 16% of school children in the Colombo district are victim to diabetes with obesity being the primary cause behind this health condition.

Obese, patients are more prone to develop cancers," he accentuated. This is mainly due to unfavourable diets and lack of physical exercises.
According to the Senior Consultant Oncologist, hormonal influences too contribute to the creating of carcinogenic risks. "A woman having her first child at the age of 30 has better protection against breast cancers than a woman who conceives at a much later age. Late pregnancies draw more risk towards cancers. Nowadays females are more ambitious. They tend to move towards career opportunities while their health takes a back seat. Getting married and bearing children take place at a much later stage. So the dangers increase," he warned.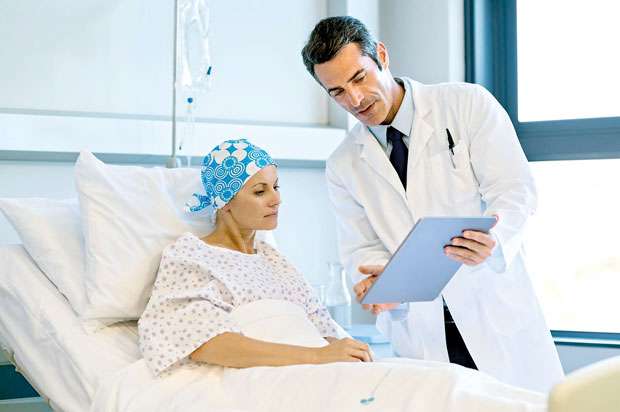 Sexually transmitted viruses are also a reason for certain cancers. "Around 98% of cervical cancers are due to an infection caused by the Human Papillomavirus (HPV), which is a sexually transmitted virus that could be transmitted due to unsafe sex. HIV patients are in the danger of developing cancer as well.

Genetic causes have a certain impact in contributing to 10% of the cancers that exist today. These include breast, ovary and bowel cancers," he asserted.

The ozone layer that is located in the stratosphere absorbs much of the harmful UV radiation that reaches the earth's surface from the sun. However with the depletion of the ozone layer due to negative anthropogenic activities, more harmful UV radiation is able to reach the earth. "This mostly affects the skin adversely, contributing to skin cancers. There are also a few cancers that prevail where the causes are unknown and have not been identified," he articulated.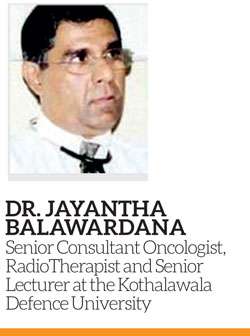 Warning signs
It is quite important that people are educated to identify a sign that might imply warning signals of a cancer. Prolonged coughing, difficulty in swallowing, lump in the breast, longstanding fever for no reason, enlargement of glands, unexplained loss of weight, unusual rectal bleeding , vaginal bleeding most often after sexual intercourse, change in the birth mark are generally some of the vital signs among many others. "If a patient tends to show one or more of the above signs, he or she should immediately seek medical attention from a qualified physician as it may be an implication of a cancerous growth in the body," Dr. Balawardana warned.

Early detection the key
While one third of the cancers can be prevented and another one third is totally curable, the remainder is tricky to deal with. With improving modern drugs and novel treatments, 80% of the cancers in this category are curable provided that it is detected early. Therefore early detection is of utmost importance.

Medical science has come a long way and now various detection programmes are present for the early diagnosis of cancers. This includes screening programmes such as mammography. "Obtaining mammograms are recommended at the age of 40 years usually; however it is never too early even after 35 years of age. Tests for cervical cancer such as pap tests especially in sexually active women, oral examinations in those who smoke or chew on betel are important. Males can have testicle examinations. Blood in stools may also sometimes indicate the growth of a cancer within the body. Any suspicions of cancer should be warning enough to seek medical aid," he advised. These steps to a certain extent aid in the diagnosis of cancers. If the tests are positive they indicate cancerous growths in the body and patients should be directed for treatment preceded by further examinations.

Timely treatment
Dr. Balawardana explained that the treatment of cancers is classified into 4 special categories. The first category includes surgery where the entire tumour is removed. The second category consists of radiation surgery where high energy radiation is employed during treatment. The third and fourth groups include chemotherapy which utilizes drugs for treatment and the use of hormones respectively. Hormonal treatments are mainly used in medications for breast and prostate cancers. With the advancement of science and technology, there now exists novel treatment methods such as gene and molecular therapy which directly addresses the defective gene. Of course these treatments are accompanied by side effects.
"However there are remarkable methods to control them by carefully monitoring the patient and providing them with appropriate assistance. Counselling is an effective method that helps patients develop and maintain a strong mind under these circumstances," he assured. Though counselling methods are quite developed in other countries it is unfortunately not so here in Sri Lanka.

"Remember cancers are not death warrants. Early detection is always the key in diagnosing cancers. This helps in making treatment successful," Dr. Balawardana concluded. It is always important to remember that where there is life, there is always hope!