---
SLFP, SLPP & 15 parties join hands to form alliance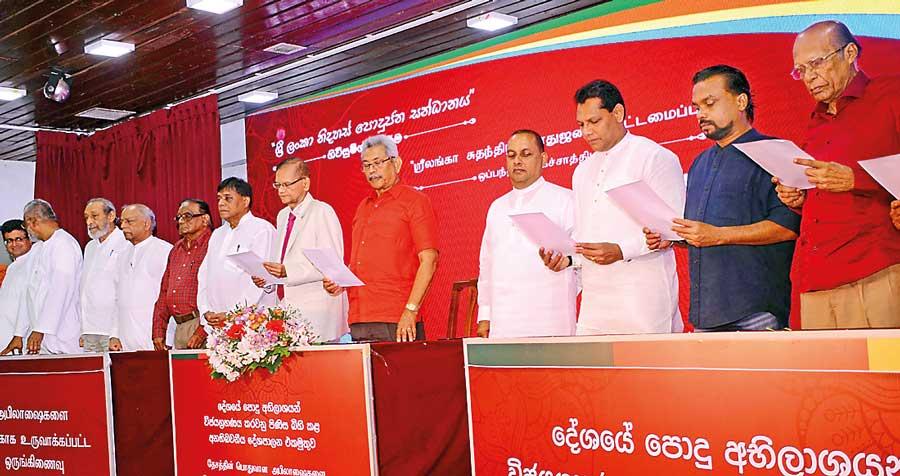 Pic by Waruna Wanniarachchi
By Lahiru Pothmulla
The SLFP, SLPP and 15 other parties joined hands to form the Sri Lanka People's Freedom Alliance (SLPFA) or the Sri Lanka Nidahas Podujana Sandhanaya yesterday.
The agreement to form the new alliance to contest the upcoming general election was signed among the secretaries of 17 parties in the presence of party leaders and SLPP presidential candidate Gotabaya Rajapaksa at the Sri Lanka Foundation Institute in Colombo.

The 17 parties are the Sri Lanka Freedom Party, Sri Lanka Podujana Peramuna, Mahajana Eksath Peramuna, Communist Party of Sri Lanka, Lanka Sama Samaja Party, Democratic Left Front, Jathika Nidahas Peramuna, Pivithuru Hela Urumaya, Ceylon Workers Congress, Eelam People's Democratic Party, National Congress, Sri Lanka Mahajana Party, Desha Vimukthi Janatha Party, Tamil Makkal Viduthalai Pulikal, United People's Party, Vijaya Dharani Jathika Sabawa and Mutpokkuth Tamilar Kachchi.

Party secretaries including Sagara Kariyawasam, Dayasiri Jayasekara, D.E.W.Gunasekara, Tissa Witharana, Vasudeva Nanayakkara, Douglas Devananda, A.L.M.Athaullah, Tiran Alles and Yoganadan Roshman signed the agreement.

SLPP Chairman Prof. G.L.Peiris, its National Organiser Basil Rajapaksa, MPs Mahinda Amaraweera, Pavithra Wanniarachchi, Rohitha Abeygunawardena, Dullas Alahapperuma, Vasudeva Nanayakkara, Nimal Siripala De Silva, Wimal Weerawansa and Udaya Gammanpila were present at the event.

SLPP Presidential candidate Gotabaya Rajapaksa, who was also present, said all 17 parties have come together for a great cause.

"We may have different opinions but have come together for one objective as patriotic parties. Our ambition is to uphold the sovereignty, unity and security of the country by reviving the economy and democracy," he said.