---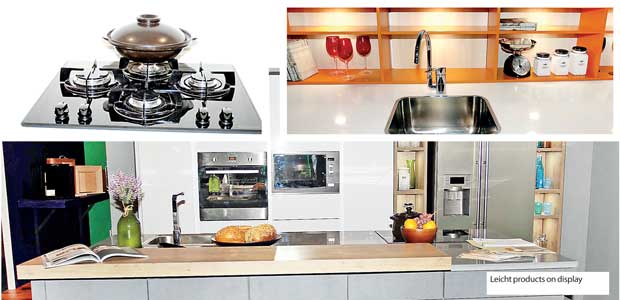 By Zahara Zuhair
Leicht, one of the leading German kitchen brands, was unveiled to the Sri Lankan market recently, at the Sri Lanka Design Festival held in Colombo. It was introduced by Centrepoint Homes, a fully-owned subsidiary of Fairway Holdings.
The speciality of the product, which has been accoladed as the 'Most innovative brand of the year' in Germany, is its affordability and the quality.
"The customer gets German technology and quality for an affordable price," Fairway Holdings (Pvt.) Ltd Lifestyle Chief Executive Officer Rajeeve Kulatunge said.
Kulatunge said that one of the reasons to introduce the product to Sri Lanka was its innovativeness.
He said that they have five different collections, adding that every design is completely custom designed.
"When it comes to the collections, we have 1,500 different ways where we can do it for you. We will completely design it for you. We only need the dimensions and your budget. We have our own in-house designers," he said.
It was noted that it has an innovative lighting system, available outside as well as inside the furniture such as
the drawers.
"It has an in-built hood as well, so it doesn't show there is a hood. Now a lot of kitchens showcase the hood. That has become old-fashioned now. It has a hood that cannot be seen. It is built inside the cupboard itself," they said.
The company is hopeful that this brand would do extremely well in Sri Lanka. It enjoyed an 8 percent increase in the market share in Germany last year.
Leicht has developed from a Swabian manufacturer of quality goods into a brand coveted all over the world and currently exported to 50 countries.
The company founded as a carpenter's workshop in 1928 by the brothers Alois and
Josef Leicht.
Centrepoint Homes (Pvt.) Ltd General Manager Jeffry Ebert said that their aim is to be the total solution provider when it comes to providing interior.
Centrepoint Homes is an interior solutions provider in Sri Lanka supplying kitchen cabinets, wardrobes, doors and electrical appliances to the local building industry.