---
Beijing, (Hindustan Times), 01.03.2017- China deployed multiple aircraft including combat helicopters in a counter-terror drill in its restive northwestern region of Xinjiang this week.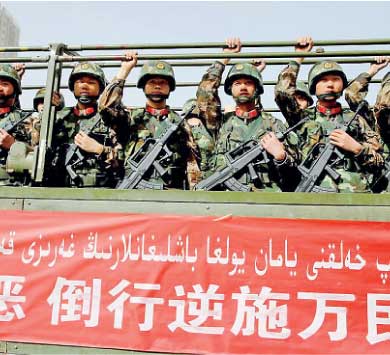 It's rare for governments to deploy air power against insurgents and Chinese state media reports said it was to test how quickly thousands of armed personnel could be transported to the region in case of an emergency.

As many 18 aircraft including eight helicopters were used in the drill, which saw soldiers carry out simulated drills in designated areas of the southern Xinjiang Uyghur Autonomous Region (XUAR).
Though a state media report on the exercise didn't specify whether it was for the first time the People's Liberation Army (PLA) Airforce was being used in an anti-terror drill, a military expert indicated that it was indeed so.