---
Dozens of fires are still raging on the east coast of Australia after an 'extraordinary' day saw infernos in suburban Sydney - as officials warn the worst is yet to come.

The largest blaze, the Liberation Trail bushfire west of Coffs Harbour, covers more 150,000 hectares with several active spots and a circumference of 1,000km. It is still at watch and act status this morning.

That fire is among around 100 raging in New South Wales, from Narooma near the Victoria border to Woodenbong near the Gold Coast, as Queensland battles around 60 fires with conditions set to get worse.

Premier Annastacia Palaszczuk warned of 'severe conditions' including temperatures of 36C as 1,000 firefighters tackle blazes from the Gold Coast to Cape York.

At 10am (AEST) a 'leave now' alert was issued for Noosa North Shore and prepare to leave directions were issued for Woodgate, Pechey, west of Brisbane, and Spicers Peak Lodge, a five-star retreat west of the Gold Coast.

Rural Fire Service Commissioner Shane Fitzsimmons on Tuesday issued a stark warning that more dangerous conditions are on the way as Australia battles record drought.

Mr Fitzsimmons said the forecast for 27C heat in the mid-north on Friday means 'we simply aren't going to get the upper hand on all of these fires'. Existing fires are continuing to grow rapidly while new ones emerge, with officials fearing some could continue to rage for months.
Daily Mail, 13 Nov, 2019-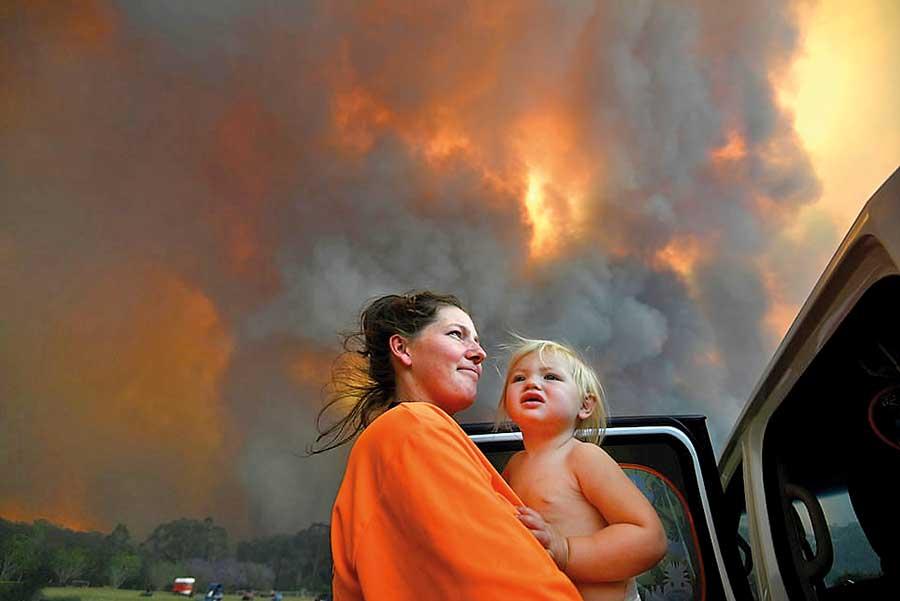 A mother and her 18-month-old daughter Charlotte look on as thick smoke rises from bushfires (DM)
---
helicopter crashes during bushfire operation
SYDNEY AFP Nov13, 2019- A helicopter crashed while fighting a bushfire in northern Australia on Wednesday and the pilot managed to survive with only minor injuries, officials said.

"The helicopter crashed during waterbombing operations at the Pechey fire today," a Queensland Fire and Emergency Service spokesperson told AFP.

A rescue helicopter was sent to the scene and the pilot was treated for minor injuries, a Queensland Ambulance Service spokesman told AFP.
The pilot is now in a stable condition.