---
Smart Metro, a Sri Lankan based International Software Development Company yesterday signed two landmark agreements with Sony Corporation and Fujisoft Inc, Japan to become Sri Lanka's sole agent for the distribution and application of Sony's Near Filed Communication Technology widely known as 'FeliCa' and Fujisoft 's Finger-vein Biometric Authentication technology.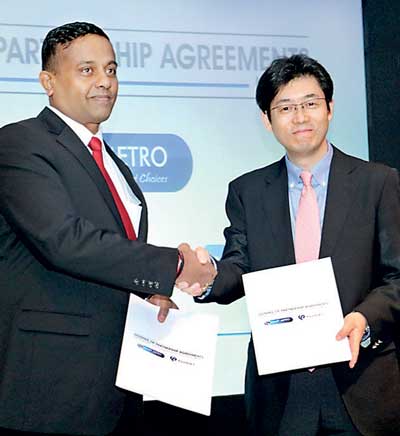 "This partnership between Smart Metro with Sony and Fujisoft is the ultimate win-win scenario," said Sajeewa Hendawitharana, CEO of Smart Metro. "Our partnership with Sony will provide for wider deployment of exciting NFC options ranging from tea, transport, health, defense and many more. The partnership with Fujisoft allows us to market Smart Authentication that uses the finger-vein which in the most secure form of authentication."
Explaining the venture, Atheeq Ansar, the Chief Operations Officer for Smart Metro said that NFC is a simple intuitive technology which allows consumers to interact securely with various applications in different domains with a simple tap. Smart Metro's partnership with Sony will make it the first Sri Lankan company to have sole rights and access to this vast knowledge base. "We are pleased to have come to an agreement with Smart Metro. Using SONY's FeliCa card and NFC mobile contactless experience, we will ensure that we can make a positive contribution to improve Smart Metro's provisioning of a common platform for contactless payment service."Toshio Yoshihara head of SONY FeliCa division said. Chan Gunawardena, Chief Information Officer of Smart Metro said the SONY FeliCa cards will be used to input static and semi-static data elements to the NFC enabled data acquisition devices securely and accurately instead of time consuming processes of manual data entry. Smart Metro also partnered with commercial bank which to introduce a hybrid card with EMV contact and FeliCa contactless multi application chip. This hybrid card will function as a debit card using its contact chip while the FeliCa chip will make the card to independently function as an Identity/ Loyalty Card, Electronic purse, Travel card and the like.
Smart Metro also entered into an agreement with Fujisoft Inc, Japan's largest independent System Integrator. An official from Fujisoft explained that under this unique alliance, Smart Metro will distribute a wide range of Biometric Authentication units and various other products and solutions from Fujisoft Inc in Sri Lanka and Maldives. "Through this alliance we bring together our collective strengths to serve broader range of customers with industry leading products and solutions from Japan. Together, Fujisoft Inc and Smart Metro will help clients by collaborating on existing solutions and developing offerings to enable companies to meet new competition, adapt to disruptive market forces and lead innovation. We are confident of unlocking new opportunities in the Sri Lankan and the Maldives market through this endeavor."- Rei Yasue, CEO Fujisoft Global Inc.