---

Head table - from left: Senior Lecturer/Member Professor S.R.D. Rosa, SLTC President Ranjith G.Rubasinghe, Vice President Academic Affairs Professor Ashoka Polpitiya and Assistant Registar Pabasara Amarawardena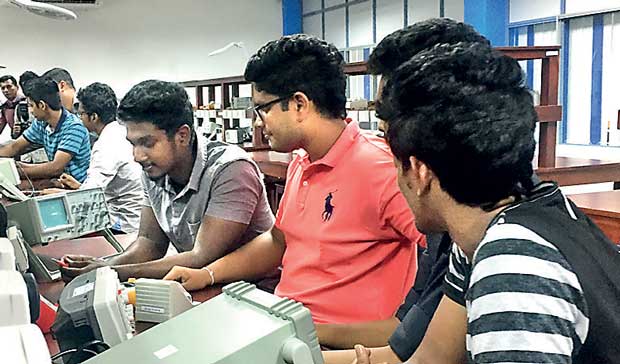 By Zahara Zuhair
Sri Lanka Technological Campus (SLTC) in Padukka, which plans to expand the campus in two stages with investments of Rs. 200 million and US $ 65 million respectively, said it intends producing technologists, which is a novel profession in Sri Lanka.
The campus, a fully-owned subsidiary of Sri Lanka Telecom PLC (SLT), which is 51 percent government owned was established in 2015 with an investment of Rs. 190 million.
SL Technological Campus President Ranjith G. Rubasinghe at a press conference held at the campus said that SLTC is the only corporate-powered, research-based, fully residential engineering campus in the country.
"The introduction of SLT Campus will cater the increasing demand from students who opt for a path in engineering and technology," he said.
The campus has enrolled more than 200 students within the first year and this year they expect to enrol 350 students.
"This year, there will be 350 intakes for all programmes. 250 for Engineering, another 50 for ICT and 50 for Technology. We make sure everyone gets a job," Rubasinghe stressed. "We are not going for numbers, we want to be a top-ranked university with proper graduates," he added.
The Engineering faculty offers four-year Engineering degrees in Electronics and Power Systems Engineering, Electronics and Telecommunication Engineering, Electronics Engineering and Engineering Management.
Further, it was noted that they also offer 2+2 undergraduate Engineering programmes leading to Engineering degrees awarded by Lancaster University, United Kingdom and Deakin University Australia.
The campus also expects to introduce Electronic Technology, Automation Technology, Agriculture Technology and Telecommunication Technology in the future.
They said that they have offered 30 presidential scholarships based on student's district rankings. It was noted that the full course fee is Rs. 1.5 million.
As noted, the engineering programmes are fully accredited by the Ministry of Higher Education and Highways and recognised by the University Grants Commission (UGC). And also in line with Washington accord accreditation, based on the guidelines of the Institution of Engineers Sri Lanka.