---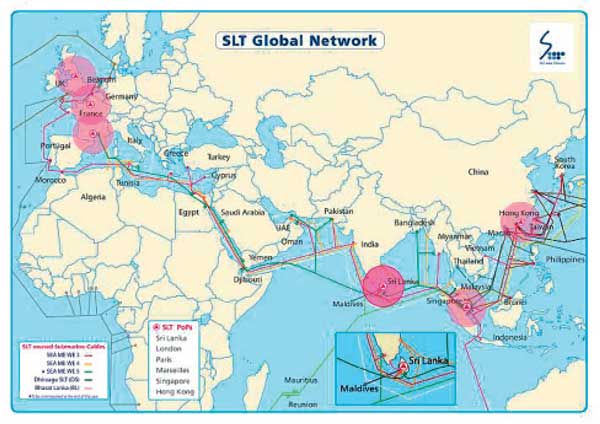 Sri Lanka's national ICT solutions provider, Sri Lanka Telecom PLC (SLT) is building international connectivity as a key aspect of its overall business strategy. SLT's global coverage was significantly strengthened via multiple undersea optical fiber cable systems: SEA-ME-WE 5, SEA-ME-WE 4, SEA-ME-WE 3, Bharat-Lanka and Dhiraagu-SLT. Sri Lanka's geographical location makes it a natural nexus for communications in the Indian Ocean basin and helps ensure that the country plays a key role in the process of unfolding new technologies across the region as reaching the status of digital hub of the region.

With the historically successful experience of implementing four submarine cable systems in the past, the SEA-ME-WE 5 submarine cable system is going to be the fifth milestone of the SEA-ME-WE family. SEA ME WE 5 has received strong commitment and support from the associated parties which in turn would help to complete the project successfully.

SEA-ME-WE 5 submarine cable system is a matchless, point of presence (PoP) to PoP, multi-regional data superhighway that brings economies of scale in digital transformation. SEA-ME-WE 5 connects to multiple PoPs and the system will also secure outstanding economical cross connection possibilities with other submarine cables in France, Italy, Egypt, Saudi Arabia, Djibouti, Singapore and Sri Lanka.

SLT constructed the SMW5 landing station in South Asia in Matara to facilitate both east and west cables to land in Matara SMW5 cable station to enable the truly largest 48 Tbps global bandwidth capacity to Sri Lanka with redundancy to connectivity and backup capability. The cable landing in to Sri Lanka was made possible through the creation of SLT's SMW5 cable landing station at Matara, Southern Sri Lanka, where the company was tasked with ensuring that the system is able to deliver seamless connectivity across Western Europe, Middle East and South East Asia while offering operators an alternative access point to other submarine cable systems running via Sri Lanka.
This new system brings the truly 48 Tbps Gigantic Global Bandwidth to the country and enhances the reliability of Sri Lanka's global connectivity to east and west by SLT investing over Rs.5.2 billion (US $ 40 million - Total investment for the project US $ 700 million) at the initial stage which is also upgradable to serve future demands. This state-of-the-art longest submarine cable spanning 20,000km has a unique lowest latency which is unmatched by any submarine cable system on the planet. When fully loaded, the SEA-ME-WE 5 cable system would be able to carry 24,000 Giga bits per second (24 Tbps); the equivalent of transmitting around 4800 high-definition movies every second from Singapore to France.

The core system of the SEA-ME-WE 5 is designed to span from Singapore to France and Italy through Sri Lanka in the most optimized route with enabling other parties connecting into the core system through their branch connectivity. Sri Lanka is in a unique position to have full landing cables from both east and west sides of the cable and a modern SMW5 cable station in Matara.

Further, the envisaged full landing station on Sri Lankan soil will pave the way for the establishment of a global point of presence (PoP) in Sri Lanka in the near future. Other significant investments include the setting up of SLT's PoP in Singapore for improved reliability and the on-going expansion of SLT's 100 Gbps national backbone network. The system terminates at PoPs in Singapore, Italy, France and USA in future for cross connecting with other cable systems, interconnecting with other carriers and acquiring services in a competitive environment.