---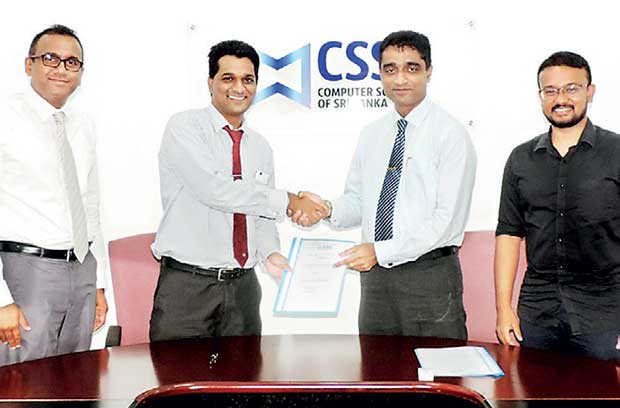 From left: CSSL Vice President Prabath S. Wickramarathne, CSSL President Yasas V. Abeywickrama, ESOFT Group of Companies Group Managing Director Dr. Dayan Rajapakse and Ayubo Leisure/ESOFT Technologies CEO Achala Meddegama
Ayubo Leisure signed a Memorandum of Understanding (MoU) with the Computer Society of Sri Lanka (CSSL) recently regarding the upcoming National IT Conference (NITC) 2017 which will be held under the theme 'Towards Digital Prosperity'.

The MoU signing ceremony was held at the CSSL Secretariat, and was graced by top officials of both organisations including ESOFT Group of Companies Group Managing Director Dr. Dayan Rajapakse, Ayubo Leisure/ESOFT Technologies CEO Achala Meddegama, CSSL President Yasas V. Abeywickrama and CSSL Vice President Prabath S. Wickramarathne.

"I believe there is a lot we can do to promote Sri Lankan tourism, and technology offers us a number of innovative ways in which we can accomplish just that" stated Meddegama. "Our Ayubo platform is one such initiative so we look forward to leveraging the upcoming NITC conference to showcase our unique set of services to an international audience," he added.

CSSL is the premier professional association for individuals and organisations leading the ICT industry in Sri Lanka. It is a rallying point for ICT professionals throughout the country and espouses the shared vision of over fifty thousand individuals ranging from ICT practitioners, academics and policy makers to other professionals in diverse fields and members of the business community.
Today, the CSSL is widely regarded as both the 'voice' of this influential industry segment and a 'key player' in ICT development, nationally.

The NITC organised annually by the CSSL, is the flagship Information Communication Technology (ICT) conference held in Sri Lanka since 1982, involving ICT professionals, academia, technology experts, policy makers, entrepreneurs and private and public sector key decision makers both locally and internationally.

It is the only national event which brings together the largest number of ICT professionals in Sri Lanka.

This year marks the 35th anniversary of NITC which will be run in partnership with the South East Asian Regional Computer Confederation (SEARCC) Conference and thus, it is anticipated to be one of the most important global ICT events in 2017, and also Sri Lanka's biggest-ever international ICT event.

Sri Lanka will see 50 countries participating at this event, biggest ever in the history of our country.