---

ESCAPE (Eradicating Sexual Child Abuse Prostitution & Exploitation), the child protection division of Leads, recently organized a training programme for over fifty care givers from children's homes in Colombo, Gampaha and Kalutara districts on providing quality care for children in institutions.
Each caregiver was recognized with a certificate of completion for their hard work and dedication in providing utmost care to institutionalized children.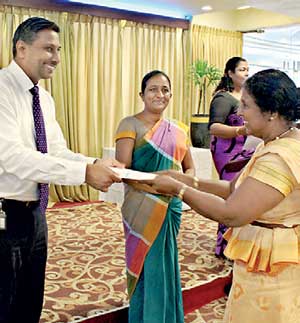 The training focused on children's mental and physical behaviors, feelings and controlling of emotions, problem solving skills and the rights of child was conducted by staff members of Leads. The occasion was also an opportune moment for the care givers to be appreciated and valued. In the opening lines Nayomi Silva, Manager for Advocacy of LEADS said 'Help light the lamp for a child'. "When a child goes to sleep in the children's homes it may be you that s/he has in mind in the image of a mother, and a father. You are important to them. Not only do you provide their basic needs but also love and assurance", she added.
LEADS, a National NGO with approved charity status is a child focused community development organization committed to reaching the most vulnerable. ESCAPE, the Child Protection Division of Leads works with abused and vulnerable children by providing counselling, therapy, legal support and also works with families of those affected with the intention of reintegrating them back to society. The organization is unique in that it offers the only registered residential therapeutic centers in Colombo and Jaffna, working in partnership with the ministries of Justice, Health, the probation and child care services, and Provincial Council.
The Commissioner of the Department of Probation and Child Care Services – Western Province, Chandima Dissanayake was the chief guest with the probation officers in-charge of Kalutara, Colombo and Gampaha districts too being present.
Congratulating Leads on this initiative of strengthening child care givers in institutions, Dissanayake noted, "In Sri Lanka, over 12,000 children are in Institutional Care. Out of which 4,000 children are provided care in the Western province region. We are mothers and fathers of many children. So many children look up to us for that love that's missing because of broken families. I encourage you to reach out to many as possible and to make a change in their lives". Dissanayake related several stories to prove how involving and challenging this task could be and stated the importance of providing training to caregivers in order to uplift their skills and knowledge.
"The training taught me two important things. Firstly we as the care givers of children should be happy and capable of taking care for them. Secondly my initial idea on child rights was confirmed during the course - in addition I learnt that children could earn their rights by fulfilling their responsibilities" said Upeksha Dilrukshi, Warden of Gunasekera Children's Home.
The Chief Executive Officer of Leads, Roshan Mendis reiterated that acting in the best interest of the child is the fundamental principle that is supposed to guide local, national, and international policy, programming, research, and care for children.
He quoted a recent study of seven South Asian countries where Institutionalizing abused and neglected children are the most convenient choice both parents and the government is making. He went to clarify that often due to socio-economic and other circumstances these were better equipped to provide the needs of the child. So, while, there is nothing necessarily bad about living in an institution that seems to be inherently bad for a child, as more and higher quality data from low- and middle-income countries emerge, the idea that it is emerging is that it is the quality and characteristics of the care within an environment, rather than the type of environment itself, that most likely impacts a child's health and well-being.
So, the training to increase capacity and quality of care in the absence of sufficient alternate care systems was timely and much needed. He also stated, however we could explore other options that keep children happy – family based options like living with a close relative or alternative options like adoption and foster care.