---
Jeewaka Watha Pattuva which was introduced as a readymade application for the first time in Sri Lanka can now be purchased from outlets islandwide, announced Jeewaka Herbal Products (Pvt) Limited. Accordingly, Jeewaka Watha Pattuva is now available island wide in Ayurveda outlets, groceries, pharmacies and supermarkets.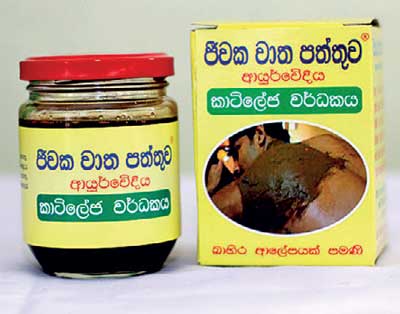 "With the medicinal prowess of Jeewaka Watha Pattuva getting recognized more, local as well as foreign parties have shown a keen interest and inquisitiveness in the product. Giving ear to these inquisitives, we are now taking measures to export the Jeewaka Watha Pattuva to foreign markets.
Our sole expectation is to give redness and total cure to patients suffering from joint ailments any ware around the world. Any interested party from overseas can either inquire or order the Jeewaka Watha Pattuva by dialing 071-4882979, said Ayurveda Physician Samantha Chandrapriya, Chairman, Chief Executive Officer, Jeewaka Herbal Products (Pvt) Limited.
Physician Chandrapriya added that Jeewaka Watha Pattuva has been for generations used by the legendary Koskandawala Generation of native physicians to treat joint pains and its great ability to give relief and cure for joint ailments is justified with the huge demand for the product. For the convenience of customers sign boards will be displayed in front of selling outlets where the Jeewaka Watha Pattuva could be purchased by customers.
By applying Jeewaka Watha Pattuva patients can get redress to all ailments related to joints, be it backbone, neck, elbow, hip, wrist, knee or any other joint because Jeewaka Watha Pattuva enables the growth of cartilage in the joints, says Jeewaka Herbal Products
(Pvt) Limited.
In addition the company has also introduced Jeewaka Vatha Thailaya and Jeewaka Vathalepaya for treatment of joint ailments to the market. Jeewaka Ayurveda Nishpadanagaraya, is
situated in Yakkala.