---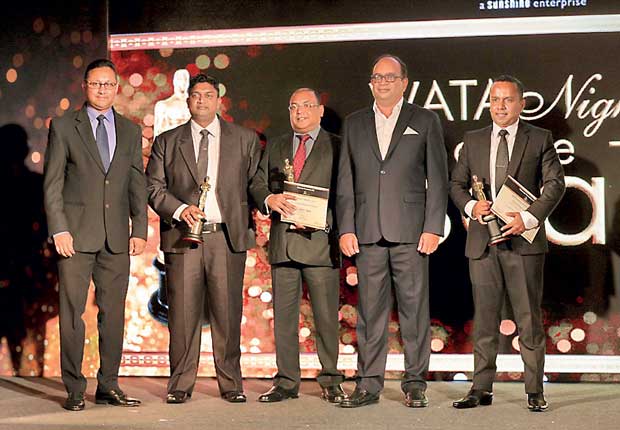 Top winners of the night – From left: Danushka Daswatte of Nakiadeniya Rubber Estate with the 'Low Country Estate Manager of the Year' award, Chamika Naranapitiya with the 'Best Performing Region of 2016 award' and Ajith Prasanna Premamchandra of Carolina Estate with the 'Up Country Estate Manager of the Year' award
Shining the spotlight on its high performers, Watawala Plantations PLC – a subsidiary of Sunshine Holdings PLC recognized their employees who demonstrated exceptional performance in 2016 at a gala awards ceremony held at Cinnamon Lakeside Colombo.
Titled 'WATA Night of the oscars 2016', the inaugural awards ceremony by the diversified plantation company was graced by Watawala Plantations PLC Chairman, Sunil Wijesinghe, Sunshine Holdings Group Managing Director, Vish Govindasamy, key members of the Sunshine Group's management team, distinguished guests and family members of Watawala Plantation's employees.
Watawala Plantations surpassed the billion rupee profit milestone last year for the very first time in their 25 year history. The company has been able to consistently record strong growth in revenue, both in its tea and palm oil sectors, due to a change in the strategic management of the Company to place a stronger focus on quality over quantity.
Congratulating the winners, Vish Govindasamy, Group Managing Director of Sunshine Holdings said: "It is indeed a great time to celebrate your performance, loyalty and commitment as Sri Lanka itself celebrates 150 years of Ceylon Tea and very fittingly, Sunshine Holdings celebrates its 50th anniversary. In that regard, it is a true honour to be surrounded by people who have inspired and mentored me to lead such an extraordinary team through the years in our journey to make the Watawala Plantations the number one regional plantation company to be listed in the Colombo Stock Exchange. I salute all of you for all your hard work and dedication and I look forward to working with all of you in future to take our Company to even greater heights."
Binesh Pananwala, Chief Executive Officer at Watawala Plantations PLC said," Today, we recognize, celebrate and reward our achievers from Watawala Plantations who have shown their true mettle during the year 2016. The last year brought fresh challenges for our industry and it was through the smart execution of comprehensively developed business strategies that our Company has been able to not only persevere but thrive. Such an outcome could only be made possible through the dedicated efforts of our employees and we express our sincere gratitude and heartfelt congratulations to them for another exceptional performance."
A total of 69 awards – four academic achievement awards, 12 compliance awards, 24 long service awards and 29 performance awards – were distributed among winners at the WATA Night of the oscars 2016. Ajith Prasanna Premamchandra of Carolina Estate was adjudged the Up Country Estate Manager of the Year while Danushka Daswatte of Nakiadeniya Rubber Estate was adjudged the Low Country Estate Manager of the Year. The best performing region of 2016 was Udugama region. Employees who have served Watawala Plantations for 10 to 25 years were presented with a coveted Long Service Medal.