---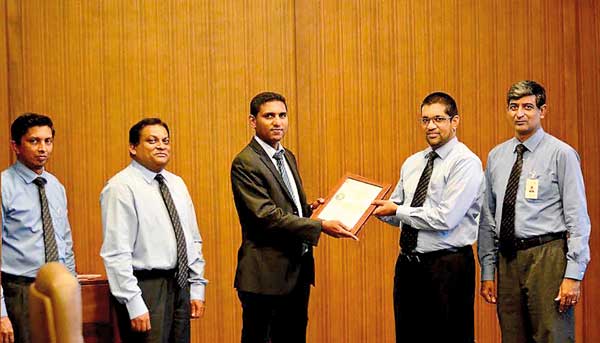 Aligned with the company-wide ethos of reducing its carbon footprint based on pre-determined parameters, Citizens Development Business Finance PLC (CDB) became South Asia's very first ISO 14064-1 carbon verified financial institution by Sri Lanka Carbon Fund (Pvt.) Ltd adding being a fully carbon neutral entity into its impressive sustainability standards and laurels.

Chief Executive Officer of Sri Lanka Carbon Fund (Pvt.) Limited, which comes under the Mahaweli Development and Environment Ministry, Buddhika Hemashantha presented the Carbon Neutral Certification to CDB Chief Financial Officer Damith Tennekoon at a ceremony held at the CDB
head office recently.

The stringent criteria within the certification process included tracking carbon dioxide emissions of all company-owned vehicles, staff transportation, official air travel and energy consumption at the CDB head office, which was collated by CDB's business operations. In 2015, CDB's carbon footprint was evaluated at 677 tonnes of CO2 equivalent, prompting the Company to institute measures that will further mitigate the impact it has on the environment. Sri Lanka Carbon Fund audited and verified the Carbon Neutral certification process.

By purchasing carbon credits from Bogo Power (Pvt.) Limited, which has within its umbrella a mini hydropower plant at the Kirkoswald group in Bogowantalawa, CDB compensated for its missions, obtaining the requisite approvals from the Sustainable Energy Authority of Sri Lanka and Public Utilities Commission of Sri Lanka. Bogo Power, which is aBoard of Investment (BoI) project, was validated and verified by Sri Lanka Carbon Fund under the Sri Lanka Carbon Crediting Scheme (SLCCS).The purchase of these carbon credits from Bogo Power enables CDB to technically neutralize the impact the Company has had on the environment through its CO2 emissions.

Commending CDB for its initiative, Hemashantha stated that he was encouraged to observe the motivation of the private sector and the commitment displayed to protect the planet with timely and much-needed green efforts. "Our aim is to support all institutions to reduce their carbon footprint and then drive the nation towards a low carbon blue-green economy. These initiatives are imperative to create a sustainable future not only for our new generation but also ourselves."

Surmising that the country needs more support from the private sector towards reducing energy consumption and carbon emission goals, he said that plans were afoot to introduce a Carbon Certification Programme for home appliances and other equipment.

"We already have plans to record the carbon emission of every appliance and various types of equipment in use, so the public realizes the impact these have on the environment. Hence, those who are committed to protect the environment for future generations will purchase products that have minimal carbon emissions."

Declaring CDB becoming the first Sri Lankan Carbon Verified financial institution in the South Asian region, CDB Chief Financial Officer Damith Tennkoon expanded on CDB's commitment to minimize its carbon footprint, adding that in the process of minimizing carbon emission gradually; CDB is also spearheading initiatives to reduce environmental pollution and environmental protection.

"Our plan is to make an affirmed commitment to reduce carbon emissions by 10 percent by the end of 2016. We know this is ambitious but we are already in the process of creating awareness among our team and our valued business partners in a bid to conserve energy. We have initiated programmes to build awareness at the grassroots, cascading green best practices at all levels."
It is pertinent to note that CDB's green issues have always been penetrative with a view to reducing its carbon footprint. It has been certified as a Carbon Conscious business entity having undertaken a detailed carbon footprint assessment in collaboration with the Sri Lanka Carbon fund in 2014. CDB also had Sri Lanka's first Green Assets Back Securitization of Rs.1 billion. During the year 2015/16 CDB promoted eco-friendly vehicle facilities where 22 percent of total lending comprised hybrid and electric vehicle categories.

The company believes in solar power as a sustainable choice considering it a sound investment on all fronts and uses rainwater harvesting technology for its corporate office. While truly walking the talk, CDB's flagship environmental project, Mihikathata Adaren promotes a green consciousness across communities especially young children from creating awareness of green best practices including tree planting and forest conservation projects, encouraging energy saving practices and the 3R concept where recycling of both paper and e-waste is emphasized on, pushing a focus on waste management, highlighting pollution and its impact on health.